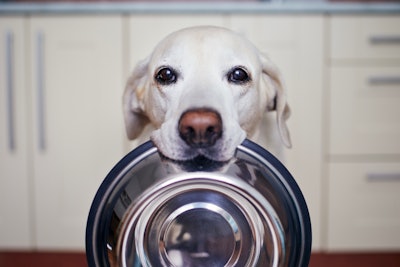 Getty Images
The U.S. pet food market is expected to triple in size to $275 billion by 2030. Though the sheer size of the market has pet food manufacturers scrambling to keep up with demand—pushed to automate and innovate amid supply chain and labor difficulties—they are also reacting to a change in the way consumers are caring for their pets. With pets being treated as increasingly important members of the family, demand is rising for higher-quality pet foods.
Aiming to get a better handle on how pet food manufacturers are reacting to a growing and changing market, CRB gathered responses from more than 300 pet food industry leaders. What they found was that manufacturers are investing increasingly in sustainability, food safety, and innovations from a variety of angles.
---
---
The COVID-19 pandemic has not slowed the pet food industry in the slightest, according to survey respondents. Consistent with the trends in pet adoption, three-quarters of those surveyed said that the pandemic has increased their intended capital equipment investment. They're upgrading packaging systems, installing more automation, and rethinking processing to improve efficiencies, quality, and food safety.
There are plenty of challenges—supply chain, inflation, labor availability, aging equipment, inefficiencies, and more—but manufacturers are intent on meeting the changing market head on. "We are calling it their ambitious agenda because there's a lot going on in this space," says Tony Moses, director of product innovation at CRB. "And we don't feel like producers are willing to compromise."
When CRB asked pet food manufacturers which product attributes mattered most to their customer retention strategies, the answer was: All of them. Nutrition, taste, sustainability, consistency, ingredients, selling price, value, packaging convenience, appearance, and texture—they're all vital to attracting and retaining customers.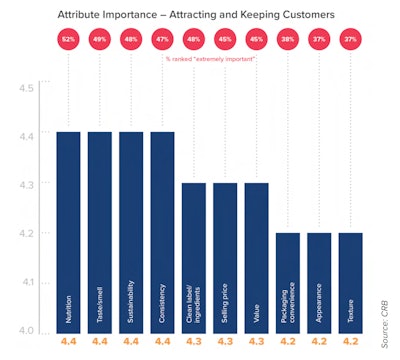 Key business drivers
When CRB asked industry leaders to rank their top business drivers, the assumption based on anecdotal evidence was that the humanization of pet food would rank high, along with issues around sustainability or regulations. Ranked as the top business driver, instead, were expectations for manufacturing practices and workplace environment.
"We think that that one is so high up because it captures some of that labor availability [which was No. 3 on the list]," Moses says. "We're seeing anecdotally from some of our clients that expectations for breakrooms have changed, natural light in process areas, even just making sure everything's clean and that it's not an unpleasant place to work in is more and more top of mind."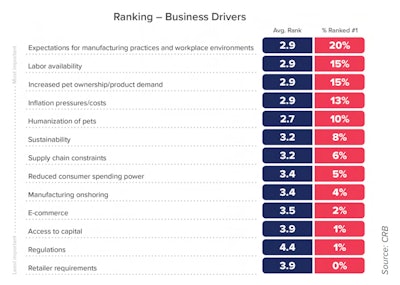 Coming in at No. 2 were increased pet ownership and therefore product demand. "That's something that resonates well with what we're seeing across the industry," Moses notes. "Humanization was No. 4, so it's up there, but it's not the top driver in terms of overall business."
Trailing not too far behind were inflation pressures, sustainability, and supply chain constraints. The bottom end of the list—indicating they were of little concern—included access to capital and regulations. The low concern for access to capital is "positive for this industry," Moses says, "especially since it's in expansion mode." With regard to regulations, he adds, "What we suspect is the industry has already solved that and kind of moved past that."
Innovation drivers
Product innovation drivers were also somewhat of a surprise. The expectation was that they would reflect the business drivers. Instead, innovation drivers leaned heavily toward features that would resonate with consumer values, including sustainability at No. 1, followed by product consistency, cleaner labels, and considering pets as family.
"This is why we're saying producers are trying to have it all," Moses says. "They have a lot of challenges in their business environment, but they're still really chasing product attributes that help their brand more so than their bottom line."
Conversely, improving product margins, frequently seen as a key innovation driver, fell relatively low among the priorities, along with managing inflation. "We did this survey in November and December of last year, though, so it's possible that inflation pressures may have pushed up a little bit more since then," Moses clarifies.
Sustainability
Circling back to the No. 1 product innovation driver, Moses notes that it was a big surprise just how aggressively manufacturers are pursuing sustainability. "Over 90% have net zero/carbon neutrality plans. About 85% of those want to reach that in 10 years, and over half want to reach it in five," he says. "This was really notable to us that the sustainability targets were so aggressive."
---
---
The sustainability targets are reflected even in the formulation of the pet food. When asked if they were planning to change their protein source, there seemed to be a fair bit of flux in the formulas, Moses says. "The ingredient that looks to be most targeted by producers to replace is animal muscle; 71% of the people that are using animal muscle plan to change that," he points out. "We think that's partly a reflection of the cost environment that we're in, but we also think it's a reflection of the sustainability targets."
Animal muscle is not only the most carbon-intensive ingredient in most pet food formulations, but there's also competition for it in the human food space. "So we see that being swapped out for, potentially, animal visceral, which might be a play on upcycling and a little less carbon-intensive, even moving down towards plant-based protein."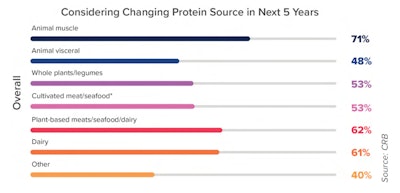 Convenience and selection
The pet food industry also has no plans to sacrifice convenience or selection despite the challenging business environment. "We asked, 'Do you plan to rationalize any SKUs?' just thinking that's a way you can boost your capacity—fewer changeovers and cleaning, and better margins, too. That was something we saw during the pandemic; the variety that was being offered was reduced, at least in the human food space," Moses comments. "Again, we had a vast majority come back and say no, they don't plan to do that." That's driven in part by the humanization trend, CRB hypothesizes, in which people want to offer their pets a variety of flavors.
Of those surveyed, 86% plan to make changes to their packaging, with moves toward resealable retort pouches and stand-up zipper pouches leading the way. That might be driven in part by food safety, Moses says, but much of it is likely driven by convenience. "We saw a push away from cans and more towards multi-use products that are convenient for the consumer to use," he says. "The top five options are really about convenience and premiumization rather than margin and throughput."
Food safety
"One of my favorite sections from the report is food safety," Moses says. "It's a very positive look on the industry."
In fact, food safety has come a long way over the past 15 years. In response to an evolving regulatory climate—namely, the Food Safety Modernization Act (FSMA)—the pet food industry has evolved as well. These days, the safety and quality of pet food is often on par with human food, the report's authors note.
What the survey found was that food safety was not only a top driver of packaging changes, the ability to meet a food safety plan was the top driver of capital projects as well. Manufacturers are taking several actions to ensure they meet their food safety plans. Almost half of all respondents indicated that their facilities rely on operational procedures (e.g., protocols to prevent the cross-contamination of raw and cooked food) and facility segregation to ensure safety and quality. Personnel hygiene routines related to Good Manufacturing Practices (GMP) rank high as well. Half of the largest companies have dedicated personnel for different production areas, and about one-third of smaller and mid-size companies use this method.
"What the industry is doing tends to be pretty expensive things. They're adapting a lot of best-in-class practices and spending the money to do it," Moses says. "Again, that shows how serious the industry is about food safety."
Overall, the pet food industry is advancing quickly, Moses notes, pointing to the use of artificial intelligence to improve operational efficiency and also to how integrated facilities are becoming. By strategically investing in automated technologies, pet food manufacturers will be able to improve existing facilities and optimize future expansions, CRB's report notes. This will help to address some of today's most pressing business challenges, including labor availability and inflation.
Companies in this article