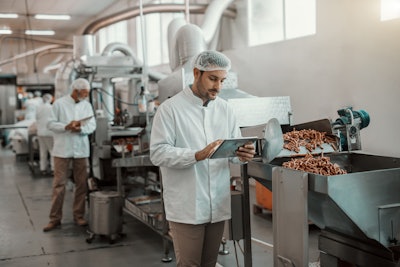 Getty
The October issue of ProFood World features our annual Global 250 Food and Beverage Manufacturers report, which highlights the top F&B companies in the world and how today's trends have impacted their operations, particularly when it comes to inflation, the supply chain, the ongoing labor shortage, consumer spending habits, food safety issues, and more.
Along the same lines, IDC (International Data Corporation) recently released its 2022 Global Food and Beverage Industry Trends and Strategic Insights report (commissioned by Aptean and debuted during Aptean's 2022 F&B Symposium) focusing on many of the same challenges noted in our Global 250, but with a deeper focus on digital transformation (DX).
IDC surveyed 669 food companies from around the world (48% manufacturers, 30% distributors, and 22% processors) and the results of that market research revealed that companies adopting DX into their operations have seen a measurable increase in productivity and profits. Other key findings in IDC's report include:
Operating costs remains a concern
In our Global 250, we detail how inflation is a massive challenge for the industry right now. The IDC report reinforces that perspective, noting that food companies have a sensitivity to even minor price increases due to operations that are asset intensive, at the mercy of global commodity markets, and face both low margins and high demand variability.
IDC's report also notes that when looking at impact over the next five years by subsegment, F&B processors and distributors are highly focused on the potential impact of cost of goods sold (COGS), while manufacturers are most concerned with customer preferences and sustainability, although higher costs is a close third for F&B manufacturers as well. As a result of inflation and cost concerns, identifying new ways to become more efficient and cut costs will be imperative.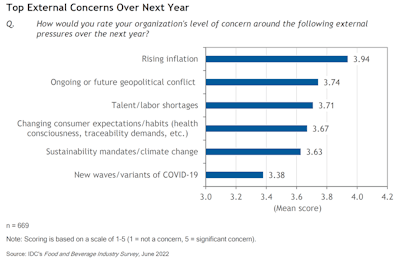 Digital transformation adopters see increase in KPI
As mentioned earlier, the IDC report correlates companies adopting DX into their operations with measurable improvement in productivity and profits. According to the survey, digital transformation has clearly been delivering benefits for the industry, with roughly three-quarters of respondents seeing KPI improvements across all areas of the business (production, quality, supply chain, logistics, sales, e-commerce) as a result of their digital transformation initiatives. In addition, a further 45% – 55% of F&B companies expect to see even more improvements across these areas over the next 12 months.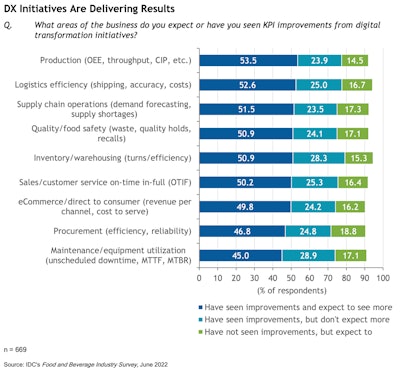 Drilling down further, the IDC report shows companies that have moved from an on-premise ERP system to a cloud-based ERP system have seen a 6.2% increase in revenue and a 6.3% increase in profit. Those surveyed that still use an on-premise ERP system have seen a 2.8% increase in revenue and a 3.1% increase in profit.
Dissecting the data even more, IDC notes F&B companies that use F&B-specific ERP systems saw a 5.3% increase in revenue and a 4.9% increase in profit. Those using broad-based, horizontal ERP systems saw an uptick of 2.9% in revenue and 3.7% in profit.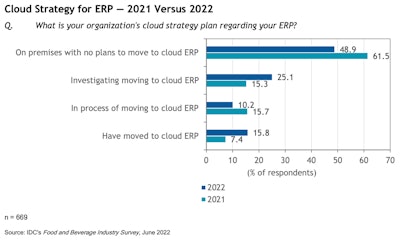 IDC concludes that companies that have been on a DX journey for years are now reaping the benefits. Companies that are still on the fence about adopting digital transformation into their operations are at a potential disadvantage compared to their DX-established competitors. Looking into F&B subsegments, almost a quarter of F&B manufacturers ranked at the most mature level regarding DX, while distributors and processors ranked at 12.1% and 11.1%, respectively.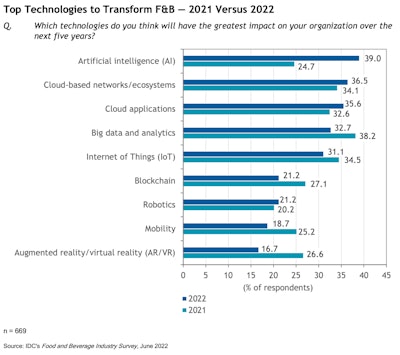 Labor shortage still a hurdle for manufacturers
An ever-dwindling pool of available workers is not a new concern for F&B companies, but that lack of labor has become the main obstacle to adopting digital transformation into operations.
The IDC report notes that while a talent/skills gap has been talked about across manufacturing for years, the difference between 2021 and 2022 is striking. The COVID-19 pandemic accelerated talent issues with early retirements or furloughed workers not returning, but this labor problem is only going to get worse. More workers will continue to reach retirement age and leave the business, and the knowledge gaps that are left behind are becoming impossible to fill. A dearth of talent/skills is the top barrier to DX when comparing by region as well, with only Belgium citing legacy systems as its top challenge (35%), although talent was a close second (30%).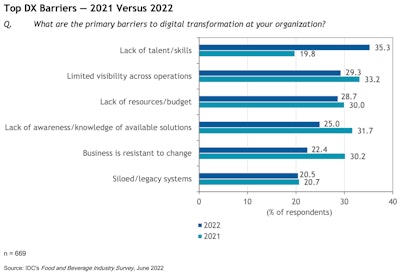 Race to sustainable manufacturing
Nearly 40% of survey respondents put sustainable initiatives at the top of their priorities list for the next year, mainly driven by customers demanding eco-friendly products or offerings.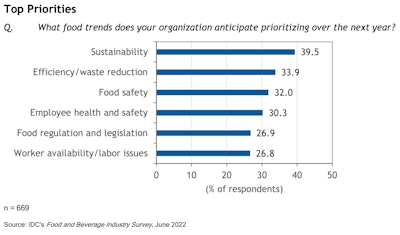 However, it's not just customer demand that's driving the push toward sustainability. Since operating costs are the top current challenge for F&B companies, sustainable initiatives that conserve resources over time can also help control those expenses.
According to the report, if inflation and energy prices continue to rise, using sustainability initiatives can be an effective way to have a business that is sustainable and profitable. Effective decisions are based on data analysis and information, not speculation or conjecture, and this is no different for sustainability-related decisions. The reality is that many companies still rely on paper-based or manual processes when it comes to sustainability.
For example, a production engineer or plant manager can use information such as energy price to schedule operations. In a lot of geographies, energy price fluctuates on a frequent basis, and using this information to schedule production can result in direct cost savings. It is also important to connect this sustainability information with production data. Understanding how energy costs vary with product mix, production volumes, and schedules is critical to improving efficiency.
Digital transformation allows agility over unpredictable supply chain
According to IDC, although visibility remains critical to mitigating risk in the supply chain, it is no longer the top priority. That now falls to improving agility—in part because most companies have been working on visibility for a while, and capabilities are much more progressed, but also because many F&B organizations found that even when they see a problem, they were unable to do anything about it.
Represented as a formula, IDC views supply chain resiliency as: Supply chain resiliency = visibility + intelligence + agility. Based on this definition, there are four areas of focus for resiliency efforts:
Visibility/risk assessment — The vulnerability of the supply chain to both internal and external disruptions and the ability to see them as they develop in real time
Intelligence/data analysis — The ability to quickly turn massive amounts of visibility and operational data into focused, actionable insights
Agility/disruption mitigation/response planning — Readiness assessment and the operational capability to effectively manage disruptions and communicate status
Agility/disruption response execution — The actual response performance of both mitigation and responsiveness
Increased outsourcing to contract manufacturers
Regarding F&B companies working with contract manufacturers during the past year, 74% of those surveyed utilized outsourcing in some form for production, with 21% of production being outsourced on average.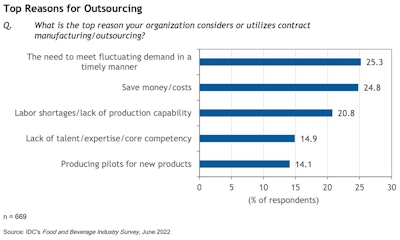 Those surveyed also note that contract manufacturing can have drawbacks. Some of the top concerns F&B companies have regarding contract manufacturing include:
Less control over product quality — 25.1%
Traceability/compliance concerns — 22.4%
More expensive over the long term — 21.0%
Potential data exposure/IP risks — 19.2%
Communication/language barriers — 12.3%
Breaking the contract manufacturing data down by region, IDC reports that the Netherlands, Germany, and the United States cited control over product quality as their top concern. Germany and Canada are most concerned with traceability and compliance, the United Kingdom/Ireland is worried about long-term costs, and Belgium reports communication with contract manufacturers as the top issue.