Whether in the beverage or home care category, and whether using recycled plastic or finding new ways to recycle that plastic, finding a path toward a sustainable future is top priority for brands.
PMMI Business Intelligence's 2022 report "Future of Packaging and Sustainability" lists some notable innovations in sustainability from recent years, including examples from both category giants and smaller brands.
New rPET Bottle is CocaCola's First
Coca-Cola made a splash in the rigid plastic packaging space in February 2021 with its first bottle made from 100% recycled PET (rPET).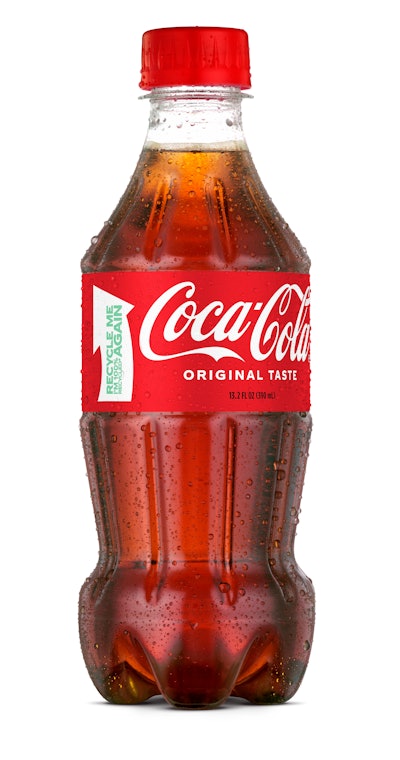 The 13.2-oz rPET bottle targets teens and 18- to 35-year-olds seeking portion control, as well as "price sensitive 20-oz shoppers," suggesting that the smaller, less expensive package size may displace some 20-oz PET bottles on U.S. shelves, the report says.
The new rPET initiative in the U.S. follows earlier strides in Europe, with Coca-Cola Europacific partners transitioning to 100% rPET packaging across all pack sizes for carbonated brands in Sweden and Norway.
The report predicts that impulse-purchase package sizes will continue to shrink, with smaller multipacks and an adjusted price-package mix, simultaneously cutting sugar per serving while boosting companies' bottom lines.
Refillables And Sustainable Materials in Beauty and Personal Care
Several leaders in the beauty and personal care category have started offering refillable and reusable options.
The trend gained traction first with luxury or direct-to-consumer brands, but it is now widespread even among well-known mass brands.
With four distinct models to choose from, brands can be flexible on how they employ refillable packaging, according to the Ellen MacArthur Foundation's report "Upstream Innovation: A Guide to Packaging Solutions."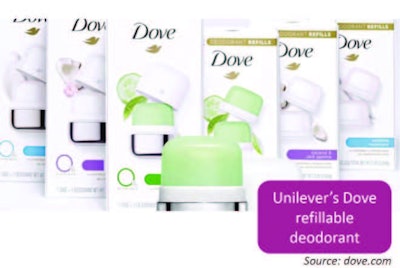 The "refill at home" model allows consumers to refill reusable containers through subscription-based home deliveries. Consumers might also "refill on the go," using an in-store dispensing system. They could also "return from home," by way of a collection service, or "return on the go," with an in-store drop-off point.
Beiersdorf's Nivea shower gel filling station, Head and Shoulders' reusable shampoo bottle, and a Dove refillable deodorant from Unilever are all turning heads in this space.
Refills are useful for beauty companies to overcome recyclability challenges, including the difficulty of recycling mixed-material packaging and smaller components like caps or pumps.
Beauty brands are also experimenting with eco-friendly packaging materials.
Plastic remains the dominant packaging type for beauty products, but many of the industry's leading companies have embraced alternatives. These alternatives include PCR materials, recyclable aluminum, glass, paper or corrugated, bamboo, and wood-based or plant-based packaging.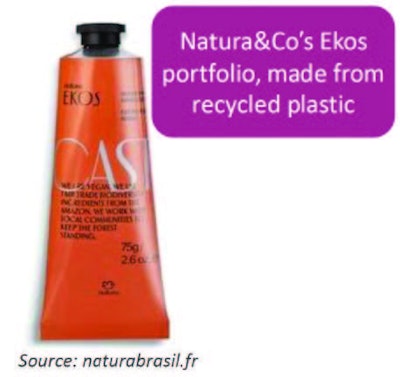 A few current examples of this trend are L'Oréal's paper bottle developed through a partnership with Paboco, Natura&Co's Ekos product portfolio with packaging made from recycled plastic, and Unilever brand Love Beauty and Planet's recycled plastic bottles.
Sustainability in home care has taken the same shape as beauty or packaged food, with initiatives around packaging leading innovations in recent years. These include refill options for laundry detergent, dishwashing soap, and all-purpose cleaners.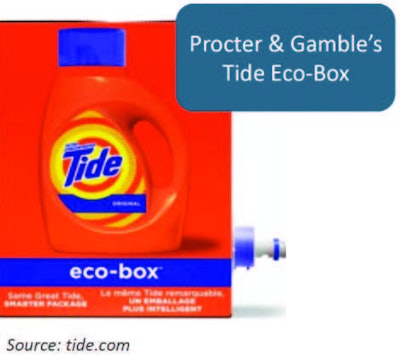 Procter & Gamble's Tide Eco-Box, Unilever's Persil Ecorefill, and SC Johnson's Ecover Refill Programme are just a few examples of refillable and sustainable options in the home care segment.
Sustainable Supplement Packaging
Some smaller companies are building brand equity through a commitment to sustainability.
Organic mushroom supplement company Om Mushrooms practices this with its biodegradable and recyclable packaging made from 100% paperboard.
Also innovating in this space is supplement company True Grace. The brand uses PCR packaging and refillable pouches made with carbon-neutral packaging from sustainably sourced sugarcane.
Advancement in Chemical Recycling
Chemical company Carbios is focusing on the recycling process directly with its CZYME technology.
The brand claims to be the first in the field to use enzymes to depolymerize all types of PET, including opaque or multilayer packs and textile waste, using a water-based process at low temperatures. The depolymerized monomers are re-combined to make food-grade PET packaging.
Carbios will be partnering with Indorama Ventures to build its first industrial plant in France, expected to open in 2025, the report says.
Source: PMMI Business Intelligence, 2022 Future of Packaging and Sustainability
Download the FREE report below.
Companies in this article