World Business Chicago
The future of food may rely on data and emerging technology, sustainable leadership, and learning from emerging start-ups, according to industry leaders at the 2023 Chicago Venture Summit.
The summit's "Future of Corporate Innovation" panel brought together executives from major brands, including Mars Wrigley and Kraft Heinz, to share insights on their innovation and sustainability strategies for future success.
Data and technology for a clear path to sustainability
Alan Kleinerman, Kraft Heinz vice president of disruption, highlights the link between food and data technology, citing his company's 2022 partnership with Microsoft to accelerate digital transformation. "If you have the data, you have the ability to actually understand and adjust, control, and make decisions based on it," he says. "Every aspect of the supply chain can move in a more seamless way."
Artificial intelligence (AI) also has a place in the future of food production, specifically in plant-based product formulation, Kleinerman says.
NotCo, a plant-based food brand that partnered with Kraft Heinz in 2022, implements AI in product development by "mapping foods down to the molecular level, to really understand the taste, the flavor, the experience, the texture of animal-based products," Kleinerman says.
The technology has accelerated development for plant-based alternatives of Kraft Heinz staples such as mayonnaise and Kraft Singles.
Rainer Struck, global vice president for innovation transformation at Mars Wrigley, also emphasizes the use of emerging technology, particularly as a tool for sustainability.
Struck says AI and other technologies will help his company to measure success as it works toward its Sustainable in a Generation Plan, and support waste reduction toward the end of the supply chain. "There's so much technology now in our supply chain," he says, "where you reduce waste through AI and automation, where it's just a lot less wasted, and also a positive impact on the planet."
Leading the charge on sustainable solutions
Struck notes recent consumer trends of increased awareness and discernment about their food and lifestyles. He says there is a lot of work to do on the industry side to meet this demand, but his company is working to stay ahead of the curve. "The industry has to go ahead of the consumer, before sustainability becomes really mainstream," he says. "We can't wait for everybody buying into sustainable solutions, and therefore we need to all work together and lead."
This increased consumer demand for sustainable and health-focused food has brought a paradigm shift away from the widely accepted sacrifices and trade-offs of past products, Kleinerman adds. While people used to accept that sustainable or healthy products would likely not taste as good or would involve extra preparation, "I think consumers are telling us today, with the abundance of options that exist, good enough simply isn't good enough anymore," he says.
Smart expansion and learning from start-ups
Mars Wrigley and Kraft Heinz also approach innovation through expansion, through acquisitions or creative product portfolio additions.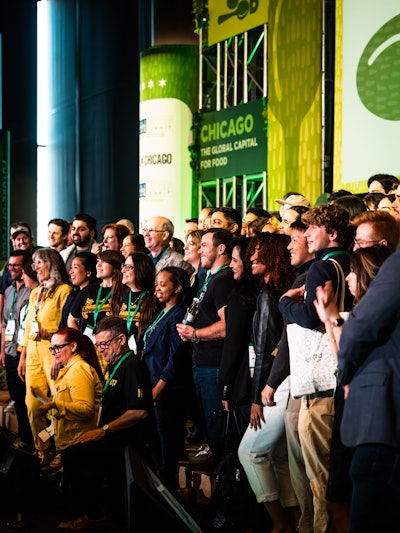 "Whether that's through M&A, our acquisitions, whether it's an incubation of new brands, or industry partnerships, all into one space on one team, that allows us to be very consumer-centric, very consumer-driven to say, 'This is the opportunity we're going to go after,'" Kleinerman says.
Mars Wrigley focuses on "creating the portfolio of the future," Struck says. His company aims to maintain and grow relevance of its core portfolio, but also further tap into categories like snacking.
But creating successful new products isn't as simple as being able to "plug these new things into the existing business and hope that it will suddenly create an impact," Struck says.
That's why Mars Wrigley uses cross-functional teams and incubation capabilities to bring products to market, as Struck explains, "moving from asking consumers what they would buy to observing what they actually do with prototypes that we created very quickly."
Acquisitions aren't necessarily about simply adding new products to the portfolio, Struck says, but rather to adopt technologies and strategies from these smaller brands and start-ups.
Kraft Heinz's main goal when acquiring small brands is to continue and maintain the growth started by the founders, Kleinerman adds. "[These early-stage companies] are growing for a reason, right? They're growing because their founders have an incredible amount of passion and vision and mission for where these brands can go," he says.
Kleinerman cites Kraft Heinz's 2021 acquisition of Just Spices, where the founders continue to work with Kraft Heinz for mutual growth. Through these acquisitions, Kraft Heinz hopes to "ensure that as a large company with huge international scale, we can give these companies the best of us, without giving them the worst of us," he says.