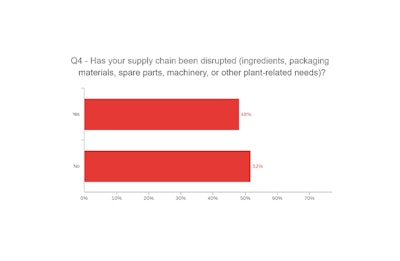 According to ProFood World's most recent reader poll, nearly half or 48% of respondents are currently experiencing supply chain disruption for goods such as equipment, packaging materials, ingredients, and other plant supplies. Several cited the disruption of goods from Asia and inability to obtain masks and hand sanitizer for plant workers. Here is a sample of responses received this week concerning the supply chain disruption.
Ingredients are harder to get; [there are] less days available to get trucks to deliver.
Some spare parts suppliers have been listed as non-essential and have shut down.
Lead times for packaging supplies have been extended. High demand for packaging needs.
Getting four-week delay for packaging.
Slow down on servo motors, drives, and ribbon cables from China.
Our suppliers are overwhelmed by increased demand and [are] limiting our ability to purchase more.
A large number of our materials and packaging are purchased from India and China. Luckily, we had multiple months of supply stateside prior to the major disruption. Additionally, we are now seeing disruption stateside with shipments of some materials.
Optimism prevails
While some of the processors polled are experiencing business loss and intense worry, most of PFW's survey respondents are optimistic about meeting production demands in the coming months even if the virus continue into the summer. Approximately 41% said they are optimistic, 31% indicated a negative response, and 27% said they just don't know what will happen if effects from the virus last for two to three more months.
Following are some verbatim responses PFW received to the question: If the COVID-19 outbreak and government restrictions continue for another two to three months, how will your company cope in terms of keeping up with production demands?
Should stay stable, but it is a moving target. A few of our large customers orders are much bigger, and small and medium orders have gone away.
We have several new items that should be starting up if major retailers stick to their reset schedules for the shelves. If those are pushed back, our new product launches also get pushed back. Keeping current items in production that had been planned to be discontinued will be a challenge. But we will pivot and adjust.
I feel that I am in a great place to continue as we are. With the rise of unemployment, I will not have any issues adding employees, if needed.
As long as our employees stay healthy and materials are available it will be business as usual.
Many locations are going to split shifts and/or split teams to protect and isolate our workforce from one another. The big risk remains if someone is diagnosed with CV19.
Multiple plant site operations allow flexing of production depending upon individual site constraints. Operations staff planning for staggered and/or reduced operator availability has been identified along with managerial staffing and backup roles.
We're prepared to continue operations at one-third of capacity. That's what I would expect would happen if this goes on for two or three months.
We are doing what we can. Employees will only put up with so many 6-day weeks.
We will keep running as long as we can. That's the American way.
In part three of this series, PFW will explore more about supply chain disruptions and capital expenditures. PFW will continue to monitor all incoming poll responses and will update the results in the coming days as the nation and world continues to try to contain the virus and keep supply chains open.
Food and beverage manufacturers only may respond to the ongoing survey here.
Other stories you may like:
General Mills' Unique Plan to Keep Up with Demand During Virus Pandemic
JBS USA Temporarily Cuts Production at Meatpacking Plant Due to COVID-19
FDA Provides Temporary Flexibility Regarding Nutrition Labeling of Certain Packaged Food
Cornell Creates COVID-19 Website for Food Industry
Molson Coors Announces Updates to Policy Related to COVID-19