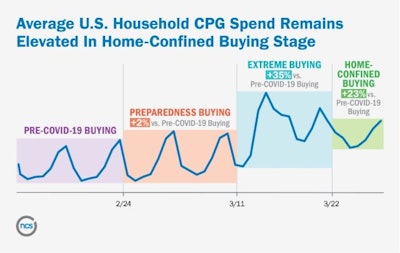 NCSolutions (NCS) has released data showing average household grocery spend has fallen since the COVID-19 extreme buying peak but still remains elevated at 23% higher than pre-pandemic levels.
According to NCS data, consumers entered the preparedness buying stage on February 24. March 10 marked the shift to extreme buying, with American household grocery spending rising to 35% more than pre-COVID levels.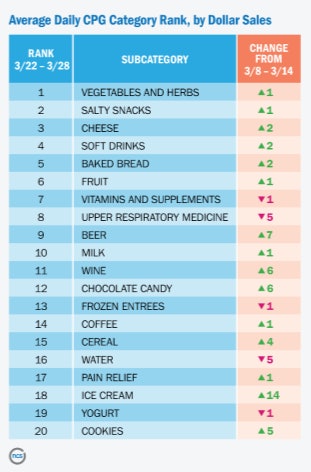 During the extreme buying stage from March 11 to March 21, consumers stocked up on paper goods and household cleaning products. For the first time, items such as toilet paper and shelf-stable soap were ranked among the top 20 purchased items in the week ending March 14, 2020. Cheese reached number 4 in the week ending March 21, up from number 6 during the same period last year, and continued to climb, after many U.S. schools shifted to remote learning programs, and parents were left to fend for themselves for lunch sandwiches. At the same time, lunchmeat jumped to number 32 — up from number 42 during the same period last year.
On March 22, the home-confined purchasing stage began, with a return to a grocery basket mix reminiscent of pre-COVID-19 shopping patterns. According to NCS, U.S. consumers are adding more food and drinks to their carts but fewer paper products and household cleaning products due to supply issues. Vegetables, salty snacks, and cheese are back on top for the week ending March 28.
Indulgent comforts are also making their way back into baskets: Beer and wine purchases are higher than usual, ranking at number 9 and 11 respectively, compared to number 12 and 14 the prior year. Chocolate, which fell to number 18 during the extreme buying stage, climbed to number 12 during the week ending March 28 (likely boosted by the anticipation of Easter), and ice cream and cookies joined the ranks, 14 and five spots higher than two weeks prior, respectively.
Currently, in this home-confined buying stage, shoppers are filling their grocery baskets with higher quantities of frozen meals, cheese, and lunchmeat than they did last year. Sales of frozen meals, for example, were uncharacteristically high between March 8 and March 28, compared to the same period last year, as consumers stocked their freezers with reserves, and bread climbed from number 7 to number 5 between March 8 and 28.
NCS has defined five stages of consumer buying, related to the COVID-19 pandemic:
· Pre-COVID-19 buying (prior to February 24): "Business-as-usual" non-seasonal grocery and OTC buying prior to February 24.
· Preparedness buying (February 24 - March 10): As news about the novel coronavirus appears, there is a noticeable uptick in CPG purchasing at the end of February — a 2% increase in average household spending. Hand sanitizer and household cleaner purchases start to take off the last week of February, peaking on February 29, when toilet paper sales start to build.
· Extreme buying (March 11 - 21): March 11 becomes the inflection point as consumers spend heavily to stock their pantries: Average household spend increases 35% compared to pre-COVID buying levels. During this stage, consumers clear out shelves, and CPG retailers experience shortages of some items.
· Home-confined buying (March 22 and onward): "Social distancing" mandates limited visits to stores, and average household spend dips 9% the week of March 22 compared to Extreme Buying, but consumers continue to shop and buy at levels 23% higher than pre-COVID levels.
· New normal buying: Yet to be seen in the U.S., the period after the pandemic, when "shelter-in-place" and other emergency measures are lifted, and consumers feel more comfortable returning to physical stores.
For the latest trends in pandemic-driven consumer purchasing behavior, visit NCS's COVID-19 Resources and Updates page.
Other stories you may like:
COVID-19 Survey: Nearly Half of Processors Have Supply Chain Disruptions
With Supply Chain Disruptions likely, CPGs, OEMs Swap Strategies
General Mills' Unique Plan to Keep Up with Demand During Virus Pandemic
JBS USA Temporarily Cuts Production at Meatpacking Plant Due to COVID-19
FDA Provides Temporary Flexibility Regarding Nutrition Labeling of Certain Packaged Food
Cornell Creates COVID-19 Website for Food Industry
Molson Coors Announces Updates to Policy Related to COVID-19