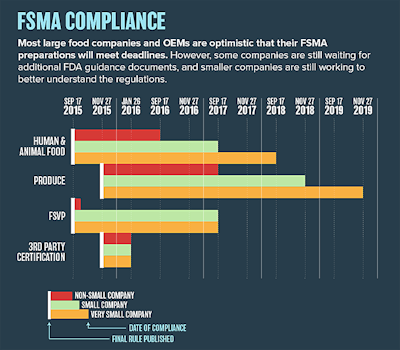 Fresh fruit and vegetable processors and small food companies will have the most difficulty complying with the Food Safety Modernization Act (FSMA), according to the 2016 Food Safety Modernization Act Update Report from PMMI, The Association for Packaging and Processing Technologies.
With little previous regulatory oversight at the government level, these businesses have been scrambling to make more investments in new equipment to help meet compliance.
The report notes that as deadlines quickly approach, more companies are turning to OEMs as a consulting resource. In fact, about 30 percent of participating companies – particularly smaller ones – plan to use consultants to help figure out how FSMA applies to their operations.
Companies that invest in compliance preparation for the FSMA will better position their organizations for a smooth transition. At PACK EXPO International and Pharma EXPO 2016 (Nov. 6–9; McCormick Place, Chicago), food manufacturers can benefit from destinations such as the Food Safety Summit Resource Center located in the South Building, Booth S-2962. At the Food Safety Summit Resource Center, food professionals will have the opportunity to meet one-on-one with subject matter experts and address a wide range of food safety issues and compliance. Innovation Stage presentations will also cover topics such as "Promoting Food Safety through Representative Sampling and Hygienic Design" and "Secrets that Enable Factory Maintenance to Drive Better Food Safety." These Innovation Stage presentations are 30-minute seminars located in the Upper North Building and will take place every half hour throughout the show.
For more on the FSMA Update Report by PMMI visit PMMI.org/research to download the free Executive Summary. The full report will be available Sept. 27.
Register for PACK EXPO International and Pharma EXPO 2016 at www.packexpointernational.com. Registration for PACK EXPO and Pharma EXPO is $30 through Oct. 14, when it increases to the on-site fee of $100.