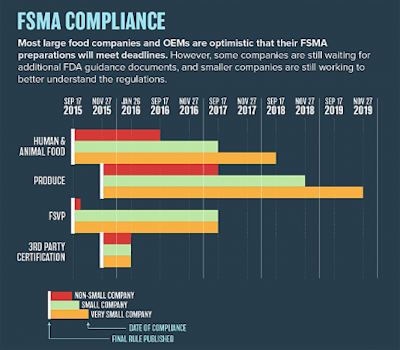 Understanding FSMA and complying with its documentation requirements are significant challenges for food and beverage manufacturers, according to PMMI's 2016 Food Safety Modernization Act Report Update. In particular, fresh fruit and vegetable processors and small food companies are expected to have the most difficulty with compliance. However, the challenges of FSMA implementation may increase working relationships between processors and OEMs.
This report is an update to PMMI's 2014 Food Safety & Traceability Report and is
based on responses from 47 food industry professionals (including food company food safety and regulatory managers; quality assurance managers; packaging, processing
and operations engineers; equipment providers; senior managers; and other industry experts). All food segments were researched for this report except meat, seafood, and pet food.
Most managers face challenges in understanding FSMA basics: clarifying what the law requires, determining what parts of it are relevant to their facility, and knowing the deadlines. In addition, documentation requirements are a challenging aspect of FSMA compliance. Companies are struggling with the number of different templates they need to create and then developing an efficient documentation system that records all the data FSMA requires in a cost-effective way. Smaller companies have the added challenge of establishing an approved foreign supplier program because they may lack the resources to send personnel to inspect suppliers' plants in overseas locations.
Even though FSMA has created many challenges, most companies have not sought outside help. This is changing quickly as deadlines approach and more companies use suppliers as a consulting resource. According to PMMI's research, about 30% of participating companies, often smaller ones, plan to use supplier consultants to help figure out how FSMA applies to their operations. 

Some large food companies that significantly reduced headcount are outsourcing FSMA implementation activities such as coordinating with multiple OEMs to make software, equipment, and manufacturing line changes.
Today, most companies are not investing in new equipment or upgrades because of FSMA. They are largely making procedural changes, such as how the manufacturing environment is organized, operated, cleaned and maintained; what people are trained on; and how activities are documented. Equipment purchases are usually made only when absolutely necessary because changes to cleaning processes and operations can often make up for machines with less-than-ideal food safety designs.
Larger food companies with diverse food production systems want an array of diagnostic measures to keep precise track of food production processes, including measurements of the food, equipment
and manufacturing environment. A few OEMs surveyed by PMMI claim that larger food companies will likely be interested in utilizing PackML (Packaging Machine Language) as a solution to give all machinery human machine interfaces (HMI) the same look and feel regardless of the equipment manufacturer or type of equipment, while also facilitating training, machine to machine communication and data capture.
The data larger food companies want to capture and digitally track falls into six main categories:
Critical control points
Food processing state
Sanitary state of machines and environment
Package integrity
Machine performance, issues and downtime
FSMA and operational documentation.
At PACK EXPO International and Pharma EXPO 2016 (Nov. 6–9; McCormick Place, Chicago), food manufacturers can benefit from destinations such as the Food Safety Summit Resource Center located in the South Building, Booth S-2962. At the Food Safety Summit Resource Center, food professionals will have the opportunity to meet one-on-one with subject matter experts and address a wide range of food safety issues and compliance. Innovation Stage presentations will also cover topics such as "Promoting Food Safety through Representative Sampling and Hygienic Design" and "Secrets that Enable Factory Maintenance to Drive Better Food Safety." These Innovation Stage presentations are 30-minute seminars located in the Upper North Building and will take place every half hour throughout the show.
For more on the FSMA Update Report by PMMI, see the infographic illustrating key findings now available on packexpointernational.com or visit PMMI.org/research to download the Executive Summary or full report ($500 for non-members).
Register for PACK EXPO International and Pharma EXPO 2016 at packexpointernational.com. Registration for PACK EXPO and Pharma EXPO is $30 through Oct. 14, when it increases to the on-site fee of $100.