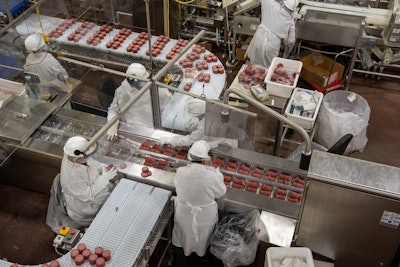 Back in the 19th century, author Alexandre Dumas empowered "The Three Musketeers" with the famous mantra: "All for one and one for all, united we stand, divided we fall." The same philosophy can be applied to building a food safety culture. Unless your facility has buy-in from all staff levels, you may have a tough time getting your food safety culture program off the drawing board.
During a recent webinar, Liliana Casal-Wardle, senior director for food safety and supply chain risk management at The Acheson Group (TAG), discussed the 10-year strategy from the U.S. Food and Drug Administration (FDA) to enhance the capabilities of the Food Safety Modernization Act (FSMA) through its New Era of Smarter Food Safety program. Casal-Wardle reviewed the four core elements of the FDA's new strategy:
• Tech-enabled traceability
• Smarter tools and approaches for prevention and outbreak response
• New business models and retail modernization
• Food safety culture
"It's a big group of people that have the same shared values, beliefs, and norms," Casal-Wardle said about building a food safety culture. "People feed into those values and create a cohesive model that has a little bit of the input of each component, of each person, and of each individual as part of the culture."
As a director of quality for Conagra Brands, Shawn Fear says a food safety culture is built upon a combination of employee engagement, effective training programs, adherence to documented policies and procedures, and a continuous improvement mentality.
"We have a comprehensive, enterprise-wide approach that is measurable and enables us to make high-quality, safe food each and every day," Fear states. "This requires a great deal of commitment and collaboration by teams across the enterprise that are involved with product development, sourcing, production, packaging, warehousing, distribution, and customer service."
Food safety and quality are foundational to the trust customers and consumers have in Smithfield Foods and its brands, according to Warren Dorsa, senior vice president of food safety and quality assurance at the company. "We employ rigorous systems and exacting procedures, including more than 40 internal policies, to ensure we continue to deliver consistently high-quality products," he states. The meat processor's quality-assurance plan is built on the Hazard Analysis and Critical Control Point (HACCP) management framework and is a living document that is continually updated to adhere to best practices and industry innovations.
Smithfield also continuously monitors U.S. Department of Agriculture (USDA) safety and quality regulations, and in-house labs inform and lead the implementation of any new test requirements. The company has Global Food Safety Initiative (GFSI) certification, which drives continuous improvement in food safety management systems internationally, adds Dorsa.
GFSI certification also includes audits conducted by Safe Quality Food (SQF), Brand Reputation through Compliance Global Standards (BRCGS), International Food Standards (IFS), and ISO 22000. In addition, Smithfield enhances its food safety culture by relying on its suppliers to provide high-quality ingredients. All Smithfield vendors must comply with GFSI and HACCP requirements.
Empowerment, measurement, and recognition
When employees have a voice, they become part of the solution, according to Joni Fagan, vice president of quality control at Ken's Foods. "Food safety is everyone's responsibility," she says. "This is included in job descriptions, training, and specific job tasks. Expectations of food safety culture become behaviors."
Leadership buy-in and continuous support of the food safety culture is mandatory, Fagan adds. Ken's Foods fosters an environment of collaboration, where staff listens and enlists the help and knowledge of the workforce.
In the cannabis edibles industry, it's important to build a food safety culture that the leadership team embraces by showing and presenting expectations themselves before rolling out the program to hourly workers, says Wendy Uhls, quality and compliance manager for Green Thumb Industries (GTI). "We've actually implemented some new roles recently, where hourly workers own more of the quality piece, are able to provide feedback up through the chain, and own that space," she says.
Uhls' facility also uses a "best buds" program. "Whenever we catch somebody doing an awesome job of complying or just being a supportive member of the team, we provide coins that employees can collect over time," she says. Depending on the number of coins they acquire, employees can choose from an array of goodies, such as hats, shirts, and GTI products.
GTI's Janet Sullivan, quality compliance manager at a Florida facility, has implemented a quality and food safety presentation board, where the company presents a new food safety topic each month. "Last month, we refreshed the GMP [good manufacturing practice] policy for the whole plant and put a copy of the GMP policy up with the training that we had done in PowerPoint," she explains. "Every month, we'll do a different topic just to get the team involved."
Smithfield invites employees to "audit" the products they've helped produce. Cross-functional teams of staff representing all levels of the organization are invited to appraise products daily. This program underscores how critical safety and quality standards are and instills a sense of employee ownership.
Through its "Raise Your Hand" campaign, Smithfield empowers employees to stop production if they see anything throughout the day that affects food safety or quality. The company recognizes employees who identify potential product safety or quality hazards.
At Smithfield, employees learn from day one that food safety is non-negotiable. The company's goal is zero product recalls, which it achieved in 2019. As a vertically integrated company, Smithfield is collaborating with FoodLogiQ's Food Industry Blockchain Consortium and the IBM Food Trust to drive customer visibility into food safety and quality assurance, and to increase transparency.
GTI measures customer complaints using key performance indicator (KPI) boards. "We're looking at customer complaints, third-party audits, and our Department of Health inspections, so we're taking all of those, and we try to present those every month," says Sullivan. "We don't want to have any findings from the Department of Health, and we don't want to have any GMP findings. We want to make sure that our customers are happy, so we try to get customer complaints down to zero."
Currently, GTI facilities are preparing for SQF certification. Learn more about GTI's food safety culture in the sidebar below.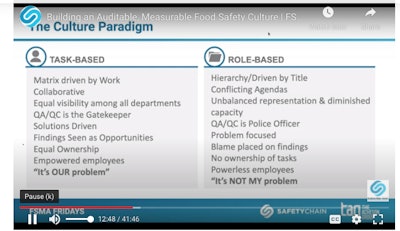 According to Casal-Wardle, measuring the culture is not about checking your critical control points and then thinking you're finished. "That's great," she says, "but look at how the people are managing it. Look at how they're doing it. Are they doing it on time? Is it something that is consistently being done? Because that shows you where you are in the culture model."
Casal-Wardle also discussed the culture parodies of task-based and role-based programs during the FSMA Fridays webinar conducted by TAG and Safetychain on "Building an Auditable, Measurable Food Safety Culture."
"A task-based culture is a matrix driven by work," she explained. "People are related in that culture through the work they do." In contrast, she said, a role-based culture is driven by hierarchy and its chain of command.
"A task-based culture is collaborative," she continued. "And a role-based culture can have conflicting agendas, because the manager might want something different than what the operator is doing, or the director thinks that the manager is doing something different than what they're doing." In a task-based culture, employees have equal ownership and are empowered. To learn more about role-based and task-based cultures, see the graphic above.
Sage advice
Your food safety culture must be adaptable, Casal-Wardle says. She recommends having clear expectations of your current food safety state and adapting to the changes that come either internally or externally. "Change is creating a new habit. In creating a new habit, you have to create the tools for the people to understand why you are changing it, and how that is going to help them, and why it is important."
She says communication is a key factor in the success of the culture. "Explain the objectives, manage the objectives, be open to questions," she declares.
Uhls says food safety is an ongoing process. "Partner with everyone you can to find the best systems to implement any way you can," she states. "Share what you can, and do the best you can."
Sullivan concurs, but adds, "Don't give up. Reach out to companies, places, or people that can help you with what you're struggling with."
Fear says it is critical that everyone understand the role they play in making food safety a top priority. He says Conagra Brands is committed to training and empowering people to identify potential issues and improvement opportunities, and then following through by taking the right actions. After all, Fear states, "the most discerning judges are customers and consumers."
Companies in this article