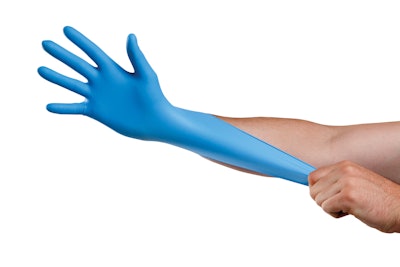 Eagle Protect
Food safety is always a top concern for processors, and while companies can follow HACCP guidelines daily and take every precaution to ensure they're in compliance, one area that might be overlooked is disposable gloves used for raw ingredient and product handling.
Manufacturers might think that because those gloves come new out of a box that they're already safe for food handling, but a recent four-year study commissioned by disposable glove company Eagle Protect, and conducted by consulting agency the B. Michaels Group (BMG), showed test results with ‌human fecal indicators on 50% of new and unused gloves, together with strains of Bacillus cereus and other detected foodborne pathogens including B.anthracis, Listeria monocytogenes, Clostridioides difficile, Staphylococcus aureus, Pseudomonas aeruginosa and Streptococcus pneumoniae. Overall, the analysis identified more than 250 different viable microbial species on both the interior and exterior glove surfaces.
The sample size for the study included 26 different brands and 2,800 pairs of unused gloves produced abroad and imported to the U.S. None of the gloves in the study were manufactured in North America, according to Eagle Protect, and BMG chose all the gloves tested in the study. The results were recently presented by microbiologist Barry Michaels from BMG at the International Association of Food Protection's annual meeting in Pittsburgh.
"When we entered the U.S. market in 2016 from New Zealand, we learned that FDA compliance didn't require gloves to be clean or intact, and even more concerning was the fact that few if any shipments of gloves ever get checked to see that they actually do comply with regulations," says Steve Ardagh, founder and CEO of Eagle Protect. "We decided the current system wasn't good enough for our customers, or the industry in general, so we set about formulating our own testing system."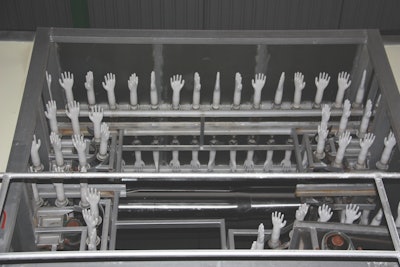 That testing system included "four different metagenomic procedures to determine any physical, chemical, and microbiological hazards present on the interior or exterior glove surfaces," explains Ardagh. "We did test Eagle Protect gloves as well, which led to our Delta Zero Quality Verification Program, which is a five-factor safety and performance verification process, including third-party laboratory testing that ensures quality raw materials, and the absence of unsafe chemicals, toxins, and microbial contaminants that pose health and safety risks to glove wearers."
Given the increase in food and beverage recalls over the past year, Ardagh says disposable glove safety should be part of every processor's food safety program, and that the FDA should set rigorous food safety standards for disposable gloves—especially those imported to the U.S.—to help remove the variable of contaminated gloves from food manufacturing operations.
"FDA compliance needs to include definitive references for cleanliness and there should be oversight through the full supply chain, including testing upon arrival in the U.S.," says Ardagh. "We consider the potential contamination of disposable gloves to be a hazard under the HACCP protocol, defined as a biological, chemical, or physical agent that is reasonably likely to cause illness or injury in the absence of its control. As such, they should be procured on a safety-first basis, rather than as a low-cost commodity."