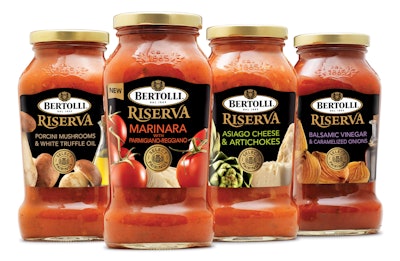 Italian food company Bertolli has expanded its pasta sauce portfolio with the new Bertolli Riserva line, which pairs fresh, artisanal ingredients with elegant packaging to create a "super-premium" brand. Dressed in a black label with a gold seal, the Tuscany-inspired Riserva brand clearly stands out on shelf as a step above traditional red sauces.
"With the growth in the super-premium sauce category, Bertolli had the unique opportunity to leverage its equity to build a new sub-brand in this growing space," says Rebecca Smith, Senior Marketing Manager of R&B Foods, maker of Bertolli-brand sauces. "Bertolli Riserva provides consumers with a unique pairing of select ingredients to elevate the taste of any meal."
Smith adds that consumers are looking for fresh ingredients prepared in the simplest way; Riserva marinara sauce starts with tomatoes, imported Parmigiano-Reggiano cheese, and extra virgin olive oil, and adds specialty ingredients such as sweet caramelized onions, white truffle oil, and porcini mushrooms. There are no artificial flavors, colors, or preservatives in the Riserva line.
Primary packaging for the four-flavor line is the trademark Bertolli glass mason jar from Ardagh, with the company's founding date, "DAL 1865" (from 1865), embossed on the shoulder. Design Partners created the label graphics to convey "a premium sauce made with premium ingredients prepared in interesting combinations," says Smith.
Along with a black background, the label uses photography of fresh ingredients, such as artichokes, ripe, red tomatoes, and mushrooms. The gold seal bears the copy "Select Pairings" to communicate the distinctive combinations of ingredients in each variety. At the top of the label is the Bertolli logo used for all sauces, but with a white background and gold crest, versus the red background and red and gold crest typically used for the brand. The front-panel label is litho-printed in six colors; the label on the back of the bottle is printed in two colors.
After an accelerated timetable of less than 10 months, Bertolli Riserva was introduced at select grocery stores and mass retailers nationwide in fall 2015 for $5.99 per 24-oz jar.
Companies in this article