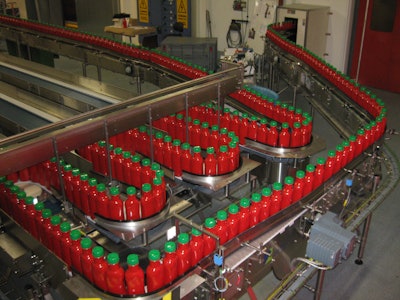 Orkla Foods Sweden is one of 10 businesses belonging to Orkla Foods, the parent company of which is one of Norway's leading suppliers of branded consumer goods. At its plant in Fågelmara, Sweden, Orkla produces nearly 25 million bottles of its Felix-brand ketchup each year, which are sold in its home country as well as in Finland and Denmark.
In 2013, as part of its commitment to sustainability, Orkla brought blow molding of its ketchup bottles in-house at the Fågelmara plant in order to increase its production efficiency and reduce its greenhouse gas emissions. Orkla has committed to a number of aggressive sustainability goals to minimize its environmental footprint by 2020, including the development of more environmentally friendly products and packaging and the reduction of its GHGs by 20%.
In addition to addressing these sustainability goals, bringing blow molding in-house also allowed Orkla to redesign its Felix bottle for greater consumer convenience and shelf appeal, reduce packaging costs, switch from hot filling to cold filling, and increase its production line efficiency.
Says Fågelmara Plant Manager Bill Wigren, "We needed to upgrade our design of the ketchup bottle and at the same time we needed to invest in new filling equipment and increase our efficiency."
Custom-designed bottle
Felix ketchup is a premium, preservative-free product requiring premium packaging. In making a switch to a new bottle design and in changing the packaging material from high-density polyethylene to PET, Orkla worked with plastic packaging supplier Petainer.
According to Åke Larsson, Nordic Sales Director for Petainer, Orkla had several requirements for the new bottle design. "Orkla was looking for a bottle that would have better shelf appeal as well as be more convenient in terms of getting all of the product out of the bottle," he says.
The new PET bottle, in 500-, 750-, 1,000-, 1,250-, and 1,500-g sizes, has a slightly contoured, hourglass shape and a wide recessed area for the product label. The bottle uses a red ColorMatrix™ colorant PolyOne to provide a barrier to UV light and prevent the product from turning brown. The bottle also incorporates an active oxygen scavenger from Invista that gives the preservative-free product an 18-month shelf life.
In addition to being squeezable, the bottle also helps consumers get the last bit of ketchup out by using a large cap so users can stand the bottle upside down and let gravity aid in product evacuation. From a sustainability perspective, this helps to minimize product waste.
For the bottle preform, Orkla chose the lightweight petainerSmallContainer™ PET preform from Petainer. Although the preform is available in a number of plastic materials, Larsson says Orkla chose PET because "there are no preforms available anywhere on the market made from HDPE that have an oxygen scavenger."
Larsson explains that the preform design was created specifically for the Felix bottle. "It's a perfect match between the preform and bottle design," he says. "This results in a good processing window, making it easier to blow-mold bottles in-house."
Orkla also wanted to move from hot filling of its product to cold filling, where products are cooled by an aseptic tube-in-tube heat exchanger before being filled into sterilized bottles. This process is said to lead to less product degradation than hot filling and eliminates the need for preservatives. Whereas Orka needed to use an HDPE bottle when hot filling its product due to the materials' ability to withstand higher temperatures, cold filling allowed for the use of a standard PET bottle.
The new bottle is blow-molded on a Sidel SBO 10, with a top-rated speed of 14,000 bottles/hr, chosen by Orkla with help from Petainer.
Dramatic reduction in GHGs
The new Felix PET bottle was introduced to the market in April 2014, with a callout on its label stating, "Var nya smarta flaska minskar koldioxidutslapp vid transport med 90%!" ("Our new bottle reduces the carbon emissions in transport by 90%!"). Before bringing bottle blow molding in-house, Orkla sourced its bottles and caps from a company in the U.K.
At the official inauguration of the new production line at Fågelmara in May 2014, Wigren said, "Having our own in-line bottle blower dramatically reduces transport to the plant. Now that we can blow bottles on-site, there is no longer any need for incoming deliveries of empty bottles. Moreover, as the bottle tops are also made in Sweden, this shortens the distance that these have to be transported as well."
Added Orkla Foods Sweden CEO Patrik Andersson, "This is one of the biggest and most important investments in ketchup that we have ever made. It provides evidence of our forward-looking approach and shows the confidence we have in operations here. The project has demanded a great deal of our co-workers, and the level of commitment they have demonstrated throughout the process has been fantastic. This bodes well for the future, both for the company as a whole and for Fågelmara."
Companies in this article