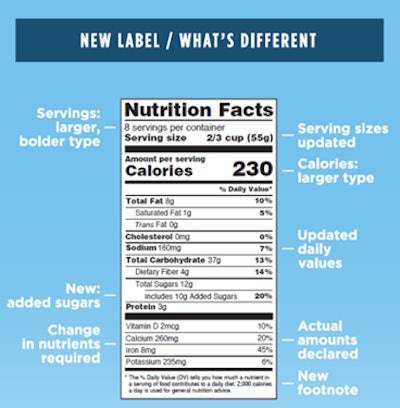 FDA published a Nutrition Facts label industry resources web page to help businesses comply with the requirements of the final rules, which were issued in May 2016. Businesses have until July 26, 2018 (or July 26, 2019 for manufacturers with less than $10 million in annual food sales) to bring their Nutrition and Supplement Facts labels for packaged foods into compliance with the final rules.
The industry resources page provides help on:
Frequently asked questions focused on common questions and concerns
Annotated graphic illustrations of new label specifications for the most commonly used label formats
High-resolution examples of label formats
Tables from the final rules showing daily values for vitamins, minerals, and food components, as well as reference amounts customarily consumed per eating occasion (RACCs)
Links to final rules and reference materials.
More inofrmation can be found at these links:
One supplier that can asssit manufacturers with retooling their packaging is StandUpPouches.net. A new design highlighting the product's caloric content and serving size is among the label changes that will be required. Declaring added sugars, Vitamin D content and potassium content are also among the updates.
For products larger than a single serving, dual columns must be printed on the package to indicate nutrition content on a per-serving and per-package basis.
New packaging can be produced that is smaller or large enough to reflect the newly mandated one-serving-size requirement. While it is the responsibility of each company to produce new labels for individual products, the packaging supplier is able to reprint existing custom flexible packaging to include the updated Nutrition Facts information by the required date.
StandUpPouches.net
https://info.standuppouches.net/nutrition-labeling-project