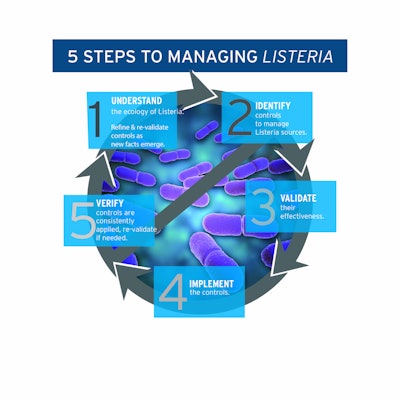 Some food processing facilities find themselves in a time crunch when changing over from sanitation to production and back again, says Philip Snellen, vice president, sales for Birko Corp., Denver, Colo.
"As a result, any issues related to visual examination of food contact surfaces or swab results tend to be dealt with as one off issues, not systemically," he adds.
That's why a rinse-clean-rinse-sanitize-repeat process is a must in any food processing environment.
"There is no one way to undertake cleaning and sanitizing," says Sarah Cahill, food safety officer and JEMRA (joint expert on microbiological risk assessment) secretariat in the food safety and quality unit of Food and Agriculture Organization of the United Nations, Canada. "Like in other industries, technological advances will help improve food safety. Operating in a production environment with well-maintained equipment is essential to food safety, as state-of-the-art machinery (designed with hygiene in mind) will further facilitate the production of safe food, often by offering easier maintenance, better protection and separation of the food from the rest of the machinery."
The pain points of cleaning and sanitizing vary according to the category, the complexity of the processing equipment, the state of the facility and an understanding that there is no one-size-fits-all approach, adds Cahill.
"What works in a fresh milk processing facility will not be the same as what works in a chocolate facility," she says. "However, in all cases, continued vigilance, human intervention and the intelligent design of food safety systems will remain critical to ensure that all our food is and remains safe."
Furthermore, cleaning and sanitizing need to not only be completed in the correct order, but also each step needs to be performed correctly to ensure a clean and sanitary production environment, says Oriana Leishman, research, development and engineering program leader, global food and beverage for Ecolab, St. Paul, Minn.
"The key factors [that] determine success of each step of the process are time, temperature, concentration and mechanical action," adds Leishman. "Although most food processors have the good written sanitation programs, many struggle to ensure that these practices are being routinely executed as designed, particularly in manual cleaning applications."
And, as food processors continue to come under pressure to produce safe food more efficiently, Leishman says certain sensing and analytical technologies allow food processors to track critical processes and manage food safety risk.
"Not only will sanitation processes in the future need to be effective and traceable, but also more efficient in terms of time and labor to meet the ever-increasing efficiency requirements to help keep food producers profitable," says Leishman.
Technological advances also help improve food safety by encouraging food manufacturers to instill better cleaning techniques.
"Operating in a production environment with well-maintained equipment is essential to food safety," says Cahill. "However, in all cases, continued vigilance, human intervention and the intelligent design of food safety systems will remain critical to ensure that all our food is and remains safe."
Food and Agriculture Organization of the United Nations, Canada
[email protected]
Companies in this article