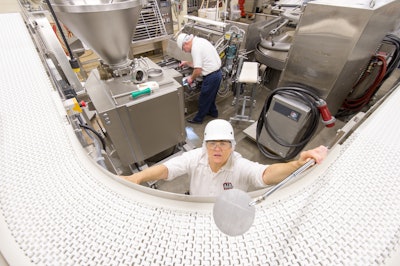 Between tainted flour, scraps of metal or traces of bacteria, the past couple of years have seen several high-profile recalls. But, user error isn't all to blame. That's because many of today's food processors fail to invest in hygienic equipment design.
"For years, equipment manufacturers' main design concern was functionality and production," says Jesse Leal, quality manager, training food safety services standards and calibration at American Institute of Baking (AIB), Manhattan, Kan. "The focus was not on how to clean and maintain the equipment, but to make sure it performs to customers' expectations. Many pieces of equipment had to be modified or upgraded to comply with many food safety requirements, such as gear boxes and bearings located directly over product zones with little or no protection to products below. For example, glass light bulbs in areas that could jeopardize the products being produced on the line if damage were to occur. The equipment industry is now embracing the food safety aspects of equipment design and soliciting input from the food industry they supply."
Experts say hygienic equipment design could be the solution—and the future—to obtaining ultimate food safety.
"Sanitary design in a food processing plant enables equipment to be easily cleaned and remove potential physical, chemical or microbiological contaminants effectively and efficiently," says Joe Stout, president of Commercial Food Sanitation, LLC, an Intralox company, Harahan, La. "All food processing plants, including low-moisture foods, need equipment of a sanitary design. Equipment with a sanitary design is easily accessible for cleaning to remove soils, microorganisms and of course allergens."
And, while the Food Safety Modernization Act (FSMA) doesn't address equipment design, it may inspire food manufacturers to comply with stricter design criteria.
"With an enhanced focus and regulations on allergens, cross-contact and pathogens, equipment design will become an integrated part of food safety," adds Leal. "The main concern will no longer be the cost of equipment and production, but rather the consumer and how ineffective equipment design could cause harm."
Demanding better equipment designs also requires food processors to be educated on the subject, implement continuous improvement across the entire supply chain and report hygienic issues when they occur.
That's why the North American Meat Institute (NAMI), Washington, D.C., developed its own set of sanitary guidelines.
"[We] encourage equipment designers and food processors to collectively work together on improving hygienic, sanitary design and equipment," says Scott Goltry, vice president of regulatory affairs. "We worked with members to create sanitary equipment design principles to guide specific design elements for processing equipment."
For its part, the European Hygienic Engineering & Design Group (EHEDG), The Netherlands, created a set of guidelines that many of today's food processors use as the protocol for equipment being installed in their factories, says Jon Kold, chairman.
"Using EHEDG guidelines as requirement saves time during the definition procedure and assures that as many critical issues are pointed out as possible," Kold adds.

Resources: For more information on low-moisture foods, see PMMI's OpX Leadership Network's report on
One Voice for Hygienic Equipment Design for Low-Moisture Foods.
American Institute of Baking (AIB), Manhattan, Kan.
Melissa Kirkwood
[email protected]
EHEDG Susanne Flenner,
[email protected]
North American Meat Institute (NAMI)
Eric Mittenthal
[email protected]
Companies in this article