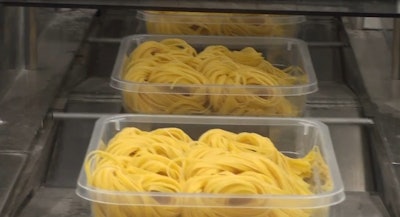 A new generation of barrier, multilayer and transparent packaging could extend the shelf life of cheese and fresh pasta, while costing 25% less than conventional packages and a 29% lower carbon footprint. Research and development on the project is being coordinated by Spain-based AIMPLAS within the framework of the European project BIO4MAP.
According to Nuria López Aznar, researcher of the extrusion department at AIMPLAS, the technology center has been focused on developing the biodegradable and oxygen-barrier material as well as being responsible for processing the new materials developed to obtain the new multilayer packaging.
The aim of the BIO4MAP project is to develop a high-barrier fully-biodegradable and recyclable structure, which is also multilayer and transparent for packaging food products that require a customized modified atmosphere by combining different biodegradable thermoplastic materials. BIO4MAP is funded by the European Union's Seventh Framework Program.
A co-extrusion technique was used to obtain a five-layer sheet (PLA/tie/PVOH/tie/PLA), a thick structure to be thermoformed and a thin structure to obtain the lid. López Aznar says because PLA is the only biodegradable, compostable and transparent material available, the plastic was used for 75% of the structure, replacing materials such as PET.
The barrier material was developed previously by AIMPLAS and was adjusted according to the properties of the tie layer. The PVOH developed replaced the current EVOH. Different techniques were used to obtain a biodegradable tie layer, compatible with PLA and PVOH. A natural wax coating made from olive leaves was developed to provide a water barrier to the package, covering the tray and lid and insulting the product from oxygen and humidity.
To date, the packaging has been developed at pilot level and needs adjusting to be marketed and fully competitive, says López Aznar.
Companies in this article