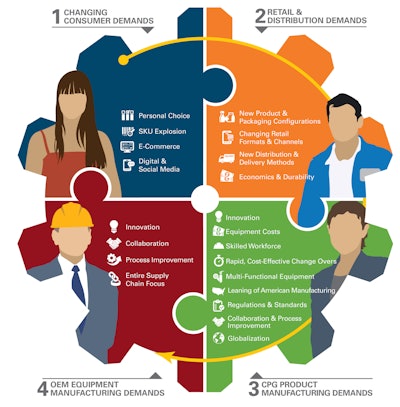 Almost all conversations today about manufacturing involve the current state of the American manufacturing workforce. The conversations often focus on the difficulty of finding new workers and the challenge of engaging and developing current employees.
Attracting and retaining quality talent in manufacturing is the greatest challenge facing manufacturing today. Manufacturing jobs remain unfilled due to a lack of available STEM-trained talent. In addition, the existing workforce is aging and more mechanically focused as opposed to the servo and project management training required today.
Employee engagement of this workforce is both a challenge and an opportunity in overcoming manufacturing's labor issues. Simply put, there aren't enough candidates available, and incumbents require significant training upgrades, according to PMMI's 2016 Top to Top Summit report.
In order to be successful, food and beverage processors and equipment manufacturers must address these workforce challenges in a collaborative fashion. Staff training needs must be assessed at all phases of project implementation, from design and start-up to after the sale or purchase of equipment.
In addition, developing standard work and simplifying training materials will go a long way in helping end users to be more productive. However, employees also need training in areas such as electrical programming, use of remote diagnostics and integrating equipment into common platforms.
As part of its ongoing outreach to CPGs professionals, PMMI conducted focus groups with 65 CPG participants last year. Topics included process improvement, workforce development, machine operations, procurement, global demands, equipment trends, sustainability, maintenance, lean manufacturing and more.
In addition, PMMI's Top to Top Summit held earlier this year provided an opportunity for CPGs and OEMs to discuss not only the focus groups' findings, but also ways to address critical challenges facing the food industry.
Many food and beverage manufacturers are calling for smarter, more automated equipment, yet they need this equipment to be more user-friendly because of the growing skills gap. While machinery technology advancements will help plant productivity, workers still need problem-solving skills to run sophisticated food and beverage lines.
In the area of workforce development, manufacturers should link operations training to improved efficiency and performance, and create ways to measure the effectiveness of their training programs. Today, there is also a great need for internship/apprenticeship programs and creating relationship programs with both technical and engineering schools to develop and recruit skilled candidates.
According to PMMI's Top to Top report, technology training should include:
Troubleshooting skills, especially for technicians 

Up-to-date skills for changing controls platforms
Mechatronics
Sanitary design and CIP, especially with all stakeholder input 

Easy to understand technical training manuals 

Materials that accommodate varying learning styles and translations for different languages
Videos that capture institutional knowledge, especially as the workforce retires 

Workforce engagement, not just training 

Coordination with technical training initiatives at local technical and community colleges
Plant safety modules 

Train the trainer programs. 

The emerging workforce is very different from today's older generation. The days when employees stayed at a job for a lifetime are over. Savvy employers are mindful of younger workers' evolving work ethics and are already addressing the changes. In the meantime, companies should tap into more experienced workers to bring knowledge to the younger generation, acting not only as trainers, but as career mentors. Otherwise that valuable technical knowledge will be lost forever.
The bright side is that good paying jobs, appropriate job training, teamwork, mentoring programs and the chance to work with new technology will help manufacturers attract new workers. This an opportunity for both equipment suppliers and CPG companies to combine leading-edge technology and training programs to recruit and retain skilled employees.
Read part one of the Vision 2020 series: Efficient changeover still one of manufacturing's top challenges.
Part two of the Vision 2020 series: The pressure is on from the 'thinning' of manufacturing.
Part three of the Vision 2020 series: Managing capital spending through the total cost of ownership.
Part four of the Vision 2020 series: Manufacturing innovations that matter the most.
Resources:
Download PMMI's Top to Top report.
For more information on current industry challenges and solutions from PMMI, visit OpX Leadership Network.
To attend OpX Leadership presentations on TCO, FATs, OEE and more on the Innovation Stage at PACK EXPO International in November, register here.