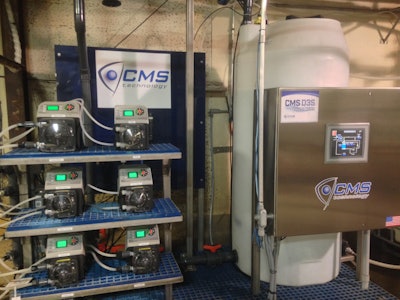 CMS Technology prides itself on providing solutions for food safety and brand protection. That's why the Danbury, Conn.-based company developed the CMS D3S system, a patent-pending automated system that optimizes chemical dispensing levels and delivers consistent application in real time.
"Through our system, food processing employees' exposure to chemicals is significantly reduced," says Francis Dautreuil, vice president of technical services and inventor of CMS D3S. "Food safety and quality are greatly enhanced by the ability to tightly control application levels of processing aids and/or antimicrobial treatments. Over-application issues that cause damage to food appearance and taste are eliminated, reducing food waste."
CMS D3S collects data in real time, while self-optimizing applications to enable employees to track and improve food quality. Additional food safety benefits include ensuring that appropriate dosing occurs at the right levels in a consistent manner, thus improving shelf life, lowering spoilage bacteria, and ultimately, preventing foodborne illness.
"Manual procedures or simple automation devices cannot optimize application levels, and leave too much to chance," says John Meccia, president and CEO. "When antimicrobial treatments are highly variable, harmful pathogens can make their way through the food supply. Companies can also suffer unnecessary costs from inconsistent product taste or quality, resulting in costly waste. Worker safety is greatly enhanced by reducing direct exposure to harmful oxidative, acidic or alkaline process treatments."
Currently, CMS D3S is used mainly in poultry and produce applications "where proper antimicrobial processing is critical to mitigate harmful pathogenic risks," says Ron Shapira, vice president of strategy development. "Appropriate levels are utilized to meet their intended effect; not doing so can result in non-eco-friendly waste and unnecessary costs to companies. The reverse can also occur where insufficient chemical application occurs that is less than what is needed for the intended effect."
For highly alkaline or acidic applications, the automated control system allows consistent application without the need for manual quality control checks since application requirements are measured in real time, adds Dautreuil.
"At CMS, we believe that you can only manage what you know," says Dautreuil. "We want to empower clients, so that they can reduce wasteful consumption, enhance worker safety and productivity, all while obtaining real-time data 24/7 in a variety of ways in order to identify best practices. The system can foster best practices that [our clients] can cascade across multiple facilities."
CMS Technology is currently reaching out to partners that can identify many chemicals where this system can offer efficacy, improved economics, employee safety and information generation, with plans to expand into other protein sectors such as beef and pork.
"Better control and information can assist production facilities with operational improvement. Accordingly, our patent was developed in a manner where we can be helpful to multiple industries in achieving their goals," says Shapira.
Find more food safety solutions at ProFood Tech, scheduled for April 4-6, 2017 at Chicago's McCormick Place. Register now!
Companies in this article