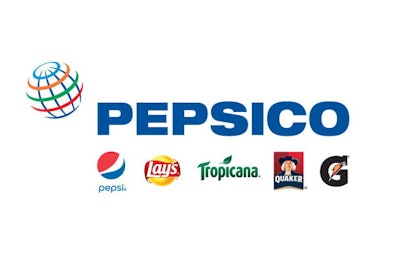 PepsiCo, Inc. has entered an agreement with biotechnology company Danimer Scientific that includes development of Danimer's biodegradable film resins to meet the sustainable flexible packaging requirements of PepsiCo's global food and beverage business. The agreement builds on a long-standing relationship that has included the development of bio-based compostable packaging for PepsiCo's snack brands and will facilitate the expansion of Danimer Scientifics' NodaxTM PHA plant.
In October 2016, PepsiCo announced its 2025 sustainability agenda, which includes the intent to reduce greenhouse gas emissions across its value chain and design 100% of its packaging to be recoverable or recyclable. This goal is part of PepsiCo's decade-long Performance with Purpose initiative to deliver top-tier financial performance over the long term by integrating sustainability into its business strategy. This collaboration is also expected to help expedite PepsiCo's transition to packaging that is completely biodegradable for their snack food portfolio by incorporating Nodax PHA bioplastic into certain of its next-generation snacks packaging.
"From the start PepsiCo has taken a holistic approach to our sustainability work," says PepsiCo Vice Chairman and Chief Scientific Officer Dr. Mehmood Khan. "Our first objective is achieving long-term profitability, and that requires sustainable solutions to grow our business while minimizing our environmental impact. Our plan to scale Danimer Scientifics' technology is a step toward achieving both our greenhouse gas emission reduction and our recoverable and recyclable packaging goals."
"Danimer Scientifics' partnership with PepsiCo marks a significant milestone as we continue to expand our biopolymer technology to provide innovative bioplastic solutions to a wider range of applications and products," says Danimer Scientific's CEO, Stephen Croskrey. "We've been developing a relationship with PepsiCo for the last seven years, and as one of the largest food and beverage companies in the world, their commitment to limiting the environmental impacts of their products can actuate real change in the way of sustainability."
Nodax PHA is a naturally occurring biopolymer produced by microbial bacteria as they ferment organically sourced oils. According to Danimer, produced using renewable biomass, Nodax PHA is both sustainably sourced and proven to be capable of replacing many short-term-use petroleum-based plastics, for both performance and price.
Danimer Scientifics' Nodax PHA received the first ever OK Marine Biodegradable certification from Vinçotte International, validating that the biopolymer safely biodegrades in salt water environments, leaving no toxins behind. Nodax PHA possesses seven Vinçotte certifications and statements of industrialand home compostability, biodegradability in anaerobic, soil, fresh water, and marineenvironments, and is bio-based. All of Danimer Scientifics' biopolymers, including Nodax PHA, are FDA approved for food contact.
Companies in this article