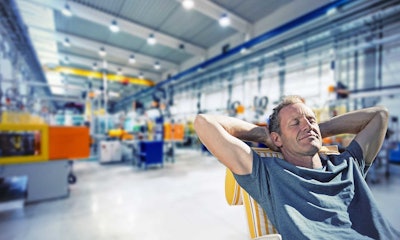 Moving beyond smart instrumentation, autonomous instruments are the next big thing on the horizon. Control vendors are already working to make equipment not only intelligent, but actually autonomous, self-monitoring and auto-diagnosing—ready, willing and able to take steps to fix problems as they arise.

The idea is to take humans out of the decision-making process as much as possible, saving (theoretically) vast amounts of time and money. In this future state, everyone from operators on the shop floor up to executives on the top floor will know everything is running properly because the instruments will take care of themselves.

Not so fast there. Autonomous instruments are not yet commercially available. A few vendors—most notably Schneider Electric—have worked on custom devices with manufacturers, but such devices won't be appearing on the market overnight. Industry spokespeople note, however, that autonomous capabilities are beginnig to creep into control equipment, helping to increase reliability and even boost profitability.
Inspired by self-driving cars
If automotive companies can make self-driving cars, why can't process controls be autonomous? This question was on the table roughly three years ago when Peter Martin and his colleagues sat down to talk about the future of controllers. "We said, 'If autonomous cars are possible, why can't we do this with every asset in an industrial plant?'" recalls Martin, vice president of innovation and marketing for Schneider Electric. As it turns out, the future is closer than you might think.

"What makes an automobile go from being dumb to being autonomous? Real-time control," Martin says. "It's not just controlling the gas flow into the gear shaft; it's controlling every part of the automobile in a coordinated way."

Given the safety imperative and number of parts, controlling a car is much more complex than, say, controlling a compressor. So it seemed reasonable to consider extending the traditional controls beyond just promoting efficiency, to aiding safety, reliability and profitability, too.

Martin and his team got to work adding autonomous aspects to existing controllers while also planning for wholly self-optimizing equipment down the road. Schneider Electric currently sells controllers that feature some autonomous capabilities, and plans to add more on an ongoing basis.
First, build trust
Autonomous instruments will not be widely developed or implemented unless and until people in the plant believe the information that comes from the control systems is accurate. And that takes trust, which is not as simple as it sounds, says Bob Karschnia, vice president and general manager of wireless for Emerson.

Emerson did a study a few years ago looking at work orders its customers cut against its products. "About two-thirds of the time, the response came back as 'no problem found,'" Karschnia says. That means the operator did not trust that the instrument was correct in its reading. "As we move into a digital age where we add wireless connectivity to the device, it no longer tells you the information, it tells you high-value information with a high degree of confidence."

This is a big step forward in trusting the data. One way to get to 100 percent trust, Karschnia adds, is to have high levels of redundancy built in to the instrumentation, similar in concept to redundant array of independent disks (RAID) technology used for storing data. "This is multiple sensors that just keep working," he says. "They self-calibrate. I never have to touch them."

The next step toward autonomy is for an instrument to take a simple action, such as opening or closing a valve, as the result of a reading. "As I start having less and less maintenance on my instrumentation, I come to the point where I can install them and never touch them again," says Karschnia, who acknowledges there is still much that must happen before that promise becomes reality.

Today, industrial processes are generally measured by a single controller that is very accurate. In the future, this approach could give way to clusters of sensors all doing the same job, such as sensing temperature, with the actual reading based on a consensus of all the values.

Repeatability, reliability and stability are more important than precision, Karschnia notes. "Reliability builds trust, laying the groundwork for autonomous controls." Emerson sells a temperature device that has four sensors in it. "When one fails, it will keep running. When two fail, it will keep running. When one starts to drift, the operator can recalibrate it online. The resiliency is built in."

Today, some human intervention is usually required to recalibrate the instruments. Emerson, for example, sells a pressure transmitter with a 10-year, "set it and forget it" warranty. "We ask our customers not to calibrate it for 10 years because their calibration instruments are much less accurate than the sensor itself," Karschnia says. "It drifts so slowly, it doesn't get out of our spec for 10 years. If I can extend my [device] lives out to needing a human touch once every 10 years, that's a radical reduction in the amount of work." Personnel then have the freedom to spend time on more pressing matters, such as figuring out how to increase capacity, run with less energy and boost safety.
Autonomous controls at work
The possibilities are limitless for autonomous controls. Imagine a safety control scenario where a hazardous fluid is being moved through a pump. If the temperature of the casing starts going up and keeps on that trajectory, it could cause a fire or explosion. The traditional approach would be to turn the pump off once the temperature reaches a certain level. But that would adversely affect profits. Alternatively, the pump could try slowing itself down to see if the temperature would decrease. The pump would make the decision to act based on intelligence from the pump company, which has lots of test data that could be mined for this purpose.

To take another example, suppose a pump exhibits unusual vibration. The pump manufacturer's data indicates the pump will break down in four days at that level of vibration. If that happens, the unit will have to be shut down. There are other options: The pump decides to reduce its speed by 10 percent so it will last 12 days, for example, allowing the plant operators some breathing room to schedule maintenance. Or the pump operates at the faster speed until the end of its run the next afternoon to avoid a $2 million late penalty, but arranges maintenance directly after.

"This has direct value in terms of profit and loss," Martin says. "You can measure that value and look at it over time." This is about applying control more intelligently so everything is running in a way that optimizes safety, reliability, efficiency and profitability. "Can you balance those four in a way that the pump is self-operating?"

Schneider had a customer, a gas company, whose plant was running at just 85 percent of expected capacity. A brief investigation found the problem wasn't the plant itself, but rather the gathering system whose job it was to pull in gas from the pumps in the field, Martin recalls.

The compressors were breaking down often because they couldn't get enough gas to the plant. When a compressor broke, it took about three days to fix it. But using a Schneider software model for reliability, the team discovered if they could fix the compressor before it broke down, the repair would take only about three hours. "We could predict breakage weeks in advance," Martin says. The model also showed the problem could be avoided altogether by slowing down the compressor by 5 percent.

Analytics can be embedded into controls so they know what to do according to the conditions. "It's predictive maintenance with a real-time response under it," Martin says. "If you have an operation with 15,000 pumps in it, predictive maintenance is nice, but making sure that each pump is responding as it needs to in the moment is too much work." One day, autonomous controls will do it for you.
State of commercialization
That day is coming. Schneider has already worked with a handful of process manufacturers on custom control systems with autonomous attributes, chiefly profitability control. For example, a few years ago, it worked with Dynegy Midstream Services, which was looking for profitability improvement and workforce empowerment. Schneider also worked with Sasol Infrachem to focus on profitability improvement through manual profit control. That project returned millions of dollars of improvements per year, according to Martin.
Schneider Electric's Modicon M580 PAC now comes with optional embedded real-time accounting modules for profitability control. This is one step toward autonomous instrumentation.​
Building on its custom work with manufacturers, Schneider now sells a Modicon M580 programmable automation controller (PAC) with an option of embedded real-time accounting modules for profitability control. "It's an asset-centered package that does the extended control. We are starting to walk clients in this direction," Martin says. "This is a major transformation that will take 30 years to complete."

Schneider is testing various options for reliability control while Emerson is pursuing the clustered-sensor approach.

Martin sees the form factor of controllers moving from a traditional programmable logic controller (PLC) package to a much smaller, more compact, asset-sized package about half the size of a cigarette pack. "Down the road, you'll see controls companies bolt the controller on the side of the compressor," he says. "Eventually, this equipment will all come with the controls built in."

All of this activity in the automation industry means that self-driving cars are not the be-all and end-all for autonomy—one day entire plants might be autonomous. "That's what we're driving to," Karschnia says. "There are already offshore plants that are unmanned. There is so much less work that has to be done on site."
Companies in this article