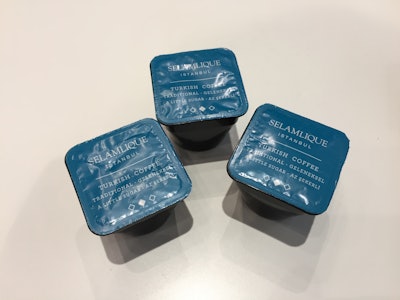 Coffee capsules have become ubiquitous in the U.S. and Europe, designed to create hot beverages that range from coffee and tea to more specialty drinks such as lattes, cappuccinos, and espressos. Now in Turkey, coffee drinkers can enjoy their Turkish coffee—a hot beverage steeped in tradition that typically requires slow and careful preparation—using a custom-designed capsule brewing machine. Working closely with customer Selamlique Istanbul, Ispak Ambalaj, part of the Kibar Holding, has used its experience in aluminum-based packaging to create a specialized capsule top and bottom film for specially designed capsules for Selamlique's Turkish coffee capsule brewing system.
According to Ispak General Manager Eser Erginoğlu, the project was rife with challenges, as ISPAK developed the capsule film at the same time Selamlique designed the brewing system. "The machine was designed from scratch," she says. "We didn't have the equipment to work with. The capsule had to protect the aroma and quality of the coffee, while being affordable for consumers."
The top foil for the square capsule is manufactured using a proprietary technology that enables barrier and adhesion functionality to protect the taste of the coffee. The film is printed in a variety of colors to differentiate the range of flavors offered by Selamlique. At interpack, Ispak is showcasing the capsule and coffee machine, as well as the trophy it received at the WorldStar Awards 2017 ceremony, held at the show May 4.
Erginoğlu says the award will help in Ispak's efforts to promote its flexible packaging capabilities in the global market. By year-end, Ispak's new facility in Imzik, Turkey, will be fully operational doubling its capacity to 40,000 tons/yr.
Ispak specializes in flexible packaging, with an emphasis on aluminum-based applications for a range of industries, including chocolate, sugar, and confectionary products, dairy products, beverages, dried food and snacks, medical and pharmaceutical packaging, toiletries, hygiene, and pet food. Ispak also designs and produces tobacco and industrial packaging applications.

"Interpack 2017 is really important to Ispak as we expand our global footprint," says Erginoğlu. "The packaging market is growing, and we are aware that the industry is looking for trusted partners with experience more than ever before. At Ispak, our innovative team is continuously working to develop safe, environmentally-friendly advanced products. We look forward to showcasing our work and working with customers and potential brand owners to give them the quality, customized packaging they expect."
Companies in this article