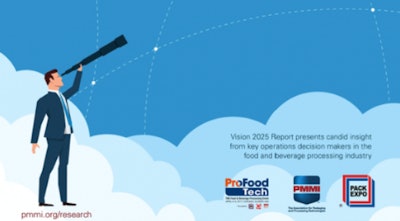 Earlier this year at ProFood Tech 2017, PMMI conducted focus groups with food and beverage professionals who have primary responsibilities in processing operations. Part two in this series of articles focuses on how innovation can bring order to chaos for food and beverage manufacturers.
According to PMMI's 2017 Vision 2025 report, CPGs are using more focus groups to collect "voice of the consumer" feedback to avoid failed product launches. Internally, CPG companies are improving cross-functional collaboration with the use of OpX Leadership Network programs such Factory Acceptance Testing programs, employing more upfront project planning, and working more closely with marketing colleagues to get a better understanding of how to meet customer demands.
Concerning equipment, more CPGs are leaning on suppliers for help with process improvements, and prototyping and proof of concept pilots. Most manufacturers want to build a true partnership with suppliers, but some CPG are implementing supplier performance agreements with clauses that require compensation if performance is not met. This forces candid conversations regarding realistic expectations. Manufacturers are also demanding corporate social responsibility from suppliers and are including it in supplier agreements.
Organizational effectiveness
Several CPGs interviewed by PMMI report using some variation of intra-company field trips to get different departments to gain a better understanding of each other, while other companies report an emphasis on workforce engagement to boost performance.
According to the Vision 2025 report, some CPGs see growth in continuous improvement initiatives. To a lesser extent, a few are creating new positions where one person understands all facets of a project and the consequences on the entire company. In other staff-related areas, some companies are instituting trial periods for new employees to determine if they are the right fit for the organization, and developing internship programs to help entry-level staff gain manufacturing experience.
Read part one in this series of articles, Vision 2025: Defining the new normal in manufacturing
Fresh off a successful 2017 debut that brought together nearly 10,000 food and beverage professionals, ProFood Tech 2019 returns to Chicago's McCormick Place on March 26—28, 2019.
For more information about Vision 2025 and other PMMI reports, visit https://www.pmmi.org/business-intelligence.