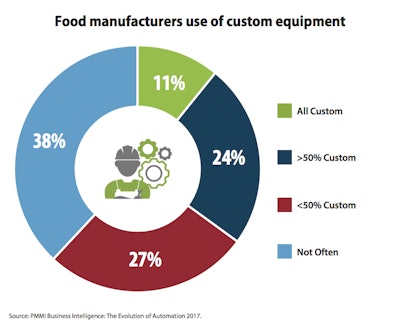 Evolution of Automation 2017, a 58-page report released last Fall, found sixty-two percent of food manufacturers request customized equipment at some level.
"We get requests daily for customized equipment," says a managing director for an OEM. "It takes a lot of time to define exactly what the customer's needs and specifications are."
Customization is complex, say OEMs. There are different levels of customization for both hardware and software, and it's possible to get bogged down specifying each individual component, even sensors.
Custom orders increase the time to market for any project. The report offers comparisons for custom vs. standard equipment offerings and discusses the future of automation, including 3-D model based engineering and digital twins.
Source: PMMI Business Intelligence, Evolution of Automation 2017. Download the 10-page executive summary for FREE here.
Plan now to attend The Automation Conference & Expo, May 22-23 at the Chicago Marriott O'Hare. Gain a better understanding of the most critical technologies and strategies for improving your manufacturing operation and staying ahead of the competition.