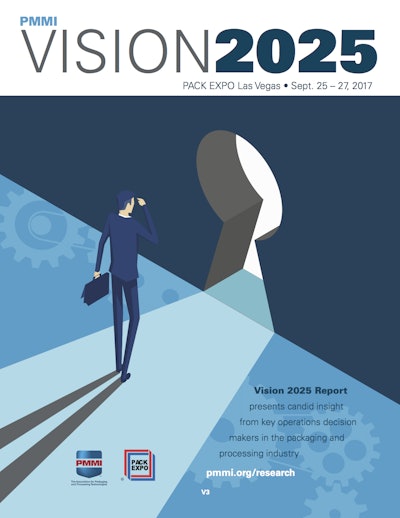 Fifty CPGs and OEMS participated in Vision 2025, conducted last Fall at Pack Expo LAS VEGAS.
CPGs report that there is a disconnect between what consumers say and their purchasing behaviors. For instance, most consumer polls show they want less salt, but sales of salty foods continue. Trix cereal brought back artificial flavors and coloring to satisfy consumer demand, reversing a decision from two years ago to go completely natural.
Consumers continue to "want it now" including single-serve and easy-to-use packaging, driving changes in packaging configurations.
While not all CPGS can even agree on what "clean labeling" means, all agree it is here to stay. Consumers want transparency in their products from cradle to grave.
Some CPGs reported finding a lot of false information about their products regarding dietary terms and definitions like organic, natural, etc. This "disinformation" is fed by social media and blogs with questionable data and sources.
A significant challenge for some CPGs is fighting store brands for share, as well as eroding their own brand loyalty with multiple offerings in different sizes or package formats.
Finally, home delivered "meal kits" like those offered by Blue Apron or Hello Fresh are disrupting the market. Some CPGs, in order to better understand and leverage this segment, are investing in meal kit start-sups.
Source: PMMI Business Intelligence, "Vision 2025." Download the entire 24-page report here.