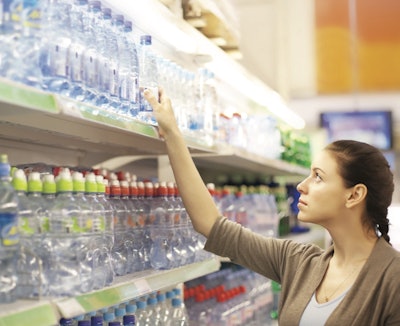 Beverage Trends in Packaging and Processing Operations forecasts that plastic will maintain its standing as the most popular packaging material for the foreseeable future, with an annual growth rate of 6.1%.
Plastic container material's 42% market share is expected to grow to 55% over the next 10 years, which equates to $25.1 billion in value.
Since 2010, plastic bottles have been consumers' leading container choice because of their transparency, recyclability, light weight, reseal ability, and resistance to breakage, according to the new study. This container type is expected to prevail as the most popular material, and also realize the highest growth rate over the forecast horizon.
In 2016, plastic bottles counted at 117.8 billion units. By 2018 that number had grown to 129B, and is expected to grow to 178B in 2028, a 37% growth rate and 54% market share. Plastic pouches counted at 5.5 billion units in 2016, up to 6B in 2018 and are expected to grow to 9B in 2028, a 45% growth rate and 2.7% market share.
While plastic containers will continue to maintain the lead in grow volume and share, other materials such as aseptic cartons, aluminum bottles and bag-in-box will also continue to grow. For more details about beverage trends and growth, download the FREE Executive Summary, or the full report here.
Discover new solutions for Food and Beverage Processing at ProFood Live! June 20-21 in Chicago, with discussions about trends in food processing operations; addressing today's crucial challenges in manufacturing; and much more!
Source: PMMI Business Intelligence, "Beverage Trends in Packaging and Processing Operations 2018."