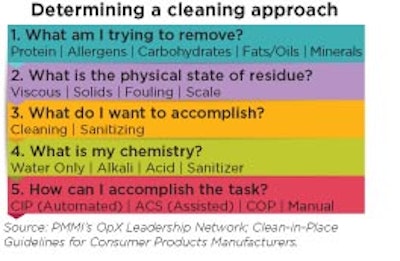 Many food and beverage processors want evidence that their clean-in-place (CIP) programs are effective. Developing a verification plan and documenting the results of CIP cleaning procedures help satisfy the needs of a food company's food safety personnel, corporate management and consumers, and shows that a processor is proactively employing food safety measures.
A new guidelines tool developed by PMMI's OpX Leadership Network can help processors with activities associated with CIP systems. Clean-in-Place Guidelines for Consumer Products Manufacturers provides generic definitions, equipment considerations, best practices and protocols for CIP that can be leveraged across multiple process lines to drive improved operational, product quality, consumer safety and sustainability results.
The document outlines major activities that should take place and helps identify if any deficiencies are found. Several resources are also listed to assist processors with CIP activities. For sanitation strategies, it is important for processors to work closely with chemical suppliers to choose the compounds and procedures used for cleaning equipment and food contact surfaces to remove target soils.
"Both processors and equipment suppliers will find value in this clear-language document that includes examples, checklists and protocol outlines," states Stephen Perry, managing director of PMMI's OpX Leadership Network. A highlight of the document is the clarity in purpose, techniques and terms regarding CIP systems verification.
"The CIP guidelines and accompanying tools help food and beverage companies in several ways," says Caitlin Lucia, a senior process engineer with Campbell Soup who helped develop the tool with other OpX Leadership Network member companies. "It provides common language for working with OEM and chemical suppliers and provides a foundational knowledge base that can be used across operations, quality, engineering and maintenance. The document provides reminders, considerations and guidance for design and troubleshooting."
This CIP guidance for CPG companies is specifically developed for manufacturers that use "wet" cleaning procedures. The methods and approaches taken in CIP system development should reflect the conditions mandated by the product, production schedule or other special needs. In all cases, the CIP system should provide precise instructions that will ensure the proper cleaning and sanitizing of all equipment to remove contaminants and microorganisms that could cause harm to consumers.
"As an engineer, the CIP tools provide me a comprehensive list of considerations that I need to take into account on a particular CIP design," Lucia adds. "The foundation educational material greatly assists in getting those not intimately familiar with CIP up to speed quickly."
To download a copy of Clean-in-Place Guidelines for Consumer Products Manufacturers as well as the supporting Clean-In-Place Checklist, visit www.opxleadershipnetwork.org.
Companies in this article