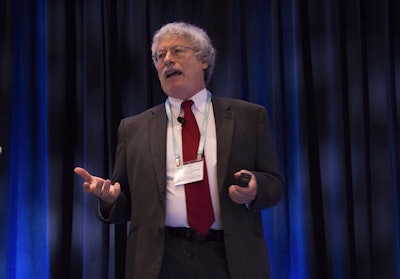 As you think about how you might be able to take advantage of the inrush of technologies swirling around the Industrial Internet of Things (IIoT) and Industry 4.0, imagine trying to apply the technologies to 413 factories in 86 countries around the world. That's the challenge facing the world's largest food and beverage company as it tackles the realities of a digital world in manufacturing.
Kicking off the two-day Automation Conference & Expo—put on by Automation World and its parent PMMI Media Group—this week in Chicago, Tom Doney, expert engineer at the Nestlé Development Center in Marysville, Ohio, painted a picture of Nestlé's assessment of the technological innovations it's exploring as we head into the fourth industrial revolution. There are plenty of interesting and potentially helpful technologies to explore, but he gave a more realistic view of what might make sense in early explorations and the caveats to consider along the way.
Nestlé is looking at a laundry list of available technologies along the digital path with its filling and packing lines (the focus of Doney's presentation). From machine condition monitoring to 3D printing and collaborative robots (cobots) to digital twins and virtual and augmented reality—there is a world of possibility for the digital factory.
"The connecting technologies available to consumers that rock a CPG company's world are the same technologies that will enable us to grow and prosper," Doney said. The digital factory will enable a step change in manufacturing performance and support new consumer needs and business models, he added.
Using a tray shrink packaging line as an example, Doney detailed the various levels of connectivity, beginning with sensors monitoring the packer's inlet and outlet. Combining the information from all the flows, it is possible to monitor a machine's state at all times. "It can be running, it can be stopped, it can be starved, it can be blocked," he said.
They can generate dashboards for line status, machine downtime causes and more. But then where to send all that information? "Think about this: 400 factories, all lines have a packer, and most factories have multiple lines," Doney explained. "It becomes a tsunami if we don't do anything about it."
Doney touched quickly on Nestlé's use of 3D printing, noting that it's a useful tool for developing a favored design of a package, for example. "A package can be 3D printed to provide non-technical stakeholders a look and feel of the design," he said.
Manufacturers in a variety of industries have begun using 3D printed parts as a quick fix to failing equipment components. However, Nestlé has a specific policy against using 3D printing as a substitute for OEM-supplied parts on filling and packaging machines, Doney added.
They are finding great success with cobots, with 14 installations running at Nestlé. "Cobots are a really exciting technology for us," Doney said. "We find that we can place automation in places that are constrained, have been set up as manual, or have no space at all."
Showing a video to demonstrate the use of a cobot to stack finished packages on a pallet, Doney commented, "Note the tight envelope the cobot is working in. And it's right next to an aisle lane for people movement and equipment movement."
Digital twins have also come into their own at Nestlé. Whereas the company has long used digital models or simulations of filling and packing lines as a predictor of performance and for evaluating design alternatives, mean time before failure (MTBF) and mean time to repair (MTTR) for machines were only estimates.
"Now IIoT data can provide validated information on a previously modeled line. Thus the digital twin," Doney said. "Data fed to the digital twin from different lines or locations can highlight operational differences in machine center performance or overall line performance from the reference model."
Augmented reality (AR) and virtual reality (VR) are other technologies that industry has been abuzz about. And though Nestlé sees both technologies as potentially powerful tools, there are practical limitations. Showing a picture of the typical PPE and GMP gear worn in Nestlé factories, Doney explained how the required helmet, hair net, earplugs, facial net (for those with facial hair) does not mesh well with wearable equipment, certainly. "When I go to a trade show and see a shining tech with Google glasses, I don't think that's going to fly," he joked.
But even the more realistic tablet scenario that Doney described for AR applications has its drawbacks. He gave an example of changing a filter on a filler, using a tablet to be able to see what maintenance tasks need to be done. And then the technician can get visuals overlaid on the machine to show the steps of removing the C clamps, removing the filter housing, detaching the old filter, and so on.
"That's something we aspire to, something that can help us. However, we have to look at what's practical. That example takes a lot of effort to build," Doney said. "It's quite literally beyond most machine builders' capabilities and beyond our budget to be able to afford and do this."
What makes more sense are what Doney refers to as "see what I see" applications of AR—enabling a machine builder's expert to see what a manufacturer's technician sees on the factory floor. "This sounds like a service without the visit," he said. "Think about that. Right now, as an end user, when we need a technician, we have to schedule the visit, pay for travel, pay for their time on site." Instead, AR would enable them to get a service technician's guidance without all the overhead. "Instead of paying for chunks of time, we could end up paying for service per minute. We'd be happy to do so because we'd get the system up and running."
VR, likewise, is a technology that Nestlé is likely to be used for focused training outside the production area, Doney said, adding, "We don't feel it's safe to have somebody walking around the factory in their own little world."
Cloud analytics is another technology that Nestlé sees as the future, not the present, Doney said.
As Nestlé looks toward the future, it will likely progress from its current pilots taking place mainly for performance measurements and energy consumption toward machine condition monitoring, Doney said. The first priority, however, is to get overall equipment efficiency (OEE) data to be more accurate through the manufacturing execution system (MES) level to the business system, he added.
"We're taking a stepwise approach, validating data via edge devices and sending parsed data first to the business system before deploying cloud-based analytics," Doney said. "We'll delay deploying cloud until the pilots are finished. That helps avoid the tsunami."
Companies in this article