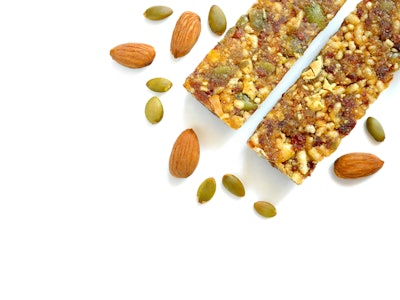 North America
The healthier snack segments (e.g. nuts/seeds, bars, etc.) and combo snacks (e.g. combinations of meat, cheese, nuts, fruits, veggies, dips, etc.) are among the fastest growing snack categories, and one side bar to this trend is the growing demand for gluten/allergen-free product alternatives.
Many CPGs - especially co-manufacturers - are likely to set up separate gluten/allergen-free production lines, with a resultant investment in machinery.
Other packaging implication to the healthier and combo snacks market growth is the demand for flexible pouch filling machinery (particularly Form Fill Seal), and Shelf Ready Packaging (SRP)-based secondary packaging machinery. The nuts market growth requires flow wrappers for bars, and rigid tray filling and sealing equipment is needed to meet the demand for combo snacks.
GLOBAL VS NORTH AMERICA TRENDS
Stand-up pouches
The "Doypack revolution" is primarily a US phenomenon, and while stand-up pouch demand is growing in Europe/Asia, it is nowhere near the level of North America - both in growth rate or overall market size. Any positive growth in Europe may be partially retail-driven as Costco subsidiaries in Europe carry snack brands (e.g. certain nuts brands) in stand-up pouch form.
Nuts & Seeds packaging
Canned nuts represent the majority of nut sales in Europe & Asia, and while stand-up pouches are indeed growing in these areas, canned nuts are still growing at a greater rate.
Tighter packaging in Europe/Asia
Different CPGs confirm that European and Asian snack food packaging (both primary and secondary) is more efficient by being wrapped more tightly around package contents. In some areas, people pay "per pound of trash," so CPGs have worked on reducing material usage in those areas. One R&D manager at a large CPG confirmed "optimizing usage of space", i.e. tighter packaging, is a key goal of theirs, and that current equipment is not up to the task.
"The US is 10-15 years behind Europe & Asia [in terms of innovation on this front]," said one packaging equipment engineer at a sweet snacks CPG.
Source: PMMI Business Intelligence "Snack Foods – Packaging and Processing Market Assessment and Trends 2018"
For more details about the snack foods market as it pertains to the packaging and processing industry, download the FREE Executive Summary or the full report here.