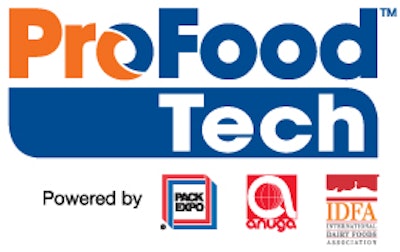 The 2019 Manufacturing Innovation Awards will be presented on March 27, 2019, at 3:00 p.m. during ProFood Tech, a biennial trade show for the food and beverage processing industry. The 2019 award winners, Royal Cup Coffee and Tea, HP Hood and Just Born will be on hand to discuss their award-winning project during the special session, which is free to all ProFood Tech attendees.
Manufacturing Innovation Awards Speakers:
Royal Cup Coffee and Tea, Kevin Boughner, Senior Vice President of Operations
HP Hood, Kevin Moyer, Engineering Manager
Just Born, Hood Randall Copeland, Senior Vice President of Operations and Supply Chain
ProFood Tech features opportunities to network and learn from colleagues through world-class educational offerings, receptions and award ceremonies, including: Women's Packaging & Processing Leadership Network, Emerging Leaders Network, ProFood World's Sustainability Excellence in Manufacturing Awards, International Dairy Foods Association's (IDFA) Knowledge Hubs, Cold Pressure Council Conference and more. The event provides access to 400 top suppliers, whose solutions span 10 vertical food and beverage markets.
At ProFood Tech 2019, IDFA educational sessions will be held on the show floor, where everyone can participate. Show attendees may drop in for free sessions to:
• Hear about new innovations and award-winning food plant projects.
• Tackle problems in an interactive solution-seeking session with exhibitors.
• Get up-to-date information on issues like food safety, bioengineering and GMO.
• Gain insight on workforce issues, including training and labor availability.
• Discuss "brain teaser" topics, such as a blockchain, cryptocurrencies and other disruptive technologies.
ProFood Tech will be held in Chicago, Illinois, at McCormick Place March 26-28, 2019. Learn more and register now at www.profoodtech.com.
To learn about how Clemens Food Group's state-of-the-art hog processing plant won one of ProFood World's 2018 Manufacturing Innovation Awards, read "Clemens Food Group's vision becomes a reality."
Companies in this article