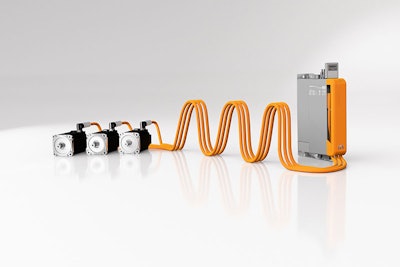 Drives and motion control are among the key technologies that will help achieve the overriding goal of making manufacturing more flexible, reliable and efficient than it is today. How will these technologies evolve over the next five years? The truth is, no one knows. But some of the latest product introductions from automation suppliers indicate the trend is toward smaller, smarter products that are more intuitive to use.
"The world is on the cusp of facing a persistent labor shortage, based on the inevitability of demographics as much as economic growth forecasts," says John Kowal, director of business development for B&R Industrial Automation."Yet business models are calling for goods that are customized to the individual consumer, which tends to be highly labor-intensive. This mass customization, down to batch size one, is the realm of the adaptive machine, which is based on an independently controlled, synchronized motion of each product or kit on a production line."
The emergence of tighter, more precise motor windings, shrinking electronics and power semiconductors, and modular software that takes the work and frustration out of integration are all supporting the development of servos that make it less expensive to automate more manufacturing processes, according to Kowal.
"We need to start thinking of motion devices as mechatronic appliances, blending mechanical, electrical, electronics and software into ready-to-use modules," he says. "For example, our mapp [modular application] technology provides vastly simplified configuration of motion axes as software modules, with a single software component replacing as many as 20 function blocks per axis. And we will see more small servos that will make it cost-effective to automate lower-power functions, such as adjustments for setups and changeovers that were previously performed by hard wheels, steppers or air cylinders."
Demonstrating the trend toward smaller servos is B&R's recent expansion of its 8LS family of compact, highly dynamic synchronous motors with an improved thermal design. The 8LS series features a high torque-overload ratio for applications like plastics processing, printing presses and servo pumps. The motors can be combined with any of B&R's gearbox options and shipped as pre-assembled motor-gearbox combinations.
Other compact offerings in B&R's portfolio include the 8WS series, designed for applications that require highly precise synchronization and accurate positioning in limited space, and B&R's Acopos P3 servo drives, which deliver a servo loop closure rate as fast as 50 μs. The P3 series also uses a sinusoidal waveform to optimize performance, energy efficiency and motor health. Component count is reduced with encoderless position sensing.
The size of a single axis drive, the P3 modules can support three servo motors. They have advanced software capabilities, such as setup modules for easy configuration and automatic compensation for mechanical anomalies. Drives in an installed system can be replaced without resetting firmware.
The trend toward smaller servos has other benefits. Fifteen years ago, the average servo case packer might have had four servo axes. Add more, and the machine would become cost-prohibitive. "Today, because we keep shrinking the size and cost of servo drives and adding new capabilities, a case packer could have 16-20 axes, enabling functions like flap tuckers, squaring, compression and format changes to be servo-driven, in addition to functions such as product collation, case erection, indexing and loading," Kowal says. "The more axes of motion you can afford to put on a machine, the more automated a process can become, allowing OEMs to differentiate their machinery's cost/performance ratio."
B&R's SuperTrak transport system signals another trend in motion devices. It synchronizes devices like robots and assembly modules around the track's shuttles. The SuperTrak system independently sends each shuttle through the required workstations, all from a single controller. "Third-party OEMs are already combining track technology with their own actuators to deliver complete system solutions," Kowal adds.
The track system is designed to advance batch-of-one scenarios with adaptive machines that tie this production capability seamlessly into commerce. "The coming years will see OPC UA TSN [time-sensitive networking] replace the different flavors of industrial Ethernet, allowing interoperability between third-party motion devices," Kowal predicts. "It will also bring continuity from the motion-based machine control system all the way to the cloud, enabling servo feedback to act as edge device data."
Kowal believes that adaptive machines will eventually become autonomous machines with the addition of dynamic production scheduling software that calculates available raw materials and production capacity against orders and ship dates, changing the way manufacturers operate their factories and fostering the development of multi-product regional factories within same-day or next-day ground delivery.
Packing power into less space
Customer demand for machines with smaller footprints and higher-level diagnostics are influencing how OEMs build new equipment. In response, machine builders are turning to servo drives as a lower-cost alternative to maintaining the basic power requirements for speed and torque in controlling motion.
Beckhoff Automation plans to introduce its AMP8000 distributed servo drive system in early 2019 to help OEMs accomplish this goal. "We see this as a major enabler of modular machine concepts," explains Matt Prellwitz, product specialist for the company. "By integrating a servo drive directly into a servo motor that features EtherCAT P one-cable automation, the new system provides an ultra-compact design while dramatically reducing the size of control cabinets or even eliminating them entirely."
This approach enhances efficiency, flexibility and power, and still manages to deliver cost-effective solutions to customers, according to Prellwitz. "These ultra-compact servo motors with integrated drives can quickly decrease a machine's footprint. The one-cable EtherCAT automation technology reduces costs for installation and materials while providing industrial-grade power and EtherCAT data over a single cable."
Beckhoff's new distributed servo drive system is cascadable, and a single IP65-rated distribution module can attach up to five distributed servo motors to the EtherCAT P cable. This means that even complex motion systems can benefit from very simple topology and cabinet space reductions. A matching servo motor series is just 76 mm longer, so they can be applied in new or existing machines with little to no alteration to mechanical designs.
"In addition to cost and space functions, the new system simplifies motion control for end users," Prellwitz says. "Preassembled cables minimize wiring errors, simplify commissioning and decrease the number of cables needed for control communication and power." The series features Safe Torque Off (STO), Safe Stop 1 (SS1) and other safety functions integrated into the cable through Fail Safe over EtherCAT (FSoE).
Compensating for workers with fewer skills
After decades of downsizing and with Baby Boomers retiring in droves, manufacturers are left with a smaller, younger and less experienced workforce to keep production lines churning out goods. Automation suppliers are working hard to compensate with devices such as self-configuring drives with built-in system diagnostics and simpler user interfaces. These drives often share a common look and feel and follow open programming and networking standards.
Rockwell Automation's new PowerFlex 755T AC drive portfolio significantly expands its existing low-voltage drive offering and addresses the workforce skills gap with more intuitive automation. It also lowers the total cost of ownership (TCO) with energy-saving features such as permanent magnet motor control, an economizer mode and energy parameter support.
"As we continue to expand and evolve this portfolio of low-harmonic, regenerative and active front-end drive solutions, we have ensured that the benefits scale across all horsepower, voltage and motor control needs," says Mike Bayer, global business manager for architecture drives at Rockwell Automation. "This includes continuing development of our motor-agnostic TotalForce technology, which combines high-performance motor control, advanced self-monitoring capabilities and a contemporary digital platform to deliver faster, more precise and responsive AC drives."
The drive's adaptive control functionality reduces the expertise required for drive commissioning and tuning by automatically refining the gains and filters for optimal drive performance. Additionally, as the machine or process continues to run throughout its lifetime, adaptive control automatically adapts to changing loads and mechanical resonance, making it much easier for operators and maintenance staff to keep the system at optimal performance.
The drive is able to define its health status more precisely by continuously self-analyzing critical components (such as IGBTs, capacitors and fans), monitoring advanced algorithms, and taking into consideration numerous operational aspects, including temperature, current, voltage, ramp rate and duty cycle. This allows it to more accurately predict when components need to be serviced.
"These new capabilities mean increased application flexibility with standard ratings and configurable options. Asset utilization is also improved with preventive maintenance and automatic device configuration, minimizing unplanned downtime," Bayer says. "Adaptive control reduces commissioning time, improves performance and eliminates the need to tune axes. The result is increased machine productivity, reduced cost, simplified control system integration and integrated safety solutions that maximize uptime."
More intuitive automation is also the goal of Siemens' new Simatic ET 200SP Open Controller CPU, a compact control system that combines the functionality of a controller with a PC-based platform. The CPU integrates motion functions for handling speed-controlled and positioning axes, and it supports external encoders and extended synchronous operation functions, including camming and kinematics. The controller is suitable for use in special and series machines and can manage plants in a distributed configuration.
"This single platform seamlessly merges and networks together with the PLC [programmable logic controller], motion controller, safety controller, HMI, and motors and drives," explains Craig Nelson, senior product marketing manager at Siemens. "Most applications can now be filled with this single solution, and Siemens plans to expand this platform to meet the growing need."
The self-configuring drives automatically read electronic information stored in the motor over the encoder serial communication, eliminating most parameterization. It also incorporates motor power, brake control and encoder in a single cable instead of the usual three.
OEMs working to simplify work
The goal of simplifying work is driving the most useful new technological innovations, which is why machine builders have taken the lead in demanding smarter and more intuitive drive technologies.
"Machine manufacturers want solutions that can simplify complex technologies with modular motion-control concepts and standardized functional units," explains Daniel Repp, business development manager for automation solutions at Lenze Americas. "These solutions have to cover the whole automation system, from the shaft to motion control, visualization and cloud connectivity. Modularized and standardized drives already help make complex technology more manageable, while servo inverters with advanced functions actively support connectivity for new and legacy machines."
Lenze showed one way to break down the barriers between controller- and drive-based automation with the introduction of its new i950 servo inverter. This controller-based platform enables standardized data communications as well as data storage in the cloud by employing standard protocols such as OPC UA or MQTT.
The new platform features flexible scalability with three different modes of operation. It can be programmed, serve as an actuating drive under a CiA 402 motion controller or, with the use of Lenze's FAST application software technology, it can be built into the i950 for easy parameterization. Its compact design can be integrated into 250 mm cabinets up to 15 kW, and it has a power range of 0.55-110 kW.
Though drive-based automation with distributed intelligence and controller-based automation with centralized intelligence in the PLC are two distinctly different approaches, both are increasingly being combined as a consequence of the modularization of machines and systems.
It makes sense to control certain parts of the production system with a centralized intelligence, while other machine modules can be seen as cyber-physical systems (CPSs) equipped with their own distributed intelligence, Repp explains.
Of course, terms like "intuitive" and "easy" are also common themes associated with the implementation of integrated safety, logic, sensors, diagnostics and communication in drives and motion control products. "Customers require their technology to be intuitive like their smartphones, and lower levels of commissioning time results in less TCO," says Bryan Sisler, product manager for motors and drives at AutomationDirect. Trends Sisler sees within motors include better materials and bearing technology, along with more integration, such as multi-use motors, integrated drive/control motors, and AC permanent magnet motors for applications with tighter control and energy savings.
"When technology advancements are accomplished in a way that is simple to understand the why and how there is a natural leaning towards faster acceptance," Sisler adds. "Offering products that are simple, fast (including ease of purchase, application and use), reliable and competitively priced is the way to improve customer acceptance."
Companies in this article