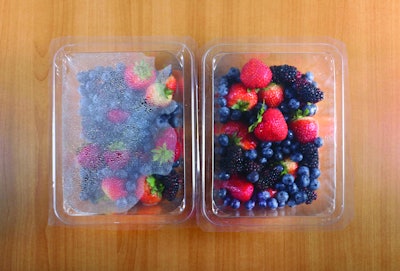 Bostik intends to bring some clarity to the packaging market. The Wauwatosa, Wisconsin-based adhesive specialist developed an anti-fog coating for refrigeratable flexible packaging to address consumer preferences for better visibility of food products while also streamlining the converting process.
Bostik spent four years developing the Vitel 1922AF, an extrudable, semicrystalline, saturated copolyester resin that prevents fog formation on flexible packaging that houses fresh food that expels moisture, such as fruits and vegetables, during refrigeration. When applied to the packaging's lidding, the anti-fog coating causes water vapor in the air and migrated moisture from the food to create a thin, uniform, transparent film of water instead of water droplets. By altering how the water forms on the lid, the coating ensures that the packaging lid remains transparent with minimal light refraction and fog creation.
"When there are droplets, then you cannot see inside the packaging because there is a scattering of light, and you cannot really see through it," says Deepa Puthanparambil, senior chemist at Bostik. "But when it's a transparent thin film [of moisture], you can still see through it and get a clear vision of what's inside the packaging."
Clear and simple
While there are other anti-fog coatings on the market, Bostik contends that those coatings add complexity to the converting process in comparison to the Vitel 1922AF, which Bostik says was formulated to help flexible packaging converters simplify operations. For example, most converters have to use two separate processing methods to apply an anti-fog coating and achieve a proper heat seal. The Vitel 1922AF combines the heat seal and anti-fog capabilities, allowing the converter to apply both to the lidding film in one step. In addition, some coatings are susceptible to blocking, which can cause production to slow down or halt. The Vitel 1922AF features low blocking and good slip properties to ensure the converting process runs continuously. It also activates at lower application temperatures, enabling faster throughput and reduced energy consumption.
Bostik created the Vitel 1922AF to not only streamline the converting process but to also cater to consumer demand for packaging transparency. As consumers seek healthy options and shop more toward the perimeter of the store, they want to see the food inside the package to assess its freshness, according to Puthanparambil.
"A considerable amount of market research shows a significant increase in fresh produce consumption," she explains. "And consumers want to actually see the food before they buy. They want to ensure that it's fresh and that it was never tampered with. Our anti-fog technology enables consumers to make these purchase decisions."
Companies in this article