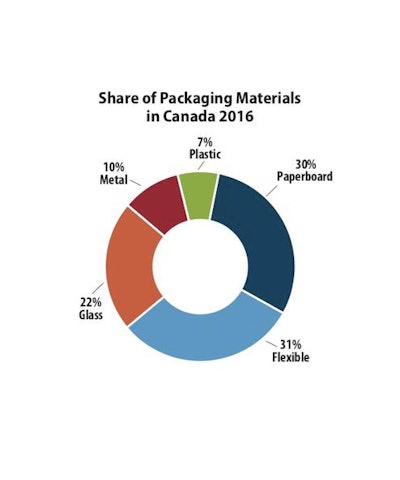 Flexible packaging and paperboard are the most popular types of packaging in Canada, according to The Canada Packaging Machinery Market Assessment 2018, a new report from PMMI, The Association for Packaging and Processing Technologies.
Flexible packaging accounts for 31 percent of packaging materials in Canada, followed closely by paperboard containers, which make up 30 percent of packaging materials. As Canadian consumers move toward healthy and convenient foods, packaging is following suit with the rise of flexible packaging and paperboard containers, according to the report. Canadians prefer nutritious fare in sustainable, innovative and smaller packaging that cater to their on-the-go lifestyles, including single-portion packs, packaging that is easy to open and reseal, and containers with temperature monitoring and sensors.
To download Canada Packaging Machinery Market Assessment 2018 report, click here.