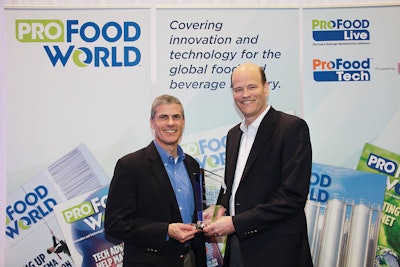 Finding a seat was no easy task at ProFood World's third annual Manufacturing Innovation Awards held at ProFood Tech on March 27. In addition to Royal Cup Coffee and Tea's award presentation, detailed here, two more companies were honored.
HP Hood's Kevin Moyer, engineering project manager at Hood's Batavia, New York, facility told the audience how his company invested $200 million to convert a brownfield plant formerly owned by Dairy Farmers of America into a facility for extended shelf-life beverages. The award-winning facility features advanced process control, upgraded packaging technology and some repurposed equipment from the previous owners.
During ProFood Tech, Randall Copeland, senior vice president of operations and supply chain at Just Born, based in Bethlehem, Pennsylvania, explained how the confectionery company found an automated solution to pack its iconic Peeps without damaging the delicate marshmallow candy product. A combination of soft-end grippers and robotic pick-and-place equipment led to increased production volumes and overall efficiencies.
Look for more in-depth stories about these award-winning projects in ProFood World later this year.
Read more about how Royal Cup Coffee and Tea's complex, multiphase project created a new linear flow that streamlines the product's journey from raw material to final package at https://www.profoodworld.com/articles/royal-cup-coffee-and-tea-creates-bridge-its-future.
Learn more about innovative technology and equipment that will help increase efficiencies at your plant at PACK EXPO Las Vegas from Sept. 23-25 at the Las Vegas Convention Center. Register by Aug. 30 to save 70 percent off the registration fee.