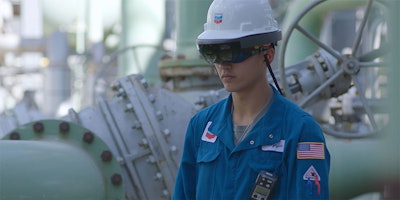 When you're 100 yards up in the air trying to fix a wind tower in a blowing gale, you don't want to take a chance that the piece of paper containing your work instructions snags on the pole and blows away. Such pitfalls might be a thing of the past thanks to a new class of industrial wearable devices that is enabling field service personnel to devote both hands to their tasks.
The equipment attaches to a hard hat or directly to the wearer's head, allowing navigation of critical repair data by voice, even when the wind sounds like a jet engine. Unlike wearable devices that might be used in gaming applications, these wearables are hardened to meet the rigors of industrial environments. They are still generally affordable—typically ranging from $2,000 to $5,000 per device before discounts—especially when you consider the potential ROI they can bring to industry.
"When the machine is down, the company is losing money," says Andy Lowery, CEO of RealWear, which makes ruggedized wearables. Being able to make quicker repairs is a huge benefit, he adds, and so is increased worker safety.
RealWear is one of the more well-known companies in this space, having recently announced its HMT-1 wearable Android-based tablet. Ruggedized to work in the most punishing environments, the HMT-1 provides voice access to connected systems so a worker can access instructions, manuals, knowledgebases, email, chat—any type of document. It works in noise conditions reaching 95-100 dB.
Virtual "expert on call" is another hot application for industrial wearables, giving field service personnel the chance to have a live call for troubleshooting with an expert located elsewhere. This can even include sharing camera images. In its most rudimentary form, the application resembles something like FaceTime. Other "expert on call" options can also extend to virtual reality versions of experts to help solve problems.
Shell has begun rolling out RealWear's HMT-1Z1 voice-controlled, head-mounted device for use at several of its operational facilities around the world. The hands-free platform is the first commercially available device that can be used by field workers in highly restricted ATEX Zone 1 C1/D1 zones where potentially explosive gases are present.
The oil major is using the HMT-1Z1 for remote assistance—enabling a maintenance worker, for example, to get real-time assistance via a video call. The expert on the other end of the call can essentially see through the eyes of the onsite worker and offer over-the-shoulder assistance.
In addition to saving time and money, field service applications like this are widely viewed as being an effective way to transfer knowledge from a generation on the cusp of leaving the workforce to those just coming up. "Folks are retiring in big numbers. These younger workers have to be supported," says Vincent Higgins, general manager of Connected Plant/Connected Worker for Honeywell, which is the global supplier of RealWear's HMT-1Z1.
Industrial wearables are able to provide workers in the field the information they need when they need it. "This allows the retiring experts to proactively capture information about the assets," says Todd Boyd, founder and CEO of Tacit, which provides software that can be used on a variety of hardware types. "That is very useful to someone who comes along two or three months later. Being able to access a digital envelope where you can access manuals and previous discussions is invaluable."
Various forms of reality
Industrial wearables getting the most attention at the moment employ virtual reality (VR), mixed reality (MR) or augmented reality (AR) to aid industrial applications. VR is a completely immersive digital experience (such as that offered by the Oculus Rift), providing a realistic simulation of a 3D environment experienced and controlled by body movement. It is used primarily in industrial design or training—because it doesn't allow for situational awareness, it is ill-suited for field applications. AR, on the other hand, layers digital, interactive objects on top of the physical environment, making it more appropriate for field work.
Somewhere in the middle, MR devices feature a world in which physical objects interact with digital objects. MR encompasses the spectrum from AR to VR, blending the physical and digital worlds to produce new environments where physical and digital objects coexist and interact in real time.
Microsoft's HoloLens is an MR holographic computer that enables hands-free interaction with 3D digital objects. Announced early this year at MWC Barcelona (formerly Mobile World Congress), the TrimbleXR10 with HoloLens 2 is a standout for training and field service use. One possible use would be for an oil company to create a 3D digital twin of an oil rig—a replica it can use for training and visualization without the safety risks, says Aviad Almagor, director of Trimble's MR program.
MR is also handy for design. "By placing design content on top of the physical environment, I can compare the digital asset with the physical construction to see if what was designed is being built correctly," Almagor says. "You can see information associated with this asset, you see it in context, and you see the information on top of it."
Chevron bought 100 HoloLens devices at roughly $5,000 apiece and is using Microsoft Dynamics 365 Remote Assist to digitally place experts from all over the world anywhere in the field, including locations that are difficult to reach. The investment has paid off in spades. Bisram Samlall, technology and innovation team lead at Chevron's El Segundo Refinery in California, says the HoloLens is "transformative" and provides "a tremendous reduction in operating expense." The remote expert application gives Chevron a competitive advantage, he adds. The refinery also uses HoloLens for remote inspection of its assets in real time.
Whereas the HoloLens mixes the physical world with the virtual, the RealWear HMT-1 and HMT-1Z1, in contrast, remain firmly rooted in the real world. The heads-up display system resembles the old displays that pilots used to wear, augmenting reality while maintaining situational awareness, a la the old Google Glass.
A RealWear device is not used for training applications, but rather in the field. "It's used when I need to fix something and I want to see the data. I need to do that in a very non-obtrusive, non-compromising way," Lowery says. "This can't be a system where we are taking our hands away to give information."
Through its software and hardware combination, the HMT-1 is considered to be "voice-robust," meaning that it is capable of operating in the highest noise levels and without Wi-Fi access. "Our system maintains voice access no matter what," Lowery says. "You can barely hear yourself speaking, but you can still control the device with your voice."
The HMT-1Z1 has received the Intrinsically Safe certification, which goes far beyond what a consumer device provides—safety from ignition, for example. And it is reliable, with a failure rate of less than 0.1 percent. Application-wise, RealWear is focused for now on four spaces: oil and gas, energy, transportation and general manufacturing.
RealWear sold more than 10,000 systems in its first year and has also inked some high-profile partnerships. Honeywell has teamed up with RealWear for its robust, safety-certified system. "No iPhone can be brought into a plant. You have to have a certified device so it won't spark," Higgins says. "Typically, it has to be built from the inside out for that purpose."
A software approach
Not all applications—especially training and service in non-dangerous environments—require hardware that has a safety certification or even a high degree of built-in safety. Tacit's software allows users to leverage consumer-grade hardware they already have deployed, such as tablets, smartphones and other wearables.
"We're focused on things that are simple and pragmatic for remote guidance—being able to see what the worker is seeing in the field and quickly get to a common understanding of the problem," Boyd says. "These are simple things done around photo and video, but the user can bring in other elements as well. Everything is in the context of an asset."
Tacit also offers quick startup: Customers download the Tacit app, select the device they want to use, then launch the app on their device. "We are focused on it being simple, but if we can save an expert one trip into the field, the software pays for itself," Boyd says. All of the sessions are saved on the back end for reuse, which is a major plus in an industry that has many retiring personnel.
Honeywell is another vendor cre-ating software for wearables via its RealWear partnership mentioned above. "We are all about building software for the next-generation connected digital worker," Higgins says. "We are enabling the field worker to be much more effective, safer and smarter in the way they do their work. We look for opportunities to co-brand and co-market with hardware companies." Honeywell sees its role as providing a service and technology to customers that fits under the heading of digital transformation.
Toward that end, solutions benefiting workers in the trenches is an important piece, says Greg Sullivan, director of communications for Microsoft Commercial, the division that brought out the HoloLens.
"We believe first-line workers have not directly benefited from the digital revolution to anywhere near the degree information workers have," he says. Devices like the HoloLens "enable first-line workers to be more efficient and productive, augmenting and enhancing the workforce, not replacing it."
In addition to enhancing safety and efficiency, industrial wearables "help solve for the pending skills gap, enable effective processes to be mined and workplace wisdom to be passed on," Sullivan adds.