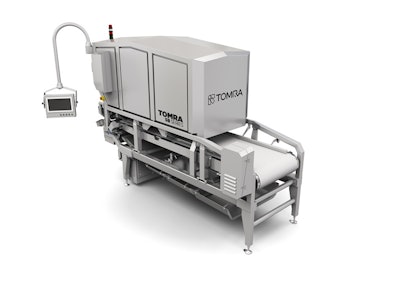 TOMRA is sorting French fries and green beans live at PACK EXPO Las Vegas with its TOMRA 5B, demonstrating how the sorting machine improves yields and product quality while minimizing product waste and maximizing uptime.
The TOMRA 5B sorts and inspects a variety of vegetables, including corn, carrots, peas, bell peppers, industrial spinach and processed lettuce to the processors' specifications. It uses smart surround view technology to provide a 360-degree inspection. The technology features high-resolution cameras and high-intensity LEDs. These features reduce false rejects and improve product quality by accurately detecting discolorations, irregular shapes and foreign materials.
The sorting machine's high-speed, small-pitch TOMRA ejector valves, which are part of the smart ejection system, allow for precise removal of defective products with minimal final product waste at a rate three times faster than previous valves. The valves are designed for both wet and dry conditions.
The TOMRA 5B also has a belt speed rate of up to 5 meters per second to meet increased capacity demands in the market.
According to TOMRA, operators find the sorting machine easy to use thanks to TOMRA ACT. This intuitive graphical user interface design encompasses a one-screen layout, enabling users to see critical and real-time sorting data at a glance. Quick monitoring and fast adjustments are possible at all times, which means the food processor is always in control of the quality of the sorting.
The TOMRA 5B also include sanitary features that meet various agency and government standards, including the European Hygienic Engineering and Design Group. The machine's open system has a fast and efficient cleaning process, which results in fewer unreachable areas and lower risk of waster material buildup.
Learn more about the TOMRA 5B sorting machine by stopping by the TOMRA booth in the Upper South Hall at booth 7258.
Companies in this article