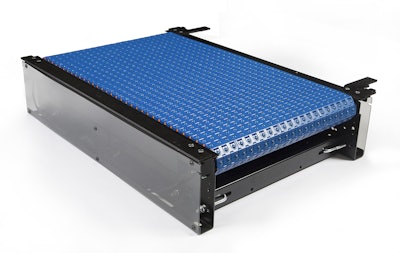 Regal Beloit Corporation, a manufacturer of electric motors, electrical motion controls, power generation and power transmission components, is showcasing its MODSORT modular transfer and diverter station at PACK EXPO Las Vegas. The transfer not only can accommodate a variety of products in any direction, but eliminates the need for a lift or pneumatics while being easily integrated into new or existing material handling systems.
The MODSORT conveyor station features the System Plast 2253RT roller top belt, which allows the conveyor station to transfer and divert an array packages based on the sphere's vector speed and direction. It also includes a 1-in., on-center sphere array that allows for very small packages to be diverted. The matrix of freely rotating balls imbedded into a continuous flat belt lets the rolling top belt station divert and transfer products of any kind with precise, controlled and impact-free motion on to motorized conveyor lines. The station can divert on the fly or stop and divert at a 90-deg angle. It is ideal for polybags and small packages and can easily handle boxes.
MODSORT conveyors can be placed end to end to create a medium-rate sorter or integrated with conveyors to create transfer stations within conveyor systems. Customization is possible for picking and packing stations within a modern distribution center. Additionally, the station can be retrofitted into existing conveyor systems.
"Designed to meet the industry's needs for diverting, transferring and sorting product, our MODSORT conveyor station can solve a range of increasingly challenging transfer and diverting problems complicating operations in distribution centers, particularly retail e-commerce distribution," said Brad Gossard, vice president and general manager, rotating & conveying, at Regal Beloit Corporation. "The flexibility of this station eliminates the need for a tray required on a pneumatic pop-up converter to transfer polybags, which continue to increase in popularity due to changes in shipping costs. And it can easily be integrated into existing traditional or motorized roller conveyor systems."
In addition to reducing shipping and handling costs associated with using a tray to transfer polybags, the MODSORT conveyor station can help achieve energy savings between 50 and 60 percent compared to traditional conveyors when integrated with a motorized roller-based conveyor system due to its low weight and friction.
The conveyor station features:
Motorized drive rollers and controls that employ run-on-demand technology.
24-volt DC motor and controls that allow flexibility in wiring and control.
The ability to divert exceptionally small packages and boxes.
No pneumatics, lifts or Z-direction position feedback devices are needed.
Safe, energy-efficient, quiet and low-maintenance operation.
Controls that allow stand-alone programming or can interface to a PLC via network.
No gaps or pinch points anywhere on the roller-free belt, i.e., workers have a much lower risk of injury.
Check out the MODSORT transfer and diverter station at the Regal Beloit Corporation booth in the Upper South Hall at booth 7620.
Companies in this article