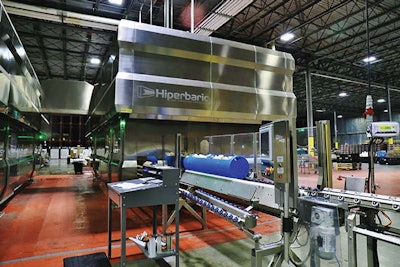 High pressure processing (HPP) is certainly not new, but the growing consumer push for fresher and nutritious products continues to make it of increasing interest to food and beverage manufacturers. With "fresh" as the magic word of the day, more processors are jumping on the HPP bandwagon.
Jasmine Sutherland, president of Texas Food Solutions, is a young industry entrepreneur with a food science background. In 2012, Sutherland's prior company Perfect Fit Meals was first to market with an HPP ready meal. When the company was ready to purchase its first HPP machine, other local food and beverage processors asked Sutherland for HPP advice or if they could run cycles on her HPP equipment. As a result, HPP tolling company Texas Food Solutions was born. Today, the HPP toll processor also helps its customers get products ready for market.
"We consult on product formulation, packaging development, help facilitate lab studies, consumer testing, and anything and everything to get the product moving forward," Sutherland states.
Texas Food Solutions can HPP a wide variety of products, such as beverages, juices, dips and full meals on its JBT Avure lines and also does consulting work for food manufacturers that want to enter the market in areas including baby foods.
"Currently in tolling, we're running cooked meat products, and we're also running raw meat products with marinades on them," Sutherland states. "One of the cool things about running a raw product is the marinades are HPP, and we're actually able to drive that marinade into the meat and make a better-quality product. Because we fortify the flavors, we're able to actually have a bit of sodium reduction in those already, really sodium-heavy marinades."
Earlier this year, HPP equipment supplier JBT Avure acquired a technology for ground beef that allows for very minimal color change during processing, which was a hindrance to product appeal in the past. According to Lisa Wessels, marketing director of HPP for JBT Avure, food manufacturers will be able to HPP ground beef that will look like normal ground beef. "It will destroy all the pathogens, so you'll be able to cook ground beef, burgers [and similar products] and not worry about getting sick. And it will extend the shelf life," Wessels says.
Getting started and making it safe
Universal Pure is a Villa Rica, Georgia-based HPP tolling service company with multiple locations in the United States. According to Tom Woodward, chief commercial officer for Universal Pure, the toller is continuing to see a lot of interest from both major brand manufacturers as well as emerging brands that are looking at tolling to either get into the market or to expand brands to not only extend their shelf life, but to expand their geographic reach.
Purchasing HPP equipment is a very substantial capital investment. "It's not only the equipment, but it's also the support, the infrastructure within the facility to support the equipment, a separate room, processing capacity, more space, utilities, etc.," Woodward explains. In fact, some companies will continue to invest in HPP equipment, but they'll also continue to utilize tolling resources as an option to help underwrite their growth and expansion, Woodward adds. "It's an easy entrance into the technology by using the existing tolling infrastructure that's already set up."
According to Sutherland, processing time depends on the product and size of the HPP machine it runs on. "The process takes anywhere from six to 10 minutes for a cycle, and with the larger machine, we're actually able to get quite a large load out in the 600-pound-plus range," Sutherland states. For example, some beverages have different hold times than meat products. "After the pressure builds to the required level for HPP, some products have a two-minute hold, some products will have a three-minute hold, some will have a little bit longer, so that affects cycle time," she adds.
At Texas Food Solutions, two-part HPP validation is verified by its in-house software system, but the toller also looks at the human side of the process. "Our machine operators record processing parameters, which include time and pressure. We do an instantaneous overlap of those records to make sure that we are successful," Sutherland says.
With HPP being a new venture for many food manufacturers and startups, processors must be up to date on FDA and USDA Food Safety and Inspection Service regulations. "Make sure you have somebody on your staff that makes food safety a priority, which frankly, that's what this technology is all about," Sutherland states.
Supply chain eclipse
The diversity of the current products using HPP tolling can make for some complex supply chain scenarios. Volatile products need to be processed quickly. Cooked meat is more stable, for example, as long as it is refrigerated.
Some food and beverage manufacturers distribute HPP products themselves after tolling, or they can let the toller do it for them. Tollers have the ability to cap, label, date, and case pack or bulk pack products in whatever format desired for distribution to retailers and can be grouped with other products going to the same retailer. They can also check product for defects, such as leaks, before they enter the market.
Thanks to today's larger capacity HPP equipment, larger batches of products can be processed in one cycle. Some HPP facilities are installing additional product and material handling equipment, Woodward says. These technologies not only have increased capacity, but have enabled facilities to become more efficient, he explains.
"A lot of the time, we actually perform the initial distribution, where we pack into bulk or into individual corrugated cases, maybe a six-pack, a 12-pack," says Woodward. "Then we palletize those cases and ship to distribution centers all over the country from our facility."
He says Universal Pure can deliver products back to customers within hours in some cases. "We can typically process them in less than a day or two and get them back out into the distribution network so that they are safe and maintain a long shelf life, depending on the application," he says. And with the popularity of clean labels with consumers, Woodward says HPP keeps the ingredient deck small.
HPP technology helps to keep not only food safe throughout the entire supply chain, Woodward states, but it enables foods to taste great, reduce the artificial ingredients and preservatives, and increase shelf life.
The time it takes to transport goods to the toller for processing is more than eclipsed by the increase in shelf life and food safety.
Sutherland sees HPP as a great insurance policy. "Tollers are trying to get at the forefront of responsibility. We all want to validate this industry, right? We all want a safer product in the marketplace that's going to last longer and not be a financial burden with loss. Tollers are making this technology accessible for companies that otherwise wouldn't be able to afford to make that step into a safer arena. It's really where the future of food is."
For more information about HPP, visit the Cold Pressure Council website at https://coldpressurecouncil.org. See "Get high pressure verified with CPC and HPC" for details on the organization's certified mark and 2020 annual meeting.
To learn about how Chairmans Foods is using HPP to broaden its product range and improve food safety in a cost-effective way, read "Chairmans Foods: HPP is more affordable than you think."
---
North American HPP tolling facilities
California
American Pasteurization Co.
414-453-7522 ext. 20
www.americanpasteurizationcompany.com
HPP Food Services
310-830-8020
www.hppfs.com
Connecticut
Stay Fresh Foods
855-477-8655
http://stayfreshfoods.com
Florida
HPP Fresh Florida
800-484-0532
www.hppfreshflorida.com
Georgia
Universal Pure
402-430-8886
https://universalpure.com
Michigan
Great Lakes HPP
586-741-3560
http://greatlakeshpp.com
Nebraska
Universal Pure
402-474-9500
https://universalpure.com
New Jersey
Stay Fresh Foods
855-477-8655
http://stayfreshfoods.com
Ohio
Hydrofresh HPP
567-765-1010
https://hydrofreshhpp.com
Oregon
Pressure Safe, LLC
503-257-9821
www.moraschmeats.com
Texas
Texas Food Solutions
361-442-3366
http://texasfoodsolutions.com
Universal Pure
972-584-0088
https://universalpure.com
Wisconsin
American Pasteurization Co.
414-982-2369
www.americanpasteurizationcompany.com
Safety Fresh Foods
262-977-7592
http://safetyfreshfoods.com
Canada
Alberta Agriculture and Rural Development
780-427-2711
www.alberta.ca/agriculture-and-forestry.aspx
Gridpath HPP Center
305-639-9770
www.hiperbaric.com/en/gridpath
Natur+l XTD
877-HPP-4-XTD
www.naturelhpp.com
West Coast HPP
604-474-1746
www.hppwestcoast.com
Companies in this article
Videos from Hiperbaric - High Pressure Processing