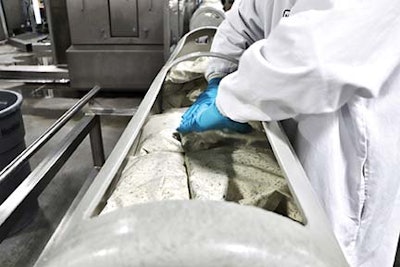 Nashville, Tennessee-based Chairmans Foods is not a new player in the high pressure processing (HPP) market, but honing its years of HPP expertise has allowed the company to greatly broaden its product range and offer safer foods. "As we grew, and our knowledge of what HPP did, [it] opened up several different types of products and different types of dynamics within those products," says Chris Staudt, president of Chairmans Foods. While HPP allowed the processor to do many things it could not do in the past, shelf-life extension was a main goal for its initial chicken and casserole products. "It was a way for us to have a process lethality step for fresh products," Staudt explains.
Staudt says most people find the cost of HPP to be a barrier. "The cost of HPP is mitigated by not having to use certain other ingredients and materials in a formula to extend shelf life or preserve a product."
He says one of the biggest ways to impact the logistics side of HPP is to streamline the packaging of the products being tolled. "If you can get more product in your package, more weight in your case, and more weight on your pallet, the more you can ship," Staudt declares. "You're paying for less air, you're paying for real pounds. Then you start to really impact the cost of what HPP brings to the table. For me, [the cost] washes out because of the added shelf life."
Staudt says his logistics team works closely with Universal Pure's team. "That, to me, is kind of the 'pièce de résistance' of what our conversation is about. I talk about it a lot with my peers and competitors.
"It's a lot more affordable than you think," he adds, "but you [have] to do the math to look at all the different parts and pieces. Freight, spoilage, shelf life, sales all come together. The math works out. A lot better than expected a lot of times."
To learn more about HPP tolling, read "HPP meets the pressure for fresher."