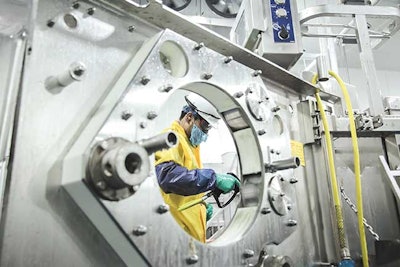 Photo courtesy of PSSI.
Who knows what evil and vile things may lurk in the parts of your legacy systems? If you don't know, you better find out. According to an anecdote from one cleaning and sanitation expert interviewed for this article, all kinds of unpleasant things could be backed up in the pipes for years.
Amy Lowe, executive vice president of PSSI, a food safety solutions company, agrees with this assessment. "One of the biggest challenges we face is associated with poor sanitary design of legacy equipment," she states. "Microbes can become resident contamination when they become established in niche sites, multiply, and persist for extended periods of time, even years."
While many food and beverage processors continue to upgrade their cleaning methods, automation is helping them be successful.
According to Lowe, automation allows PSSI to eliminate waste in its process dedicated to costly setup and tear-down activities. "Spray bars, clean in place (CIP) and assisted cleaning can be designed to clean those hard-to-reach areas without the human element, making the process faster, safer and more efficient," she says.
The No. 1 thing manufacturers have been asking for in CIP and cleaning is automation, says Eric Gore, technical director at Central States Industrial (CSI). "They need more sophisticated control systems and electronics, and they want it primarily because they want tighter control over the steps that the cleaning goes through," he says. In addition, processors want to electronically document what happened and when it happened, he says.
Adding this type of automation efficiency to cleaning and sanitation means you don't have to rely on a human to get the job done. "Even if you have a person who has written work instructions and worked there a long time, their behaviors will creep," states Gore.
But if you program your requirements into a control system, it's going to be the same every time, says Gore. "If changes are warranted, then you can make that adjustment, and you know exactly when you made the adjustment."
Trent Bullock, manager of engineering services at CSI, sees many food and beverage manufacturers upgrading to CIP skids, especially replacing legacy systems and adding more stringent specs, automation and instrumentation. In the past, plants may have used a chart recorder to log process parameters. Today, of course, that's done electronically and stored in a database or in an historian program. Higher levels of automation result in better reporting and tracking, he states.
Some CIP skids now may include sensors for pH monitoring. "So not only can we get the chemical conductivity, but we can get the pH. We use that a lot in sanitizers so we can monitor how much sanitize work we're dosing," Bullock says.
One of CSI's customers had 6-in. lines in a meat conveying application, and it was going to take deep circuits to clean the whole process, according to Bullock. The customer wanted a CIP skid, but it only had a four-hour window to clean, to run a caustic sanitizer every time and rarely run an acid step that would require eight circuits.
CSI optimized the CIP skid so it would heat more quickly and dose chemicals a little quicker. "The real savings was we helped them redesign their process to where we could clean everything in just three circuits," says Bullock.
Pulled in different directions
Keith Cronce, a director at Klarion, a division of Spraying Systems Company, says the food industry is being pulled in a few different directions concerning cleaning. "You have the regulatory side where the food safety regulations are becoming stricter," he states, but food companies still have corporate initiatives to improve worker safety and improve sustainability. "It can be difficult for [processors] to figure out how to do both at the same time," he says.
Klarion helps processors identify places where water or energy can be saved and determines, for example, if nozzles need to be changed. When plants are taking ATP swabs or doing bacterial plate count testing, Klarion can help processors get faster results. "We provide instrumentation that ensures that they are producing the right concentrations and chemistries for the use point," Cronce says.
Recently, PSSI received a call from a producer asking for help with a listeria issue. By deploying its Field Audit & Support Team, a quick diagnosis was made. "It involved a sanitary design issue where they package ready-to-eat products, as well as a sanitizer application process," says Lowe. An equipment design modification was implemented by the maintenance personnel over a weekend. The process was modified with the addition of improved application equipment, refinement of the chemistry (product selection and dilution ratio), and personal training, according to Lowe: "These solutions effectively resolved the listeria issues."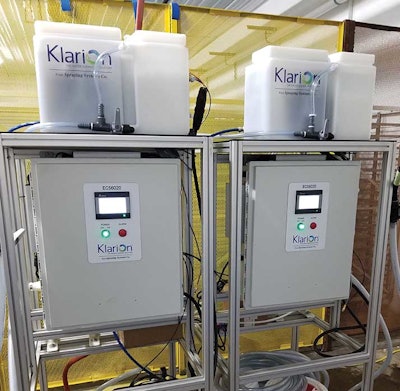 Is it documented?
The majority of sanitation providers follow a seven-step process to document proper cleaning processes, says Lowe. "However, we felt there was a critical component missing related to documentation."
PSSI implemented an eight-step sanitation process, including documentation as the eighth and final step. "Keeping record of KPIs (key performance indicators) during the sanitation process every night enables PSSI sanitation site managers and food safety teams to track consistency over time, but also provides our partners with more visibility into the process and back-up documentation for compliance and auditor requirements."
In 2019, PSSI moved to a technology platform that allows it to better manage leading indicators. The platform not only helps streamline data tracking and reporting needed from a compliance standpoint, but it enables sanitors to proactively respond to any changes or concerns and make adjustments when needed.
Environmental responsibility
Being able to meet food and beverage company's cleaning and sanitizing needs, but also reduce water usage and what is going into the waste stream is a key part of sustainability. Cronce says Klarion is fairly unique in some of the ways it can help minimize water usage in plant sanitation. Finding the right spray nozzle, the right clean-out-of-place nozzle or the right application method for a processor's chemistries or rinse water, and not have to use as much water to get proper cleaning is the goal. Moving toward automated tank cleaning nozzles and away from just filling the tank completely with water and draining it out a couple of times is a move in the right direction.
"With Klarion technology, we're actually turning the water with a little bit of salt as our catalyst into cleaning and sanitizing solutions that are nonreactive with each other," says Cronce. In many applications, the technology can remove the need for a rinse between the cleaning and the sanitizing cycles, which can also reduce water usage.
CSI can help processors with water usage by recommending a different style of CIP system. A processor may request a single-tank CIP skid, which is probably the largest water consumer and the highest cost of ownership for an end user, says Bullock. "Throughout a wash, you may completely fill and completely drain a single tank multiple times."
CSI asks if the customer is going to run an acid wash every time or is it just going to be caustic. When a processor needs to run caustic and acid washes every time, CSI generally recommends a three-tank system at a minimum because it has dedicated fresh water, caustic and acid tanks. Instead of draining one tank each time, it gives the processor a caustic step, a pre-rinse, and then recirculates that caustic, heats it up, and doses it.
PSSI monitors daily water usage and investigates trends or spikes to ensure consistency. "We quickly identify leaks or other opportunities that lead to unnecessary waste, and partner with our customer maintenance teams to make sure these are fixed," says Lowe. For processing facilities that have tanks, troughs and transfer lines that require CIP, carefully calculating water flow rates and circulation times for each stage of the cleaning process must be completed to ensure desired food safety results.
In the end, automation provides consistency and repeatability. If your process is not proven to be validated as clean, or if you're not doing that every time, then the whole thing goes out the window, says Bullock. "That's the beauty of automating a CIP wash," he declares.
Companies in this article