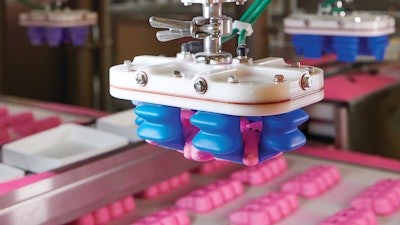 Produced in the billions, PEEPS® are so fragile and their packaging formats so varied that they resisted automation until a gentle but fast robotic pick and place primary packaging system solved a host of problems at once. Here's the article by Matt Reynolds from September 2019.
As you'd likely guess, the Peeps brand is manufacturer Just Born's most well known—particularly the chick- and bunny-shaped marshmallow candies synonymous with the Easter holiday. Each year, Just Born produces 2 billion Peeps for all of the four major holidays. But Easter represents a majority of that total.
Things that are produced in the billions almost invariably require automation. But other than the most standardized, high-volume sellers, Peeps are both made and packaged in a wide enough variety of formats so as to have resisted packaging automation over the years.
But with some innovative robotic wrangling, they recently were able to fully automate a line for a difficult-to-handle product.
Here's how they did it...
Companies in this article