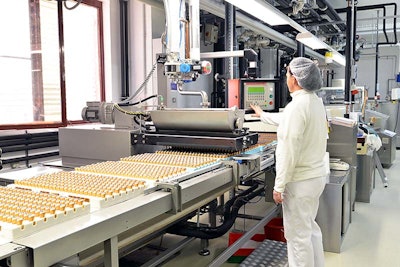 Food and beverage manufacturing is facing a workforce crisis. While the industry has bounced back from the Great Recession, it just can't seem to find the skilled employees it needs to meet increasing production demands. As the labor pool shrinks and more open positions go unfilled, experts say manufacturers must think out of the box to recruit and retain the next generation of workers.
In the last few years, the talent shortage has proven to be challenging for manufacturers, but it's about to get much worse. According to the 2018 skills gap and workforce study from Deloitte and The Manufacturing Institute, about 2.4 million manufacturing jobs will go unfilled between 2018 and 2028. In turn, $454 billion in manufacturing gross domestic product could be at risk in 2028, or more than $2.5 trillion over the next decade.
Many experts attribute the talent shortage to the public misperception of manufacturing. Although many food and beverage plants today have high-tech, cutting-edge equipment and processes in clean, bright environments, most people still view manufacturing as a sector with dead-end jobs in dark, dirty, run-down facilities.
"The food and beverage industry has not done a good job of publicizing itself as a fun, sexy job," says David Bryant, president and CEO of The David Bryant Company, a consulting and recruitment firm in Gainesville, Georgia. "We need to build a [public relations] or communications campaign to the generation yet to come about this industry. We're not building electric vehicles or traveling to Mars, but it offers a stable, feed-the-world job that's going to have innovation."
"There is real merit in getting people to understand that this isn't yesterday's manufacturing," says Keith Barr, president and CEO of Leading2Lean, a Sparks, Nevada-based automation solutions supplier. "This is a very modern, sophisticated and challenging environment that you can find very fulfilling. We have the environment that's going to challenge the next-generation workforce and the ability to satisfy the kinds of work requirements that they're looking for."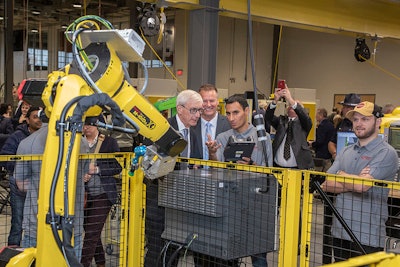 Head of the class
To elevate and promote manufacturing as a viable career option with young people, many companies are partnering with schools and educational programs in their communities to fill the talent pipeline, according to the 2019 Education & Workforce Development Best Practices Report from PMMI, The Association for Packaging and Processing Technologies. For example, some companies give tours of their facilities to children in elementary schools. Others distribute marketing materials to middle school and high school students that outline the career paths, salaries and qualifications for manufacturing jobs. At the high school level, manufacturers participate in career fairs, serve as guest lecturers, offer apprenticeship programs and even help develop manufacturing curricula to promote manufacturing as an alternative career path to a four-year degree program. Some manufacturers will even hire elementary and junior high school teachers for two weeks in the summer to change their perception of manufacturing and demonstrate practice applications of a STEM education. In addition, many companies still find the tried-and-true apprenticeship or internship programs at colleges and trade schools also very valuable.
Even vocational schools recognize the importance of getting students interested in manufacturing at an early age as an effective recruitment tactic. For example, Gateway Technical College in Sturtevant, Wisconsin, works with local elementary schools to establish its Kids Labs program to teach students about manufacturing, engineering and technology. Gateway also helps junior high schools set up robotics programs. In addition, Gateway offers a dual-enrollment program that allows high school students to take courses in manufacturing, robotics and Internet of Things for free and transfer that credit toward their degrees if they enroll in Gateway.
"Those pipeline strategies create the awareness, the visibility and the career paths that have led to increased enrollment for manufacturing degrees at Gateway," says Bryan Albrecht, president and CEO of Gateway. "This year, we saw a 6 percent enrollment increase in manufacturing careers."
Expanding the talent pool
Another recruitment strategy is to tap into certain demographics that may be overlooked. While many manufacturers target high school and college students, the PMMI report suggests aiming for women to enhance diversity in the sector. "Women only make up 29 percent of the manufacturing workforce. That's a group that's under-represented," says Stephan Girard, senior director of workforce development at PMMI.
The PMMI report also recommends recruiting transitioning military veterans. Experts recommend that companies reach out to local veteran affairs departments, nonprofits that help military veterans develop job skills and local military bases. "They have those soft skills of strength of character, work ethic and integrity, foremost," Bryant says.
Another source of talent are immigrants and refugees, who are eager to work and settle into their new lives in America. Campbell Soup Company works with Catholic Charities to recruit these new arrivals to the country. The nonprofit identifies candidates, guides them through the hiring process and helps them adjust to the work culture at the plants. "That relationship has been a really good partnership," says Brittany Morris, director of human resources for Campbell Snacks Manufacturing and Logistics. "They are very proactive with us and ensure the candidates are well-prepared and that we're all on the same page. They keep a close connection with them even after we bring them on and hire."
Gateway recommends hiring formerly incarcerated individuals. Working with the Wisconsin Department of Corrections, Gateway teaches prison inmates manufacturing skills at their correctional facilities or at the trade school. "As they transition back into the community, they have high skills, and jobs are waiting for them," Albrecht says. "It's helped with the recidivism rate."
With the limited availability of skilled workers and the rise of the gig economy, more manufacturers are offering workers flexible schedules that fall outside the traditional eight-hour shift, according to both the PMMI report and the Deloitte and The Manufacturing Institute report. Some companies have found success with temp-to-hire positions, allowing them to evaluate the workers for 90 days before offering them permanent employment. Others are more willing to hire part-time workers and adjust the 40-hour work week.
For example, some Campbell facilities let full-time employees work 12-hour shifts four times a week. In addition, other Campbell plants are hiring part-time employees. The company is also considering offering benefits to part-time workers. "We have alternative work shifts to offer more flexibility and balance for our employees," Morris says. "If we have a good part-time shift, that reduces the overtime required for everyone on the other traditional shifts. Unfortunately, a lot of what we face is overtime. So if we get a lot of call-ins and things of that nature, we have someone there to keep the line running. So we're just looking at all sorts of different ways to relieve that kind of pressure from the employees."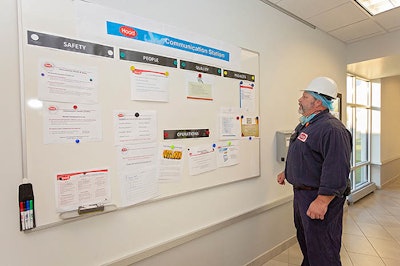 Critical communication
According to the PMMI report, it takes about 70 days to recruit skilled production workers. But once they are hired, the work is just beginning. Nearly 40 percent of new employees will leave within the first year, the report says. That means retention strategies are crucial.
The best retention strategy is to create an environment of open communication, according to the PMMI report. It says many companies hold weekly meeting to help management connect with employees on a personal level. These meetings also ensure employees are on track with their projects and responsibilities and allow both managers and employees to address problems early. It also keeps employees aware of how they fit into the company's overall mission and vision. "You have to have open communication between management and those employees," Girard says. "At the end of the day, the employees are lifeblood of the organization."
Regular communication also helps managers recognize talented employees and their contributions. Many companies have implemented employee recognition programs to thank workers for their exemplary performance with tokens of appreciation. Rewards could include pizza parties, the best parking spots, on-the-spot cash awards or additional vacation time. "Recognition amongst peers is important," Girard says. "If they're recognized and they feel like the work they're doing matters and contributes something, that's something that's appreciated."
Campbell has several recognition programs for celebrating the its employees' wins. Its Cheers for Peers boards lets workers highlight how their fellow co-workers have excelled at their jobs. The company also a has values recognition program that rewards employees who emulate Campbell values with gift cards. In addition, managers often send thank-you cards to exceptional employees who go above and beyond their duties. Campbell also celebrates the milestone work anniversaries of the long-time employees. They receive a plaque and get to choose a gift from a catalog. In addition, the company distributes bonus incentives to teams of employees who work together to achieve business goals that the plant sets. "We want to make the work environment feel more closer and family-oriented," Morris says.
Open and regular communication also allows managers to identify high-performing employees and help them develop long-term, fulfilling career paths. In an era of poaching and high turnover, companies have found that providing employees with clear yet flexible career paths lead to higher retention, according to the PMMI report. "If they feel invested in their job and in their company, they're not going to be as quick to say, 'Well, gosh, the grass is greener over here,'" Girard says.
Continuing education
Part of that career development means companies must invest in ongoing training. About 85 percent of companies say continuing education is key to talent retention, according to the PMMI report. The report points out that continued safety training can reduce the rate of overall absences and enable employees to work safer and faster, leading to an increased rate of retention. On-the-job training holds employees accountable for their education and identifies workers with an aptitude for more skilled positions.
With more Gen Z and millennials entering the workforce, simulation-based training is gaining momentum. Simulation training uses interactive gamification technology to create a virtual environment that teaches employees how to perform tasks and develop skills in real-world scenarios while keeping them safe. In addition, it provides managers with data to evaluate how the workers fared in the training, identifying their strengths and weaknesses. That data helps managers match employees with the jobs they can excel at and determine appropriate training to overcome their skills gap.
"Simulation creates a deep and immersive environment to understand what you are doing," says Samer Forzley, CEO of Simutech Multimedia, which provide simulation training products for the manufacturing and electrical troubleshooting industries. "Simulation by its nature has the highest retention rates in terms of learning. The only way you can really retain [information] is by doing. And the best way to safely learn by doing is to use simulation because it gets you real experience without touching the [equipment]. So simulation creates a muscle memory and a thinking process that allows you to retain the knowledge."
Over the past year, Tyson Foods has been using the Simutech Training System from Simutech Multimedia to train its technicians in troubleshooting at about 35 plants. Technicians take modules on electrical circuits, control circuits and motor circuits. For those employees who demonstrate aptitude for advanced troubleshooting skills, they are encouraged to take the modules on programmable logic controller circuits and industrial controls and sensors to move up as automation or electrical technicians.
According to Charles Ballenger, manager of maintenance training for Tyson, the simulation training gives Tyson technicians much deeper context for maintenance and repairs. "What you really want to do is have your folks ask why it broke down instead of just being good at fixing it," he says. "That's where you get the advantage."
Ballenger also says the simulation training empowers employees and creates job satisfaction. "They shouldn't have to struggle to do their job every day," he says. "If we give them the knowledge to help them with that, we'll retain them because there's nothing more frustrating than coming to work every day and not knowing what you're doing or being assigned something to do that you've never been shown to do."
The silver tsunami
To further close the skills gap, manufacturers must ensure that knowledge transfer occurs with their retiring workers. The Manufacturing Institute reports that 2.7 million workers will retire over the next decade, compounding the labor shortage. To prevent the loss of this institutional knowledge, some companies require workers that are about to retire to provide at least one year's notice. About 25 percent of the companies surveyed in the PMMI report ask for two or three years' notice. That means open and regular communication between manager and employee is vital to facilitate knowledge transfer and to enable the company to hire and train a replacement.
Experts recommend that manufacturers develop an action plan for knowledge transfer as soon as they know their workers will retire in the near future. Some companies have developed mentorship programs that let their up-and-coming employees shadow the workers who will retire in order to groom them to take over. Other companies are offering flexible work schedules or project work for those retired workers who may not want to completely stop working.
No matter what strategies manufacturers use to combat the skilled labor shortage, they must be proactive, resourceful and nimble to build a steady pipeline of workers. "It's a very challenging labor environment. Unemployment's low. We've got other companies competing on wages and benefits," Morris says. "We have to become more and more creative and flexible to adapt to the environment."
To read PMMI's 2019 Education & Workforce Development Best Practices Report, visit www.pmmi.org/report/2019-education-and-workforce-development-best-practices.
Companies in this article