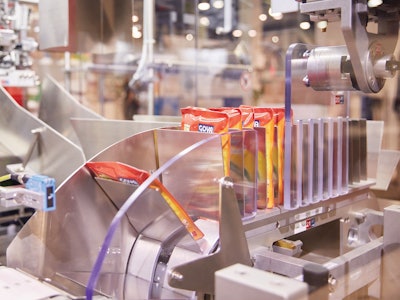 Retail-ready packaging continues to grow in popularity in the U.S., and SOMIC Packaging Inc. announced on the opening day of PACK EXPO Las
Vegas that it has reached an agreement to provide GOYA Foods with a proprietary, end-of-line packaging machine (1) for retail-ready packs.
At the Las Vegas show, SOMIC demonstrated the newest version of the SOMIC ReadyPack with GOYA products packed in stand-up pouches. The new machine GOYA has ordered is SOMIC's 424 T2+ case packer, which rivals ReadyPack's performance but on a slightly larger platform, says Peter Fox, SOMIC's CEO. He indicated the new machine is being designed to handle wraparound case packing of both stand-up pouches and cartons.
GOYA Foods is the largest Hispanic-owned food company in the U.S. As the premier source for authentic Latin cuisine, it produces more than 2,500 products from the Caribbean, Mexico, Spain, and Central and South America. Award-winning olive oils, beverages, confectionery, marinades, organic products, frozen items, and others are prepared and shipped to stores in bottles, jars, cans, and flexible packaging.
Disney Arrubla, Executive Plant Engineer at GOYA's manufacturing facility in Secaucus, N.J., says a compact design, speed, packaging flexibility, and future considerations factored into his decision.
"I met Peter Fox a couple of years ago at PACK EXPO in Chicago. I was attracted by the machine's compact and smart design," says Arrubla, who has worked at GOYA for seven years. "I did consider three other vendors but none could deliver a small-footprint machine and meet our specifications. It provides the speed and type of package we need, and it offers the flexibility for other packaging design in the future. The biggest challenge was to accommodate all of the equipment in a small room. SOMIC's case packer is the last piece of the puzzle to fit into the layout."
GOYA says the Secaucus facility is making preparations for the machine to be installed in the first quarter of 2022.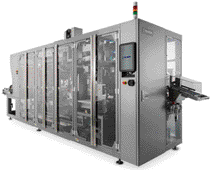 Elsewhere in the case packer arena, Heat and Control displayed new capabilities for its compact, all-in-one Ishida ACP Series case packer (2) for bagged snack foods. The fully automatic system features case packing, case alignment, bag packing, sorting, closing, and sealing in one machine at speeds to 150 packages [10 cases]/min.
A key capability for the system is its ability to run tape cases and push lock/slide lock cases in the same machine, even accommodating a combination of the two styles of top and bottom closures. For example, a company may opt away from manual operations, automating a push lock bottom and a tape top. This is particularly timely, Product Manager BJ Holden explained at the booth, as companies deal with labor shortages and look to automate case packing functions where possible.
Holden also noted that brands in the snack industry have been implementing reusable cases—often printed with branding—that drivers return to the processing site. This has led to rising demand for case packers that can accommodate reusable cases.
Case aligning and closing mechanisms are fully integrated, removing the need for additional conveyors and creating an all-in-one case packing solution. An integratable seal checker checks for defective packs, while the system features gentle, vacuum-free bag handling that's so important in the snack market. Changeovers can routinely be performed in three minutes, with preset options that allow for the machine to be automatically set up without the need for tools or any other manual operation.
How about an end-of-line bag-in-the-box solution that is in high demand from e-commerce users? That's what was highlighted at the booth of nVenia, LLC, a new Operating Company within Duravant's Packaging Solutions Segment that was formed by combining Arpac, Hamer-Fischbein, and Ohlson into a single entity. The system (3) made its official debut at PACK EXPO Las Vegas.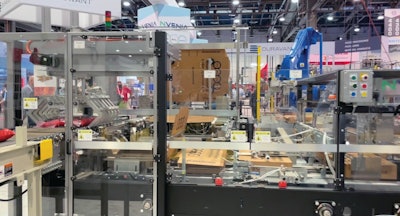 A Hamer brand robotic palletizer was at work in the booth, integrated seamlessly with an Arpac brand compact, intermittent-motion wraparound case and tray packer that was packaging bags of wood chips used in landscaping into e-commerce-ready cases.
"This system is capable of loading bags into corrugated cases, which has become very useful in e-commerce spaces where companies don't want to take uncased bags and transport them," says Chuck Mayberry, Senior Sales Engineer, nVenia, a Duravant Company.
---
---
At Aagard's PACK EXPO booth there was plenty of talk about and video footage of the remarkably flexible 436 Case Packer (4), even though the machine itself did not make the trek to Las Vegas.
"It's what we call an 'indiscriminate' case packer," says Aagard Applications Engineering Manager Jonas Capistrant. "Typically case packers are designed around the idea of all the cases being oriented one way. But this case packer doesn't care, for example, about the orientation of the manufacturer's joint on incoming case blanks. That makes it unique. Or picture some of our customers who have cases whose printing is oriented one way and other cases with printing oriented another way. They can't run such cases on one case packer. With ours, they can."
This machine, which handles 30 RSC or HSC cases/min, features a bulk magazine feed so that stacks of case blanks can be placed on a floor-level roller conveyor that feeds an elevator taking them to an upper level where they get picked and sent into the case-erecting station. This represents a considerable improvement over the more typical routine of having an operator lift a stack of cases and place them into a magazine feed. Looking to the future, Capistrant asks, "At what point might we remove the operator who is loading stacks of blanks and insert a robot to load them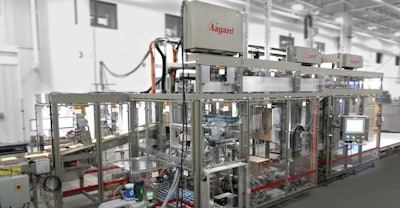 automatically?"
Additional development now underway, says Capistrant, will enable the machine to perform an inspection of each case and validate that the case blank is good so that substandard case blanks can be automatically kicked out. Photocells or other conventional scanning devices could perhaps be used for this inspection, though Capistrant says there have also been discussions with Cognex about deploying some 3D scanners. These would make it possible to not only inspect for proper orientation of the case but also for defects like torn flaps and so forth.
The 436 also has a unique walk-through feature that lets an operator or technician avoid having to walk all the way around the machine should an issue on the other side of the machine need to be addressed. "There's no need for a walk-over, or a safety gate, or a liftable gate, or anything," said Capistrant. "And you can walk right through while the machine is running."
Other features on the new case packer are diagnostic lighting and automated changeover. "With the diagnostic lighting, the operator sees a blue light if the supply of corrugated cases is low," says Capistrant. "Or if there is a fault, the light turns red. And if everything is running smoothly, the light is white. It saves the operator a lot of time looking at the HMI panel to understand what needs attention." As for automated changeover, it's assisted by the more than two dozen Rockwell servo motors on the machine. "You push a button at the HMI and the machine changes over to the next recipe," says Capistrant. "Case-loading funnels get wider or narrower, the compression assembly moves appropriately, and so on. Plus there are adjustable change parts, so there are no change parts dedicated to any particular size."
---
---
Delkor Systems claims its LSP Series of robotic case packers are fast-changeover machines, even between highly variable products.
But just telling people that wasn't enough for Rick Gessler, VP of Engineering, who decided on some gamesmanship while he was in Las Vegas. He put his money where his mouth was with a changeover timer on his smartphone to demonstrate fast changeover. Adding to degree of difficulty, he chose an apples-and-oranges changeover between small, individually sized pouches that were packed in corrugated RRP (retail-ready packaging) Cabrio Cases, and larger club-store pouches in stackable club-store corrugated trays.
---
---
Companies in this article
Videos from Aagard Group, LLC