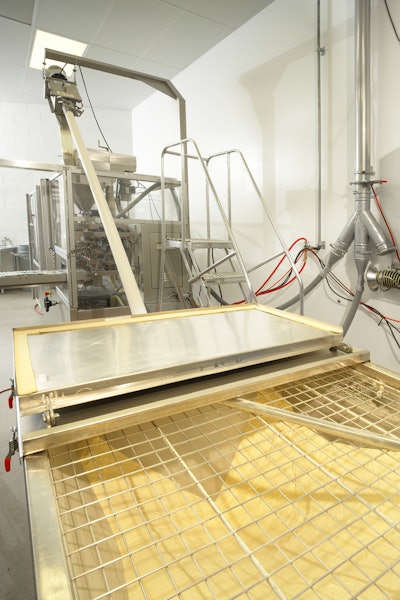 Epic Pharma develops and manufactures a range of generic pharmaceuticals for the treatment of pain, lipid disorders, hypertension, and infection, and provides contract manufacturing services to some of the largest U.S. pharmaceutical companies.
As part of this service, the Laurelton, NY-based company packages cholestyramine resin, a fine, dusty yellow powder that is hygroscopic and can be difficult to convey.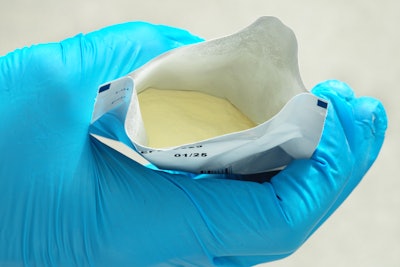 Epic Pharma originally fed the resin, which is used to treat high cholesterol, to pouch filling machines by raising 220 lb (100 kg) drums approximately 6 ft (1.8 m) above the plant floor, requiring operators to manually scoop the material into each filler's infeed hopper. With three to four drums emptied per shift, the process proved awkward and prone to dusting and product spillage, a problem that was rectified by installing four automated flexible screw conveyors from Flexicon Corporation.
The 14 cu ft (396 l) capacity floor hopper of each conveyor fits within the limited space of the packaging suites and allows operators to dump the drums at floor level with less product spillage, dust, and risk of injury. "The flexible screw conveyors have brought a "more efficient process as well as a cleaner and safer plant environment," says Frank Mellone, senior director, packaging.
Each 4.5 in. (114 mm) diameter polymer conveyor tube encloses a flexible stainless steel screw that is driven by a 3 hp (2.2 Kw) electric motor. As the screw rotates, it propels material through the smooth, crevice-free tube and self-centers, providing sufficient clearance between the screw and the tube wall to prevent product damage. The motor is positioned beyond the discharge point, preventing material contact with bearings or seals.
The conveyors elevate the powder 10 ft (3 m) at a 45-degree incline, discharging through FDA-approved flexible downspouting into each pouch filler's intake hopper. Under PLC control, each conveyor starts/stops in response to a signal from the pouch filler's hopper, maintaining a consistent amount of product in the hopper. The PLC also actuates a vibrator in the hopper to promote flow into the flexible screw conveyor and operates the conveyor at variable speed and in reverse.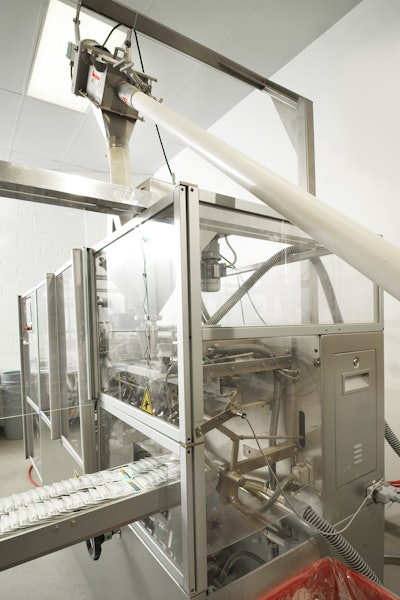 Sanitizing after five batches
Mellone says, "Each flexible screw conveyor is cleaned after five batches, which involves quickly disassembling the flexible screw and tube and washing each with water and an approved detergent." The pharmaceutical-grade conveyors and hoppers have stainless steel product contact surfaces, are validated and GMP-compliant.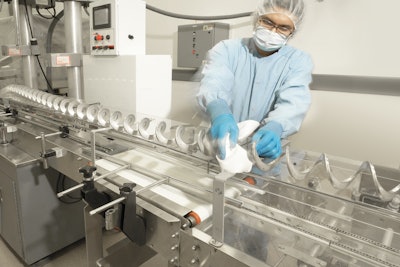 Mahboob Rahman, vp, manufacturing and engineering at Epic, says, "The conveyor systems function problem-free, being engineered with the correct length, diameter, and convey angle, and with a hopper design that enables smooth flow."
—Edited by Keren Sookne
Companies in this article