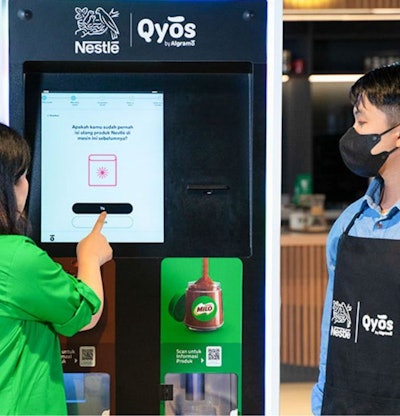 ThePackHub
The trend toward refillable and reusable packaging is gaining momentum as more companies explore ways to reduce their use of single-use, hard-to-recycle packaging. This growth is partly driven by the goal of the Plastic Pact to deliver reusable packaging solutions by 2025. Many of these initiatives are coming from startup and smaller brands, but multinational companies are also beginning to test the waters with small-scale trials and pilots. The dry food, household, and health and beauty sectors are currently the most active in this area.
Learn more about ThePackHub's Innovation Zone here.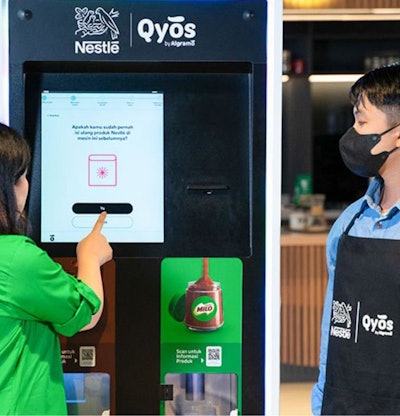 Nestlé Pilots Refillable Vending Machines in Indonesia
Global food giant Nestlé is piloting refillable vending machines in Indonesia for its Milo and Koko Krunch brands, as part of its effort to explore solutions that help to reduce the need for disposable packaging. The pilot scheme is in collaboration with Qyos, an Indonesian start-up whose goal is to provide households with alternatives to single-use plastic. Machines also support the trial with interface systems from Chilean refill technology company, Algramo. As consumers will use their own containers, the machines are fitted with QR codes which can digitally provide product information, including ingredients and shelf life. The development of the vending machines required that the refillable systems maintain the safety and freshness of products across the supply chain while considering the local context, such as the hot and humid climate conditions in Indonesia.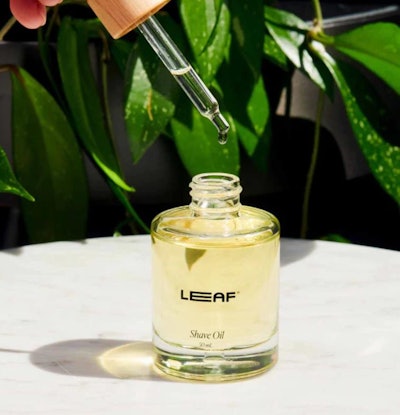 Leaf Shave Launches Bottle with Reusable Dropper
Pennsylvania-based Leaf Shave is a supplier of plastic-free razors and shaving accessories. In collaboration with Spanish dropper company Virospack, they have launched Leaf Shave Oil, a formulation of vegan oils ideal for skincare before, during and after shaving. The packaging combines a molded glass bottle and a dropper with a 100% natural wooden lid. The bottle is completely transparent, decorated with screen printing, and has a 30 ml capacity. Via a dipping well at the bottom of the bottle, it offers last-drop technology, which ensures maximum use of all the product it contains. Once the product is finished, the wooden dropper is designed to be kept. A dropper of high quality, precision and functionality, easy and comfortable to use, it is intended to be used again with the new refill bottle, a bottle with a blind cap, to save money and waste.
Alnatura Organic food Supermarket Introduces Returnable Deposit Jars
German chain of organic food supermarkets Alnatura has announced the introduction of more products in returnable deposit jars by Circujar, increasing the company's range of products sold in reusable packaging. Products available in the jars include various types of nut butter by Fairfood Freiburg, as well as fruit purees and a hazelnut spread by Pfandwerk brand, which is available exclusively at Alnatura. Over the past three years, Munich-based Circujar has developed universally usable reusable jars for these products. Customers return the empty jars to the deposit machine in stores. They are then taken to a rinsing plant for cleaning and then back to the next canning company. The jars are said to be suitable for both larger and smaller production facilities that are unable to invest in their own rinsing system for returnable jars.
Learn more about ThePackHub's Innovation Zone here.
Companies in this article