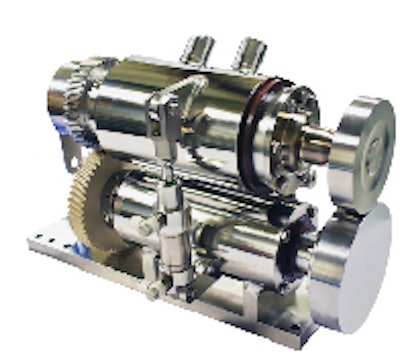 Schneider Electric showed its EcoStruxure Augmented Operator Advisor solution on several machine builders' equipment, including that of Delta Systems, an Ilapak Group company.
Like other augmented reality (AR) concepts, this Schneider offering provides access to a wide variety of electrical schematics, videos on part replacement, access to Bills of Materials when repairs need to be made, etc. But unlike many such AR concepts that rely on Microsoft HoloLens goggles, this one relies on a tablet to scan a 2-D barcode on a portion of the machine. As soon as the code is scanned, the operator is taken immediately into the part of the machine that he or she desires. "It's electrical schematics at your fingertips," says Schneider's Simone Gianotti, "rather than having to search for a manual."
Tim Engel, a software engineer at Delta Systems, showed PACK EXPO booth visitors how to use the AR tool on one of Delta's Eagle flow wrappers. "This is a vision of the future and what might be possible," says Engel, who describes the Operator Advisor as potentially a huge aid in machine maintenance.
Elsewhere at the Ilapak booth was a Delta Systems Eagle flow wrapper with rotary ultrasonic sealing of the fin seal by way of ultrasonic tooling (see photo) from Aurizon. "We don't believe we're the first with rotary ultrasonic on a flow wrapper, but we believe it's the highest rated one out there from a washdown perspective," says Liam Buckley, North American sales director at Delta Systems. The flow wrapper, notes Buckley, is rated full washdown IP-69 on its infeed and IP-67 on its body. Compared to the more conventional static horn-and-anvil ultrasonic approach, says Buckley, with rotary ultrasonics, you get better film control, especially when you're ramping up and down in speed.
On the Ilapak side of the booth was the brand new Vegatronic 6000 vertical form/fill/seal system, a machine notable for its washdown capabilities. "We had three separate visits from USDA to give us the design input they wanted on the machine," says Buckley, who sees producers of grated cheese as a key target for this kind of equipment. "I don't believe anybody else has a vertical bagger built to USDA standards."
To read more about the machinery on display at PACK EXPO International, read the full report here.
Companies in this article