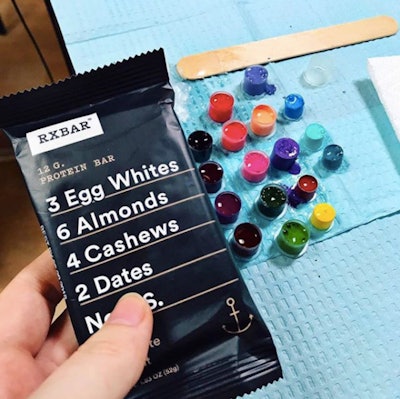 Social media is no longer just a place to like, share, and stay up to date with the goings-on of your family and friends. It's a place where brands rule, influencers create, and transactions are made—quicker than ever!
Today, packaging is just one of the numerous pieces of branded content required to engage consumers with brands. Packaging is now expected to connect with other branded content online to create a seamless consumer experience.
By using the pack as media, brands can create a long-term content journey that builds over time.
Visually-driven social platforms like Instagram and Pinterest have changed the way consumers interact with brands. With just one tap on a smartphone, these platforms allow consumers to learn more about the brand and product details, and to compare prices before even landing on the brand's website.
While the goal of design-branded packaging is to make emotional connections between brands and consumers, the pack can often be the primary media channel for creative work. Brands must realize that packaging lives in a 360-deg, multichannel brand world and, as such, make sure that it works in all spaces.
How does user-generated content impact packaging design?
We can't talk about social media without touching on the topic of influencers. This is the idea that consumers are becoming the marketers.
A report from Canon U.S.A., Inc., the 2016 Photography Trends Study, revealed that nearly one in four consumers (24 percent) are taking up to 300 photos per month. Is your brand one of them?
Social media is now part of the consumer journey, with many consumers wanting to share their brand experience with their peer group. It's another example of high-visibility conspicuous consumption, with massive word-of-mouth marketing value when used by key influencers.
The use of micro and macro brand ambassadors has become pivotal for brand engagement on social media. In the startup space, this gives new brands the opportunity to extend their reach and create brand awareness in their space. Other brands are leveraging these partnerships to sponsor content in a more authentic way.
Being part of consumers' lives drives the lifestyle shot we see posted by many of these influencers. These vary from highly curated photography in brand-sponsored feeds to a much more immediate and raw "on-the-go" style from brand endorsers and ambassadors.
That said, smartphone technology and apps have democratized photography in this area, with consumers nearly pulling off Irving Penn-like results with a bit of natural lighting and a press of the lo-fi filter.
Should we expect more minimalistic design online?
There has been a move to a more minimal branding approach in packaging design for several years. This obviously plays out well in digital channels, as the impactful, graphic look and feel is easy to recognize and stands out in a fast-moving scroll-through.
Often, the "less is more" tactic is necessary for consumers browsing products online, where you only have less than a second to impress.
The minimalist trend in packaging is finding its way to social media product shots. Take the Rxbar packaging overhaul, for example. The packaging offers clear benefits on the pack without unnecessary information. This provides an authentic look at how this product fits into the consumer's life and communicates value instantly.
How are brands leveraging social media trends?
Brands and agencies are always watching and auditing consumer category trends, visual codes, and language to reach out to target audiences in appropriate design executions.
Traditionally, brands have utilized social listening tools to evaluate hashtags that are being used alongside their products. Now, we see brands using social media as a general tool for trend evaluations. Take for example Kellogg's Limited Edition Unicorn cereal that was recently launched for those craving a magical breakfast.
Unicorns and rainbows alike have seen a lot of hype on social media: Think about the rainbow-effect filter on Snapchat or the Unicorn Frappuccino product rolled out by Starbucks last summer. Brands are paying close attention to these preferences and are incorporating them into not only their marketing strategy but also their packaging design elements.
In the case of the Jaffa Cakes redesign by Anthem, consumers' own distinctive and entertaining approaches to eating the product—often shared on social media—influenced the "big idea" on-pack. Consumers are encouraged to ask themselves which one of the four kinds of Jaffa Cake eater they are: "The Jelly Lover," "The All Rounder," "The Half Mooner," or "The Scoffer." Each of these four expressions is showcased on the top panel of the pack in a playful and mischievous way in line with the brand's character.
What does the future look like for connected packaging?
As consumers have become "connected," designers have shifted their approach to reflect this—increasingly viewing packaging as a valuable owned media channel and opportunity for brands to engage.
Snap, scan, tap a pack: We're seeing connected packaging go live across categories, from QR codes on KitKat, to Shazam on Fanta, to Snap and Facebook codes on leading water brands.
Social media also gives us insight into consumers' relationships with brands and the way in which they might interact with a product. Connected packaging provides a flexible canvas that can adapt when the physical packaging can't, whether through visual content, augmented reality, or direct connection to social channels.
How can a brand go beyond the pack to deliver an incredible experience?
The speed at which a trend can now surface and then disappear is driving the design industry and brands to move faster than ever before. We see brands become more agile in responding to trends, rather than trying to adopt long-term visual styles.
Experimentation and self-expression are huge design motivators for catering to younger generations. Brands like Gucci appeal to millennials and teens by using the "shock factor." For example, at the Milan Fashion Week in February 2018, Gucci created a stir by having its models carry severed "heads" instead of handbags, or hold snakes and baby dragons on the runway—images the designer shared on Instagram.
Instagram provides real-time insight into visual consumer trends, which is really valuable to the design industry, stimulating hashtags that allow others to easily find specific themes, trends and content.
Instagram stories has also become an effective way to promote brands through short videos. This gives designers an opportunity to enhance and optimize for each channel and sub-channel—evaluating the size, positioning, and repetition of their logo, etc.
Everything we do now has to look good on Instagram. And while it might not be a huge influence in packaging design, brands must be aware of the different marketing channels that are democratized, since consumers are the ones who will take these products to Pinterest and Instagram to show them off. Because of this, designers need to make sure the product looks beautiful in social media environments as well as in the hands and in-store.
How does this fit into e-commerce?
Increasingly, brands are concerned with the "thumbnail-ability" of package design, specifically when it comes to e-commerce. Until there are no supermarkets or stores left, designers will still design for the shelf, but channels such as Amazon (or even internal e-commerce platforms) aren't being used to their maximum.
Just throwing a thumbnail of the pack online is a missed opportunity. From a visual communication standpoint, beyond just showing how the pack looks and functions, brands should be demonstrating the brand, the benefit, and the product name in a beautiful way—whether through photography or videography. For designers, the focus on how products look online will only increase.
How will these trends change the way brands advertise?
With the explosion of new social channels to reach consumers along with the deluge of data and the rise of technology, brands are having to re-evaluate how they stay relevant and front-of-mind for their audiences. However, a major opportunity for brands and their packaging design agencies lies where you might least expect it: in the contents of your average supermarket cart.
As it stands, there is nothing intelligent about a bar of soap, a packet of peanuts, or any other consumable good for that matter. However, the application of technology to CPG products through connected packaging—allowing a conversation with products that can then be shared in social channels—transforms packaging into a marketing channel and one of a brand owner's most valuable owned media assets.
Your pack becomes an owned channel. It's already costed into the production of your product, and the consumer pays for it. But it's often neglected as a marketing channel.
Many will argue the case for investing in owned media, where you can control the messaging and interaction. But the issue with owned media has always been the challenge of driving consumers to it. With packaging, the owned media is in close proximity with the customer. It's not remote or restricted by time. You're removing any intermediary between the consumer and the brand. It's commercial dynamite.
Additionally, more brands are starting to realize that packaging is a cheaper and more effective way to engage with their customers. Brands are now re-examining how they use their own packs to connect with people throughout the sales cycle—before, during, after, and always. And increasingly in social channels that offer personalized experiences that can be shared, instantly.
Too many brands are failing to tap into the potential asset of their pack. A pack often comes out of the cabinet a great number of times during a product's lifespan. Those are repeatable, regular opportunities for you to be engaging directly with the consumer, drawing them in and building their loyalty.
The more your packaging "does" the more consumers will talk about it. And "Did you see that ad?" will soon turn into, "Did you see that packaging?" It won't be long before the biggest threat to a consumer's loyalty will come from another brand's pack.
Consumers are rewarding each other and brands for the ability to create great content. This is forcing brands to consider high-quality, relevant content across every touchpoint, and packaging is a perfect connection point to unlock brand content.
Smart designers are very aware of the impact digital marketing and social media have on the way consumers shop. What's important now is ensuring your product stands out both on-shelf and online with exceptional packaging design.