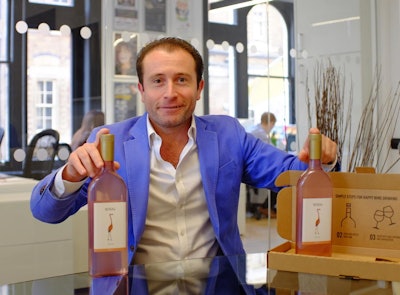 Packaging World: Are there hurdles to convincing consumers of the quality of wine in PET?
Santiago Navarro: We've engaged with consumers and have found that the high quality of the bottle finish, together with the novel and attractive shape, gets consumers thinking differently and happily, and so we've not yet experienced concern from the wine drinkers we've shown our bottles to. In addition, protection of our fragile planet through eco-friendly initiatives is gaining significant importance with consumers, and so we feel the issue of the quality of wine is an easy one to address when the foundations for your packaging are based solidly on a truly sustainable solution. A bottle that is 87 percent lighter, 40 percent spatially more efficient, looks beautiful, and is made from 100 percent recycled content offers many advantages right across the drinks supply chain and right across the globe.
Packaging World: ​You have indicated that using 100 percent post-consumer recycled PET for your bottles is unique in the production of bottles, especially wine bottles. Why aren't more CPGs using rPET for beverage bottles?
Santiago Navarro: Using 100 percent rPET for our bottles is unique in wine bottles, it's not unique in the production of all drinks bottles—but it's still unnecessarily rare. Using virgin PET is cheaper and easier for bottle production, and it's my view this is why rPET has not been used to the extent it should be. In addition, rPET at 50 percent content and higher, and definitely at 100 percent, is not clear—it's slightly greyish and cloudy. I believe brands are scared that consumers will react negatively to this, and so they've stuck with the crystal-clear option of virgin PET. Consumers need to demand from the brands they give their business to that they use more recycled content, and then businesses will hopefully stop creating virgin PET and use the PET that's already in circulation. This represents one of the best solutions to clearing the litter from plastic packaging that's polluting our environment. By creating a value for PET that's already in circulation, we fund and fuel its collection. Waiting for governments to take action and clear this litter will be too slow. By creating a cash value for this plastic waste, we'll have private companies compete to collect it—that's what we need, and we need it ASAP. We hope many others will take our lead and switch to rPET.
Packaging World: ​How did you and your supplier [RPC M&H Plastics] overcome the challenges of using 100 percent rPET?
Santiago Navarro: We did the right thing from the outset, not the cheap or easy thing, and used 100 percent rPET, as we believe strongly in always doing the right thing first and foremost. The great people at RPC M&H Plastics believed in our vision to create the most eco-friendly wine bottle, and although it was not easy to create a bottle from 100 percent rPET outright, we pushed and managed. We overcame the discoloration issue by coloring our bottles a natural olive-green for red and white wines and a light pink for rosé wines.
Packaging World: ​What is the PET recycling rate in the U.K.?
Santiago Navarro: As may be expected, different sources quote different figures. But the two we believe are the most credible are figures from the U.K. government's Department for Environment Food & Rural Affairs [Defra] that indicate 57 percent of plastic bottles sold in the U.K. in 2016 were collected for recycling, and figures from The British Plastics Federation, which state that 74 percent of plastic [PET/HDPE] drinks bottles were recycled in the U.K. in 2016. We believe taking the average of these two figures is most appropriate, so 65 percent of plastic bottles were recycled in the U.K. in 2016, and we trust this will have improved with the significant increase in media coverage around the environmental damage from plastic litter.
Packaging World: ​Are you and those companies licensing your wine bottle design exploring methods to encourage responsible recycling?
Santiago Navarro: The right plastics used responsibly, when assessed comprehensively, offer the most environmentally-friendly material for drinks bottles. We use the right plastic, employing 100 percent rPET. We understand it's also partly our responsibility to encourage responsible use of our bottles. To this aim, we produce our bottles with a plastic screw cap to ensure they're 100 percent recyclable after they're used. In addition, we dedicate space on the back label of the bottle and a highly visible part of the inside of the postal pack to encourage consumers to recycle the bottle when they're done with it. We hope they do their part and do the right thing by recycling our bottles. In addition, and together with RPC M&H Plastics, we're currently looking into our own returns and recycle scheme. We already know that if we're able to collect our bottles, M&H can grind them into chips to make new bottles. We're now looking at a smart and easy way for consumers to return our bottles to us. We're also discussing our plans with academic institutions with a view toward finding a system that will scale sustainably. We'll do all within our means and powers to encourage responsible recycling of our products.
Learn more about Garçon Wines' Flat Wine Bottle here.