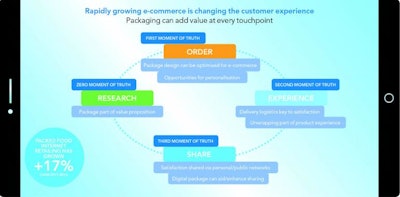 As consumers become more digitally savvy and do ever more online, food and beverage companies must hone their digital and packaging strategies to build brand trust and loyalty with these connected customers, according to a new report from Tetra Pak. The company's 2017 Index reveals that companies must engage a new generation of digital influencers known as Super Leaders while also innovating their packaging in order to deepen relationships and amplify their messages with these consumers.
With the rise of social media, blogs and online forums where everyone has a voice, brands can't speak loud enough. For food and beverage companies to stand out in the crowded digital landscape, the Tetra Pak 2017 Index recommends that they cultivate relationships with Super Leaders, a new breed of key opinion leaders who are highly vocal and active online. They are likely to be the earliest of adopters, influencers and trendsetters. If companies can turn these Super Leaders into brand advocates, they can spread brand messaging, shape opinions and help build trust in products.
"Super Leaders are a golden source of brand advocacy and influence in an age where consumers are becoming both more vocal and more likely to listen to and trust the opinion of their peers," the report states. "Super Leaders are cultural amplifiers: potent and prolific commentators who pick up and help disseminate trends."
As consumers move away from traditional sources of information and entertainment, they are turning to third-party, user-generated online content, especially for research on products before, during and after buying. Super Leaders, who comprise just 7 percent of the online population, create this type of content. According to the report, 57 percent of them write brand and product reviews every week. About 65 percent of them say they are more likely to write reviews on positive experiences with brands. In addition, 78 percent of Super Leaders say they expect brands to reply to their reviews. About 90 percent say that a reply improves their brand perception, which underscores how important it is for food and beverage companies to listen to and engage in online conversations.
But connecting with consumers is not just relegated to the digital space. Although e-commerce is growing, food and beverage products are still mainly purchased in stores. So innovative packaging plays an important role in consumer engagement, too, according to the report.
For example, some companies are printing digital codes on each and every package. When customers scan the codes with their smartphones, they can access information such as the product's journey in the supply chain or participate in an online competition. It also allows brands to capture valuable data about their consumers.
"The digital package gives brand owners a direct link to the consumer through the most important communication channel there is — the product itself," says Erik Winberg, vice president of strategic planning and digital programme officer at Tetra Pak. "Why should they have to go through media owners and social networks to reach their consumers?"
The report also mentions that personalization or customization is another packaging trend that food and beverage companies should consider. Digital printing makes it much easier and cost-effective for brands to tap into this trend.
About 40 percent of millennials want to participate in the co-creation of products and brands, according to the report. In addition, in 2015, 45 percent of shoppers spent money on personalizing a product or experience — and were happy to pay significantly more. And consumers say they are willing to pay up to 150 percent more for custom items.
For example, Coca-Cola's successful "Share a Coke" campaign was built on personalized packaging. The beverage giant swapped out its iconic logo on its bottles and printed 250 of the country's most popular names on them. Consumers not only purchased the product but also shared their experiences on social media.
To download and read the Tetra Pak 2017 Index report, please visit the Tetra Pak website.
Companies in this article