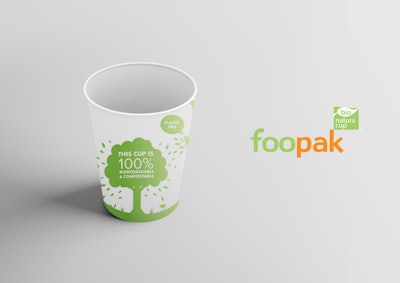 Show Daily Exclusive - What happens to your food's packaging when you try to recycle it? Despite efforts to "do the right thing" for the environment, many companies may not realize the packaging they selected doesn't meet the sustainability standards they think it does and actually ends up in the landfill.
Beyond the plastic lids and straws fast-casual brands use for takeaway beverages, many brands and consumers don't understand that certain types of paper cups, which appear to be fully recyclable, cannot be converted for reuse. This is often due to a polyethylene (PE) coating, which is used as a barrier to prevent leaking. PE-based coatings require an expensive plastic separation process, which many recycling facilities are unequipped to handle. This results in landfills becoming filled with disposable paper cups that many consumers believe have been recycled.
Ultimately, packaging needs to perform—it needs to carry, protect and store products and perhaps be reused. Brands today must balance multiple priorities: functionality, design and sustainability. According to the 2017 Paper & Packaging Consumer Trends Report, published by Asia Pulp & Paper, 57% of Americans want more sustainable options. The report underscores that consumers increasingly care about packaging sustainability—with more than half agreeing that it is more important to them today than it was five years ago. One in four are willing to pay more for products with these packaging attributes.
In line with growing consumer demands, more alternatives are entering the market to replace polystyrene foam, PE-laminated paperboard and unsustainable plastics. Asia Pulp & Paper and its strategic partner Charta Global (Booth N-5360) created the Bio Natura food packaging suite to be fully compostable, heat-resistant and ideal for replacing most clamshell and box-form food packaging. Bio Natura paperboard is free of fluorochemicals, making it resistant to moisture, oil and grease without presenting a health hazard. The aqueous, grease-proof coating handles heat up to 220ºC and heat-seals easily.
"Advances are being made when it comes to creating product packaging that meets the sustainability standards consumers demand—it's up to brands to ensure they take advantage of new technologies and innovations," says Ian Lifshitz, director Sustainability and Stakeholder Relations, The Americas at Asia Pulp & Paper.
While consumer expectations are driving brands to operate more sustainably, another critical step requires close examination of the supply chain. Lifshitz concludes, "Brands must review their supply chains to understand whether all elements meet high sustainability standards. Adding transparency in your practice involves looking at your suppliers—and your supplier's suppliers—to actively sustain a holistic, sustainable business."
For more information, visit www.chartaglobal.com. SD