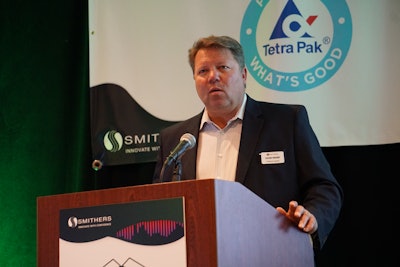 The smart packaging market is "a tale of two technologies": active and intelligent. That's according to Duane Niedert, Director of Operations – Americas for Smithers, who provided an overview of the market, including its current status, future forecast, and drivers, at Smithers' inaugural SmartPack conference, Sept. 11-12 in San Diego.
"Active packaging comprises more established, mature markets consisting of older technologies that have been in use for quite a while," explained Niedert. "Intelligent packaging, although much smaller right now, is really where the growth is, and it's being enabled by bringing down the cost of those technologies that really enable it.
"Everyone across the value chain is investing in some way in this—if not investing in the development of solutions, then investing in their people's time to stay abreast of what's going on and to assess the opportunities that exist there."
Niedert's presentation, based on a recent report from Smithers, "The Future of Active & Intelligent Packaging to 2023," showed that the smart packaging market is forecast to grow at roughly 6% over the next five years, a slight increase over the 4.7% rate experienced over the past five years. While growing faster than the packaging industry at large, "it is still a very small part of the market," Niedert said. "It makes up between a half and one percent of global packaging today."
Of the roughly $7.56 billion in sales predicted for 2023, Niedert said intelligent packaging will grow at a CAGR of 12.9% from 2018 to 2023, while active packaging will grow at 4%. "Intelligent packaging is at an early development stage," he explained. "It's embryonic, but growing quickly and is potentially a high-growth market with developments around printed electronics, the cloud, and the Internet of Things driving adoption of these technologies."
In defining active technology, Niedert explained that it involves putting something supplementary into the package that acts on the contents of the package and is driven by product freshness and consumer convenience. Active packaging comprises technologies such as gas scavengers, moisture scavengers and emitters, self-venting films, microwave susceptors, temperature control, antimicrobial, flavor and odor absorbers, and antioxidants.
Intelligent packaging provides information for the purposes of logistics management, enhanced consumer communication, and brand protection, particularly for pharmaceuticals. "So, some active processing is going on within intelligent packaging," he said. These technologies include printed coding and marking, with a CAGR of 12% from 2018 to 2023, antennas (14%), chemical output devices (7.5%), electronic environmental sensors (29%), and logic sensors (30%), among others (10.5%).
Among the trends driving smart packaging are food waste and safety issues, including consumers' demand for fresher food, the profit potential for retailers resulting from reduced food waste, and regulations such as the Food Safety Modernization Act (FSMA), which requires product traceability. The global installed base of smartphones of roughly 2.9 billion globally, with approximately 42% of them NFC-enabled in 2017 is another driver. In addition, consumers' interest in greater product transparency, which can be delivered via QR code-enabled programs such as the SmartLabel initiative, is also moving intelligent packaging forward. And, pharmaceutical traceability, driven by The Drug Supply Chain Security Act in the U.S. and the European Falsified Medicines Directive, which demands that "what is on the label is actually in the package and that the label meets the required certifications," Niedert explained, is also driving intelligent packaging.
"What's enabling intelligent packaging to make inroads into the market is the decreasing cost in these areas," Niedert concluded. "One is lower-cost printed electronic technologies. In addition, new classes of functional inks that provide both connectivity and semiconductor properties are being developed and introduced, and hybrid electronics are being worked on that combine both ink based-types of components along with silicon-based components, as we see in our typical sensors today.
"A lot of work is also being done in the end-to-end solution, where all the data can be pulled together on the life of the product so that it can be integrated and provided to whomever is querying the package for additional information. So we see there is a lot of activity, a lot of investments, taking place in both of these areas."